Oil companies are not exactly investors' favorites at the moment, which is exactly why the oil sector now has an awful lot of bargain-priced investments on offer for clear-headed, long-term minded investors.
The oil price, again, was the reason why investors panicked last week, and why they sold everything related to the oil sector: Shale players, oil service companies, and onshore and offshore drillers were all seriously punished last week as the oil price marked a new four year low. A lot of the blame for falling oil prices goes to Saudi Arabia, which opposed output cuts that would have lend support to the oil price -- at least in the short term.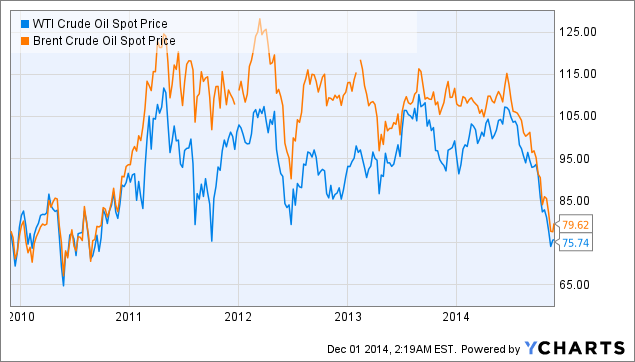 WTI Crude Oil Spot Price data by YCharts
But reaching new multi-year lows was not sitting well with shareholders: Fearful of a prolonged oil price correction and corresponding free cash flow compression, shareholders rid themselves of shares in exactly those oil companies, that due to their diversified nature and size should be able to withstand the oil price slump the most.
Chevron (NYSE:CVX) was one of the most beaten stocks on Friday, losing 5.42%. But ExxonMobil (NYSE:XOM) and ConocoPhillips (NYSE:COP) also took a beating: Their shares were down 4.17% and 6.72%. Are investors overreacting?
Being constructive about falling share prices
While counterintuitive (not so much for Warren Buffett though), falling share prices make equity investments much more attractive - unless you need your cash some time soon. First of all, total returns are naturally boosted by a lower cost basis. Second, lower prices also increase investors' dividend yields, which has a lot of value in times of market uncertainty.
At the time of writing, Chevron's shares yield almost 4%, which is not a yield to merely pass up. 4% goes a long way, especially if overall stock market returns contract in the near term.
From a long-term perspective, I am not too worried either: Chevron's shareholders are likely going to see further distribution growth, just like they saw in the past. Chevron's dividends have grown historically, and the current turbulence in the oil market is not going to disrupt Chevron's dividend growth potential.
Compelling valuation
The decline in oil prices last week has made Chevron notably cheaper: Chevron now trades at only 11.5x 2015 earnings, while affording investors with a regular cash dividend of $1.07 per share each quarter.
Chevron is not the only company that makes an attractive value proposition from a valuation point of view: ExxonMobil, the world's largest oil producer, now trades at just 13.5x 2015 earnings, and ConocoPhillips at 12.5x forward earnings.
Chevron is the cheapest company in the peer group, and therefore has the largest rebound potential when fear in the oil market is replaced by a rational assessment of the world's growth prospects and energy supply levels.
Oil prices will head north - in the long-run
Of course, forecasting prices is a futile endeavor, but chances are that oil prices will move up in the long run. All it takes to see this forthcoming reality is to recognize that demand for oil will outstrip supply in the future. A combination of depleting resources and increasing demand should lift the oil price substantially, which makes the oil sector very attractive for shareholders willing to take a long-term view on their investments.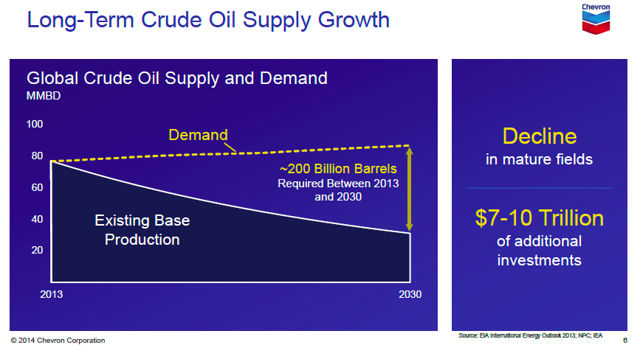 Source: Chevron Investor Presentation
Chart situation
Chevron lost more than 5% on Friday as the oil price fell sharply, but shares are now deeply oversold. The sell-off is an opportunity for long-term oriented investors, who seek to capitalize on a temporary market dislocation to build a long position in a major energy producer, AND for traders who want to play a technical recovery.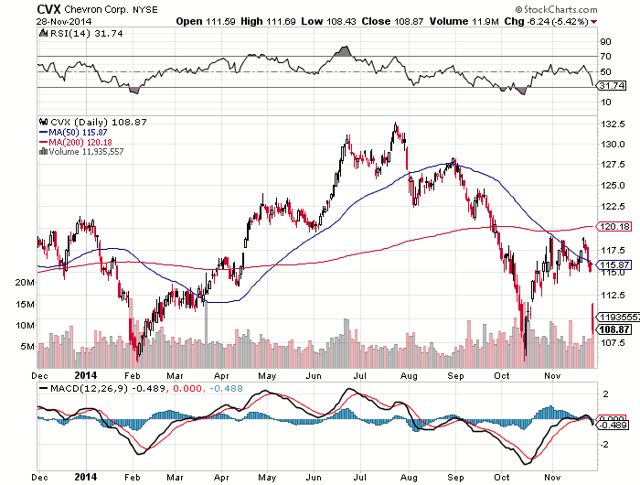 Source: StockCharts.com
Bottom Line
The fear in the oil market is producing extraordinary investment opportunities. The best opportunities can almost always be found in sectors that, for one reason or another, are temporarily hurting.
Chevron should be well positioned to weather the storm in the oil market, as are ExxonMobil and ConocoPhillips. Large oil companies like Chevron could quickly see their valuations rebound as the initial excitement about lower oil prices dissipates, and investors start to recognize the value that large, dividend paying oil companies offer long-term oriented investors. Long-term Buy.
Disclosure: The author is long XOM.
The author wrote this article themselves, and it expresses their own opinions. The author is not receiving compensation for it (other than from Seeking Alpha). The author has no business relationship with any company whose stock is mentioned in this article.