Air Berlin (OTC:AIBEF) is Germany's second largest airline, after Lufthansa (OTCQX:DLAKY) and Europe's seventh largest airline in terms of passengers carried. The company runs a wide-ranging network from a total of almost 20 German cities, including some European metropolitan areas and numerous holiday destinations in the Mediterranean region, Madeira, the Canary Islands and North Africa as well as intercontinental destinations in Southeast Asia, the Caribbean and the Americas.
Air Berlin has a history of intense M&A activity over the last 10 years. Not all to great success, as the company is lacking certain leadership and its core business structure compared to its other aviation peers is incredibly poor as shown by its core fundamental figures below. It's a typical example of "bad airline stock," which is one of the reasons why for example investor guru Warren Buffet keeps his hands away from anything that flies.

And it's forecasted that it will take a while before Air Berlin is back in solid black numbers.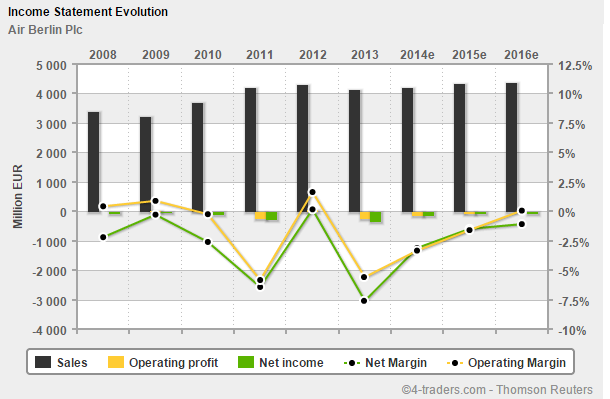 Source: Reuters
And expected net profit remains in the red for years to come: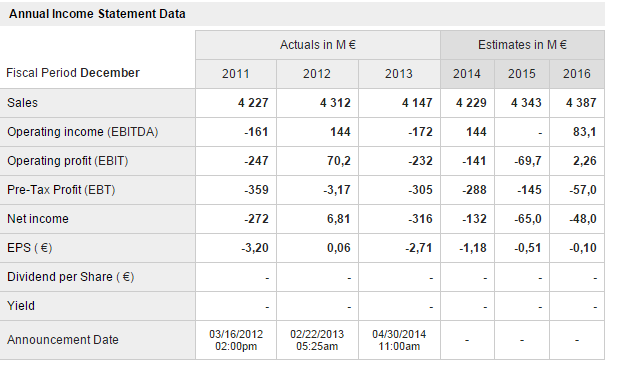 Source: Reuters
EPS is likely to become positive in 2017. That's a long way from home to be honest. Especially considering there are many variables on the road, or shall I say sky, which could prohibit Air Berlin from flying upwards rather than to a certain grave: Strikes, bad weather, bad outcome of an upcoming hearing in regards to Etihad Airways' stake in the company.
Furthermore, Air Berlin has cancelled a major order to Boeing in order to keep financially afloat, although they do get financial support from Etihad.
Why is Air Berlin so interesting at the moment?
Air Berlin got dumped massively over the last few years and is flying towards penny stock values. Never the less, it's an immense airline which should not be underestimated.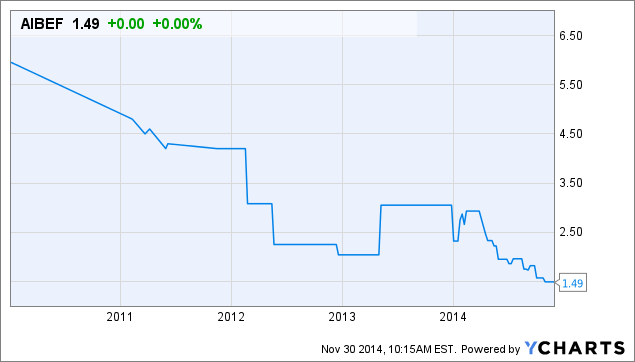 Where this becomes interesting is the massive stake of its shareholders, namely Etihad, which is pushing for more control over this European Airline.
German Chancellor Angela Merkel is backing loss-making Air Berlin in a dispute over whether its Abu Dhabi-based partner Etihad is exercising too much control, Focus magazine reported on Saturday.

Etihad, which owns a 29 percent stake in Air Berlin, is under investigation by German and European authorities over its partnership with Germany's second largest airline after Lufthansa.

For Air Berlin to maintain its European operating license, it must be majority controlled by European investors.

Without citing its sources, Focus said Merkel told Transport Minister Alexander Dobrindt at a cabinet meeting that she did not want to "dig the grave" of Air Berlin and that Germany needed competition between two strong national carriers.
This is where it gets really interesting, as the other national carrier, the number one from Germany, Lufthansa could potentially benefit from Air Berlin flying into its own grave. Decision on this outcome will be made early next year.
Conclusion
The expectation is that Air Berlin will eventually come back in solid black numbers and post a constructive profit. They are doing massive restructuring of its business. However, I'm uncertain whether or not the economy, as a whole, will retain its relatively minimal upwards momentum. If this is not the case the prospect of Air Berlin will be very grim and it's going to be very interesting what Etihad will try to do with its current stake. Only a small dent in consumer demand, let alone a few more days of strikes- which has been the case for many airlines in Europe this year- could mean Air Berlin would be toast. Or shall we say a bad winter for example?
At its current price, Air Berlin is far from being interesting; however the lower it gets the more interesting it will become. Considering its current massive stakeholders, you simply don't know which way it will go. However I am willing to put on a stake when the stock would reach below the value of 1 dollar. Since when can you buy such a massive airline for such a cheap price? Will it go bankrupt? Too many questions remain unanswered; however, don't be surprised if this stock dwindles to lower values massive share price surges will become reality. There still is massive value in this stock when split up among certain assets as there are enough airlines in Europe booking profit after profit with increasing dividends and stock returns, such as easyJet (OTCQX:ESYJY) and Ryanair (NASDAQ:RYAAY).
The coming months will be very interesting for any airline follower in Europe.
Disclosure: The author has no positions in any stocks mentioned, and no plans to initiate any positions within the next 72 hours.
The author wrote this article themselves, and it expresses their own opinions. The author is not receiving compensation for it (other than from Seeking Alpha). The author has no business relationship with any company whose stock is mentioned in this article.
Editor's Note: This article discusses one or more securities that do not trade on a major U.S. exchange. Please be aware of the risks associated with these stocks.