With the Federal Reserve (Fed) ending its third and final round of quantitative easing (QE) in October, investors are trying to assess the impact on income-producing asset classes. While the complete effect of Fed policy normalization remains to be seen, the end of its asset purchases effectively eliminates the downward pressure that balance sheet growth has put on rates.
Additionally, the end of QE leaves the Fed one step closer to its next phase of policy normalization, which may well involve raising the federal funds rate. Against this backdrop, the prospect for rising rates comes more into focus, prompting investors to examine the rate risk embedded in their preferred stock exposure.
Preference for preferreds
In the face of below-average interest rates over the last several years, investors have increasingly looked beyond traditional fixed-income instruments in an effort to generate the yields they were able to earn before the Great Recession. One market segment that has benefited is preferred stock, which typically generates higher yields than bonds due to their lower position in the capital structure and their income is often tax-advantaged. In fact, assets in preferred stock funds have grown from $1 billion to more than $10 billion over the last 10 years.1
During the latter half of this period, Fed intervention in the bond market via QE has been supportive of preferreds, which have traditionally had fixed coupons and long maturities. Since the beginning of the first round of QE in February 2009, preferreds have generated an annualized return that slightly underperformed stocks, but generated more than three times the return of bonds, as shown below.

Source: Bloomberg LP, annualized return from Feb. 28, 2009, through Oct. 31, 2014. Preferreds are represented by the BofA Merrill Lynch Fixed Rate Preferred Index, stocks by the S&P 500 Index, and bonds by the Barclays U.S. Aggregate Index. Past performance is not an indicator of future results.
Investors got a brief taste of the effect of rising rates on preferreds last year during the market's "taper tantrum," when the Fed announced plans to reduce its asset purchases and kicked off a rise in Treasury yields. As seen below, rates began to rise in May. By the time they peaked in September, the prices of fixed-rate preferreds had fallen more than 10%.2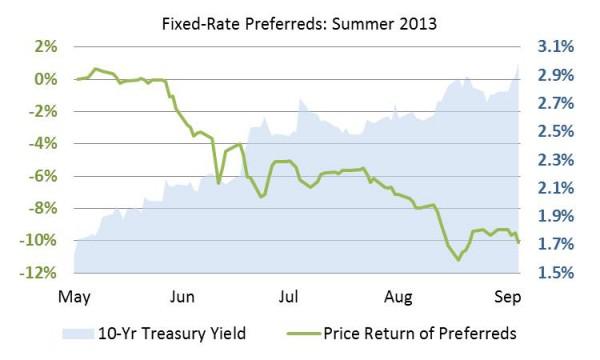 Source: Bloomberg L.P., Oct. 31, 2014. 10-year Treasury yields (right-hand axis) represent the yield to maturity of the most recently issued 10-year Treasury bond. The price return of preferreds (left-hand axis) is the return based on the change in prices of preferreds as measured by the Bank of America Merrill Lynch Fixed Rated Preferred Securities Index, and does not factor in any coupon payments. Past performance is not a guarantee of future results.
Investors eyeing variable-rate preferreds
As preferred stock investors make adjustments to reduce the risk that their bonds will decline in value in the event of an interest rate rise, variable-rate preferreds - including both floating-rate and fixed-to-floating rate preferreds - are getting increased attention.
The coupon of a floating-rate preferred includes two parts: a rate that represents a fixed spread over Treasuries plus a rate that's allowed to change (or "float"), such as the three-month LIBOR. One reason some investors expect floating-rate preferreds to outperform traditional fixed-rate preferreds in a rising rate environment is that they tend to trade on a yield-to-call basis - in other words, they trade as if the security will be redeemed on its call date before it matures. By definition, a call date is earlier than a maturity date, so when a security trades on a yield-to-call basis, it trades as though it has a shorter maturity. As a result, it can exhibit less interest rate sensitivity than it would otherwise.
While most of the fixed-rate market is able to be called before it reaches maturity, the majority of it has been issued since 2009 in an exceptionally low interest rate environment. This puts downward pressure on the likelihood of these being called when rates are expected to be higher, which means they tend to trade more on a current yield or yield-to-maturity basis.
By comparison, a fixed-to-floating rate preferred is issued with a fixed-rate coupon that is scheduled to float at some future date when it also becomes callable. The terms of fixed-to-floating preferred stipulate that one of two things will happen on its call date:
It will be called.
It will remain outstanding, and its coupon will begin to float.
Regardless of which event occurs, the call date effectively marks the elimination of the preferred's interest rate risk.
If you're looking for income with lower interest rate risk than traditional preferred stock, you may want to consider the PowerShares Variable Rate Preferred Portfolio ETF (NYSEARCA:VRP), an exchange-traded fund that offers exposure solely to variable-rate preferred securities.
1 Source: Morningstar, as of Sept. 30, 2014
2 Source: Bloomberg L.P., Oct. 31, 2014
Important information
The Bank of America Merrill Lynch Fixed Rate Preferred Securities Index tracks the performance of fixed rate US dollar-denominated preferred securities issued in the US domestic market. The S&P 500 Index is an unmanaged index considered representative of the US stock market. The Barclays U.S. Aggregate Index is an unmanaged index considered representative of the US investment-grade, fixed rate bond market. The three-month LIBOR is a daily reference rate based on the interest rates at which banks offer to lend unsecured funds to other banks in the London wholesale (or interbank) money market.
A bond's maturity date is the date on which the bond issuer repays the principal amount.
The call date is the date at which the bond can be redeemed before maturity.
A variable rate is a rate that can change on a periodic basis.
A spread is the difference in basis points between Treasuries and another security. A fixed spread doesn't change.
There are risks involved with investing in ETFs, including possible loss of money. Shares are not actively managed and are subject to risks similar to those of stocks, including those regarding short selling and margin maintenance requirements. Ordinary brokerage commissions apply. The Fund's return may not match the return of the Underlying Index.
Preferred securities may be less liquid than many other securities, and in certain circumstances, an issuer of preferred securities may redeem the securities prior to a specified date.
Investments in preferred securities carry interest rate risk. Interest rate risk refers to the risk that bond prices generally fall as interest rates rise and vice versa.
Variable and floating-rate securities may be subject to liquidity risk, meaning that there may be limitations on the ability to sell the securities at any given time. Due to their variable or floating-rate features, these securities generally will pay higher levels of income in a rising interest rate environment; however, there can be no guarantee that a dividend paid by a floating-rate security will increase as interest rates rise.
Investments focused in a particular industry are subject to greater risk, and are more greatly impacted by market volatility, than more diversified investments.
The information provided is for educational purposes only and does not constitute a recommendation of the suitability of any investment strategy for a particular investor. Invesco does not provide tax advice. The tax information contained herein is general and is not exhaustive by nature. Federal and state tax laws are complex and constantly changing. Investors should always consult their own legal or tax professional for information concerning their individual situation. The opinions expressed are those of the authors, are based on current market conditions and are subject to change without notice. These opinions may differ from those of other Invesco investment professionals.
| | | |
| --- | --- | --- |
| NOT FDIC INSURED | MAY LOSE VALUE | NO BANK GUARANTEE |
All data provided by Invesco unless otherwise noted.
Invesco Distributors, Inc. is the U.S. distributor for Invesco Ltd.'s retail products and collective trust funds. Invesco Advisers, Inc. and other affiliated investment advisers mentioned provide investment advisory services and do not sell securities. Invesco Unit Investment Trusts are distributed by the sponsor, Invesco Capital Markets, Inc., and broker-dealers including Invesco Distributors, Inc. PowerShares® is a registered trademark of Invesco PowerShares Capital Management LLC (Invesco PowerShares). Each entity is an indirect, wholly owned subsidiary of Invesco Ltd.
©2014 Invesco Ltd. All rights reserved.