Thursday's OPEC decision was not a surprise to the market as many analysts had been pricing in an OPEC decision to keep production at current rates after key members indicated that they would not be able to decrease production moving forward. So while a large portion of the market was not surprised by the move, oil related equities fell sharply during Friday's half day session as investors reacted to the possibility of a further decline in oil prices.
We thought that OPEC would look to cut production a bit but were incorrect in that thinking. After the fallout from the move it appears to us that OPEC members may have dug a hole that they will not be able to get out of easily as the further oil prices fall, the further certain countries are from balancing their budgets and maintaining their credit ratings.
Chart of the Day:
WTI Crude is trading higher today, but many of the energy related equities are still trading lower. It seems that a bottom has not yet been established, so we will continue to look for one.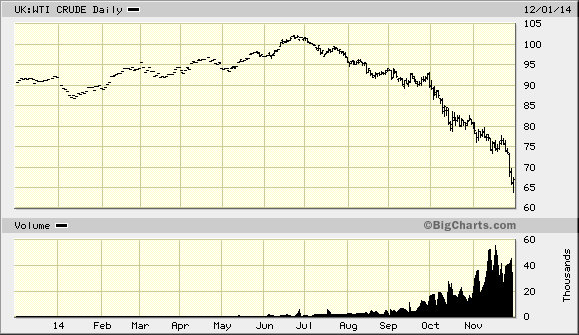 Source: BigCharts
Commodity prices are as follows (at time of submission):
Gold: $1,195.10/ounce, up by $19.60/ounce
Silver: $16.155/ounce, up by $0.599/ounce
Oil: $67.21/barrel, up by $1.06/barrel
RBOB Gas: $1.8554/gallon, up by $0.0278/gallon
Natural Gas: $3.992/MMbtu, down by $0.096/MMbtu
Copper: $2.869/pound, up by $0.023/pound
Platinum: $1,224.30/ounce, up by $13.00/ounce
Shale E&Ps Under Pressure
Friday was an awful day for shale drillers as investors saw some names fall by nearly 30%. While we can understand investors selling off shares of names such as SandRidge Energy (NYSE:SD) (down over 26%), Halcon Resources (NYSE:HK) (down almost 21%) and Talisman Energy (NYSE:TLM) (down almost 19%) we do have difficulty understanding some of the moves which occurred on Friday in names such as Continental Resources (NYSE:CLR) and Chesapeake Energy (NYSE:CHK).
Harold Hamm did remove the hedges that Continental Resources had in place, a move we said at the time reminded us of Chesapeake's ill-timed call on natural gas prices a few years ago, but the company should still be producing at a profit based off of some of the numbers we have seen in analyst reports and research papers. Even looking at Chesapeake one has to scratch their head a bit as the company has a lot of natural gas and natural gas liquids production that will minimize the impact of lower oil prices moving forward.
EOG Resources (NYSE:EOG) is the one name everyone can agree on as the one blue chip name that everyone can continue to hold, but with the bloodbath that occurred on Friday we think that the market created some short-term trading opportunities in some of the shale E&P names; especially those companies which have hedges in place.
Railroads Under Pressure Too
It is not just the shale producers who are under pressure, but companies who supply goods and services to the E&Ps as well. The railroads came under pressure on Friday's half day of trading, with Union Pacific (NYSE:UNP) falling nearly 5% and Kansas City Southern (NYSE:KSU) falling over 5%. Falling oil prices would be bad for continued volume growth in crude shipped via rail and would also hurt rates, but might take some of the regulatory pressure off of the railroads as more capacity became available for traditional customers such as farmers and low margin commodity producers.
If the $115/share level does not hold for Union Pacific, investors will have to look for support at either $110/share or $105/share.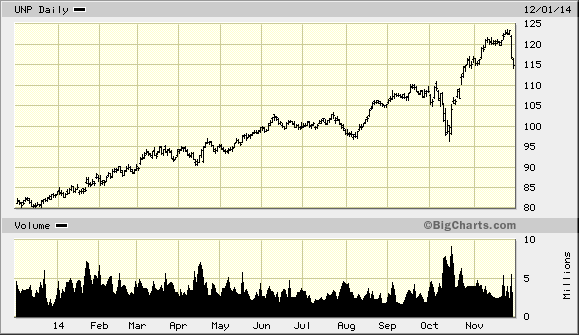 Source: BigCharts
The drop in oil prices will not affect the railroads in the short-term, but any prolonged downturn in WTI Crude prices would impact results in the years ahead.
Another area investors can look for names under pressure are the oil field services companies. Halliburton (NYSE:HAL) fell another 10% on Friday as investors continue to punish the company for their
Disclosure: The author is long HK.
The author wrote this article themselves, and it expresses their own opinions. The author is not receiving compensation for it (other than from Seeking Alpha). The author has no business relationship with any company whose stock is mentioned in this article.