Lots of talk today about the carry trade unwinding, with fingers pointing towards a selloff in Euro/Yen as evidence of that.
The first chart below shows the Euro/Yen (orange solid line) vs. the S&P (red/black candlestick line). The relationship has historically been pretty tight, except at the end of 2010. Since the beginning of 2011, it's been somewhat back in sync, even post the mid-March tsunami. The recent falloff though would probably be best explained by Eurozone related issues and less so as indicative of overall global risk appetite.
Click to enlarge: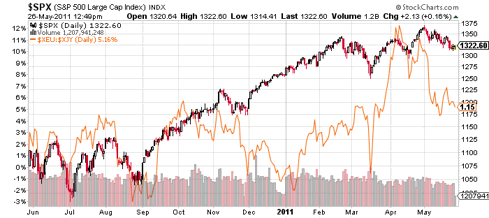 (Source: StockCharts.com)
On the other hand, look at the second chart below showing Aussie Dollar vs. S&P. It's a much tighter relationship, though it's not clear which takes the lead in determining direction. Which brings us to the last chart showing the S&P vs AussieYen. On several occasions, it appears that movements in AUD/Yen are precursors for movements in S&P.
Click to enlarge: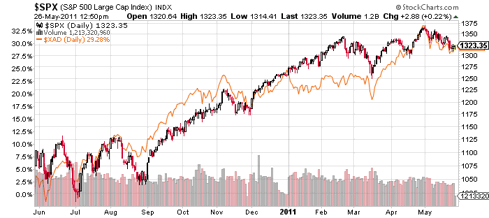 (Source: StockCharts.com)
I'm bringing this up because there are many people who focus on broad classifications of market movements in terms of either 'risk on' or 'risk off', and the 'carry trade' or 'carry trade unwind' often crops up as the root cause. While in general that is often correct, the charts below show that there are some considerable distinctions in terms of exactly which 'carry trade' one is focused on and, in turn, which one will have the greatest causal effect on equities! For now, it appears that a close eye on the Aussie dollar, especially vs. Yen is warranted!
(Source: StockCharts.com)
Disclosure: I am not outright long any currencies mentioned in this article but am long EWA, EWG, EEM and VWO, along with many stocks within the S&P. Positions may change at anytime without notice.

Disclaimer: Please read and consider important information related to all communication made by Soos Global on SeekingAlpha.com by clicking here. This article is solely meant to be thought provoking and is not in any way meant to be personal investment advice. Each investor is obligated to opine and decide for themselves as to the appropriateness of anything said in this article to his or her unique financial profile, risk tolerances and portfolio goals).