After a period of extensive exposure to commodities, mainly energy and precious metals, my ETF Pullback strategy (see appendix below for details and performance information) started to switch gears last week and continued this week. Here's the current list:
This was last week's selections:
(NYSEARCA:EWG) iShares MSCI Germany Index Fund
(PWT) PowerShares Dynamic Sm. Cap Growth
(NASDAQ:PNQI) PowerShares Nasdaq Internet Portfolio
(NYSEARCA:UGA) United States Gasoline Fund

(DKA)

WisdomTree International Energy
This week's list isn't completely commodity-free. PowerShares FTSE RAFI Asia Pacific ex Japan is about 42% weighted in Australia, a country whose economy is driven largely by natural resources. But after the incredible drubbing I took with commodities in recent weeks (see Figure 3 in the appendix), I'm not averse to retaining an 8% exposure (42% of an ETF that's one out of five) to a commodity-driven economy in the event the group sees at least some sort of "technical" bounce.
I've given up trying to actually predict what will happen with oil. We know speculation is playing a role in oil prices apart from basic supply and demand. We know, too, that Wall Street has completely lost its mooring as to how even to evaluate it. Lately, we've been experiencing an absurd situation where rising oil prices are seen as bullish, and vice versa when oil prices slide. In other words, we seem to have entered some sort of alternative universe where a phenomenon that is functionally equivalent to a tax increase (in that it drains money away from consumers and businesses) is seen as good for stocks.
Oh well, live and learn. It's almost as crazy as imagining U.S. Republicans riding a wave of populist support for repeal of healthcare and slashing of the federal budget, finding themselves less than a year from the start of the next primary season without strong, credible presidential candidates (i.e., other than Newt Gingrich, who could, perhaps, benefit by seeking marital advice from his former adversary, Bill Clinton). Oh wait a minute: We're seeing that, too.
That's actually an important issue for three of the ETFs on this week's list, the ones that focus on healthcare. (Is anybody still interested in that?) Conventional wisdom tells us this is a troubled area. That's bizarre because it shouldn't be, given the powerful demography-driven surge in demand for all kinds of healthcare services for an aging population. But the intensity of consumer demand for health-related services is matched only by a reluctance to pay for them. Meanwhile, the intensity of public-sector commitment to solving the healthcare access conundrum is matched only by its commitment to squeezing the financial daylights out of anyone who attempts to make a living by providing such access.
I guess it all makes sense. Higher oil prices are good for the economy. We broaden access to healthcare by reducing financial returns for providers. It has been a long time since Aristotle did his thing. Perhaps it's time to study up on alternative logic (and we were just beginning to get the hang of alternative assets).
Seriously, I suspect traditional logic will eventually carry the day. Sooner or later consumers and the public sector will come to grips with the need to allow healthcare providers to profit enough to attract as many service providers as we want and need. I think that's where the "give" will come because, ultimately, both Democrats and Republicans age and get sick and political rhetoric aside neither is going to be pleased when faced with the prospect of not being able to get the care they need. So with this sector, it may be simply a matter of being patient, buying when sentiment is bad (as many say we should be doing anyway) and holding on pending an inevitable implosion in the nouvelle alternative logic.
I'm not sure how the energy situation will be resolved near term, but down the road prices will have to settle at a level that's high enough to attract the necessary supply without disrupting the economy. The traditional supply-and-demand dynamics should work well to achieve this balance if when they actually get a chance to work, an outcome that may require much higher futures-contract margin requirements that squeeze out the more aggressive speculators. For now, however, my exposure is low enough to live with just about any scenario.
Meanwhile, the list also has significant exposure to South Korea, through EWY and PAF, where South Korea, at about 35%, is the fund's largest weighting. Note too that within EWY, Samsung (OTC:SSNLF) accounts for about 15%; it's 5.5% of PAF. That gives us a play on the devices market, where Samsung has emerged as one of the early leaders among the non-Apple (NASDAQ:AAPL) tablets and smart phones, where the company is beefing up its Android presence. The other major theme, here, is China. It's a large trading partner with South Korea so for better or worse these funds will react to developments in the Chinese economy and the soft landing it's attempting to engineer in the wake of its real estate bubble. So far, so good, but it remains way too early to pronounce this a success.
Appendix
To create this model, I started with a very broad-based ETF screen I created in StockScreen123.com.
Eliminate ETFs for which volume averaged less than 10,000 shares over the past five trading days

Eliminate HOLDRs (I don't want to be bothered with the need to trade in multiples of 100 shares)

Eliminate leveraged and short ETFs (I think of these as hedging tools rather than standard ETF investments of even trading vehicles)
Then I sorted the results and select the top five ETFs based on the StockScreen123 ETF Rotation - Basic ranking system, which is based on the following factors:
120-day share price percent change - higher is better (15%)

1-Year Sharpe Ratio - higher is better (15%)

5-day share price percent change - lower is better (70%)
The idea of using weakness as a bullish indicator is certainly not new. But often, it's an add-on to other factors that, on the whole, emphasize strength. Here, the weakness factor is dominant, with a 70% weighting.
This model is designed to be re-run every week with the list being refreshed accordingly. I trade through FolioInvesting.com, where I pay a flat annual fee rather than a per-trade commission, so I don't care about the fact that turnover form week to week is often 80%-100%. If you want to follow an approach like this but do have to worry about commissions, the strategy tests reasonably well with three ETFs, or even with one. (Cutting the number of ETFs is far preferable to extending the holding period.)
Figure 1 shows the result of a StockScreen123 backtest of the strategy from 3/31/01 through 12/30/10.

Figure 1
Click to enlarge
Figure 2 covers the past five years, a very challenging market environment that witnessed the fizzling of many strategies that had succeeded for a long time.
Figure 2
Click to enlarge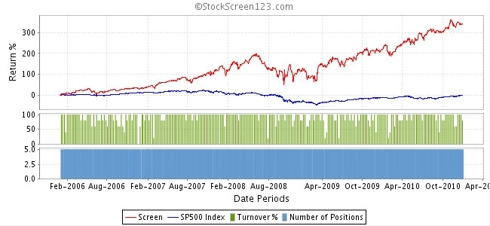 Figure 3, a screen shot from the FolioInvesting.com account I use to trade the strategy.
Click to enlarge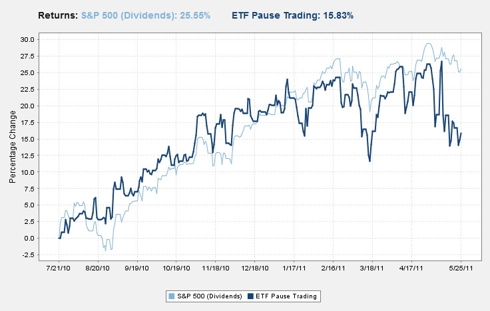 Clearly, the model has been cold for much of the past six months as trends have come and gone with unusual rapidity. Volatility, noteworthy for being low early on, has really picked up of late as the model wrestled with commodity-related gyrations. Frankly, though, all strategies have hot and cold periods, and if more-or-less matching a strong S&P 500 is what comes from a cold spell, I'll take that, but wouldn't want to see much more of what's been going on in the past month.
Disclosure: I am long EWY, FXH, IHF, PAF, RYH.