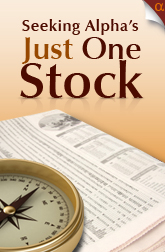 Several times a week, Seeking Alpha's Jason Aycock asks money managers about their single highest-conviction position - what they would own (or short) if they could choose just one stock.
---
Paul Dietrich is chairman and CEO of Foxhall Capital Management and adviser to the Foxhall Global Trends Fund (DOIGX). An international corporate attorney, he has advised the World Bank and international governments on privatization and economic development issues.
If you could only hold one stock position in your portfolio (long or short), what would it be?
The one stock I would personally hold is Spanish Mountain Gold (OTCPK:SPAZF). It also trades on the Toronto Stock Exchange Venture market under the symbol SPA.V.
Investors generally receive a better spread price if they can purchase the stock on the Toronto Stock Exchange.
Tell us about the company behind the stock.
This Canadian gold mining development company has a market cap of about $74 million and has, by my calculations, some of the cheapest in-the-ground gold in the world that is located in a politically stable country.
If you take all the costs associated with mining and processing gold into bullion, an investor is able to buy Spanish Mountain Gold for about $650 an ounce rather than the current price of gold, which is over $1,500 an ounce. That is more than a 50% discount to the current price of gold.
This mining company is a pure gold, advanced-stage development project with significant leverage to the current price of gold. The leverage arising from every dollar increase in the price of gold is very attractive. While the grade of the deposit is low, the tonnage is massive (over four million ounces), so there should be economies of scale, and preliminary work indicates that there should be 88% to 90% recoveries.
The company is well funded, has no debt and is located in British Columbia, which is a mining-friendly and safe jurisdiction, and there are producing mines and infrastructure with grid power and road access nearby. Annual production could be in the region of 200,000 ounces with a life of over 15 years.
How does investing in Spanish Mountain reflect your fund's investment approach?
We are global tactical investors at Foxhall Capital, and our general investment strategy during long-term bull markets is to invest in companies that have (1) low price/earnings ratios, (2) high free cash flow generation, (3) high return on equity and (4) outperformed the S&P 500 Index over the past 12 months. This is sometimes known as an investment strategy that combines the best of both worlds of "value" and "growth" investing styles.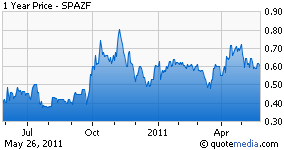 However, in selecting small- to-mid-cap gold shares we use a methodology of general investing guidelines developed by British investment guru Jim Slater:
The deposit needs to be located in a reasonably safe political territory. For example, nothing in Russia, Venezuela or any country with the word "Stan" in its name.

A strong resource position. We check the total number of ounces of gold against the market capitalization of the company - the cheaper per ounce of gold the better.

No serious environmental problems on the horizon.

A strong balance sheet with cash, little or no debt and no major future capital liabilities.

Future production to be unhedged.

Strong cash flow on a multiple (P/CF) below the average of its peer group.

Although it can be difficult to tell the quality of management, a good CEO with a meaningful stake in the company is clearly very desirable.

Rising gold production with a long life.

The cost per ounce of gold produced and the grade are critical factors. High-cost (low-grade) producers are obviously vulnerable to downswings in the gold price but they offer much greater leverage on the upside.

A very prospective deposit open to further discoveries in all directions, including depth, is very desirable.

A relatively small market capitalization, on the principle that elephants don't gallop and fleas can jump 200 times their own height. Also, small caps are less well researched and are more likely to be taken over. Market caps from $20 million to $250 million are the preferred range, but up to $500 million is fine if justified by the fundamentals.
How much is your selection based on the situation in gold and commodities, as opposed to a pure bottom-up pick?
At Foxhall Capital, we view investing in commodities not as a speculative investment, but as a way to hedge overall investment portfolios against the loss of purchasing power caused by inflation, the dropping dollar and the risk of "Black Swan" events in the world we cannot control.
In fact, this week, Foxhall Capital increased our overall commodity exposure in our Foxhall Global Growth investments strategies from 10% to 16% of the total portfolio holdings in order to better hedge against the loss of U.S. dollar purchasing power, because we believe inflation is increasing.
I personally believe that many gold mining companies will do better than physical commodities in hedging portfolios against inflation, because of the inherent leverage that we see in gold mining companies like Spanish Mountain Gold.
How is Spanish Mountain positioned with regard to competitors?
With its low cost per ounce of gold in the ground in relation to its market capitalization, I expect the stock market will eventually correct this anomaly and its share price should significantly increase. Meanwhile, the company provides comfort and protection on the downside while we wait for the market to price it appropriate to other peer-group mining companies.
How does the stock's valuation compare to its competitors?
Given an apples-to-apples comparison, Spanish Mountain Gold is very undervalued compared to its peer group. I credit that to it being under-researched by mining analysts because it is a "junior gold," small-cap stock primarily traded in Canada.
What about Spanish Mountain's management - does it play a role in your choice?
The company has strong and experienced management, which is a plus. Also, two of the company's major investors are Ian Watson and Jim Slater. These two British investors have a history of searching out and investing in junior mining stocks before their prices start to take off. There's a significant number of sophisticated investors around the world who follow these two gold mining experts.
When I saw they had taken major positions and Ian Watson joined the board of directors, I knew this company would have first-rate management or Ian Watson and Jim Slater would not have put up their own money as investors.
As an investment manager, one tries to look at every aspect of a company. Once you find an undervalued company, with very good fundamentals, then the difference can be the people behind the company who have made major commitments of their own capital. I like that!
What catalysts, near-term or long-term, could move Spanish Mountain stock significantly?
If, as I suspect, Washington continues to print new dollars to fund its deficits and other stimulus programs and the dollar continues to drop, inflation continues to rise and the world remains a dangerous and unpredictable place, I believe the price of gold will rise in the long term.
At some point, when investors realize that they can buy gold at a 30% discount to the world market price of gold by investing in Spanish Mountain Gold, the market should correct this inefficiency in the pricing of this stock.
The last time we talked in Just One Stock about gold in the ground, it was also an explorer, Fronteer Gold, which got taken out in a buyout by Newmont Mining (NYSE:NEM). Decreasing discovery sizes still make acquisitions a factor for junior explorers; how attractive a target is Spanish Mountain for a major?
I believe that Spanish Mountain Gold is an extremely good takeover candidate. Given the fact that its four million ounces of gold is less than half the current price of gold; that it still has development land where they haven't found the end of veins so there could be a substantial amount of gold there still to be discovered (that is an additional attraction for a larger acquisition); and the fact it is located in Canada and surrounded by other mines that are owned by larger mining companies. All this makes for an attractive acquisition at some point.
What could go wrong?
I believe two things could happen that could cause the price of gold to significantly decrease.
First: if Washington politicians became serious and agree to legislation that would make major changes in the "Big Three" issues that must be reformed in order to solve our debt and deficit crisis, and that is reforming Social Security, Medicare and defense spending. Unfortunately, I see very little courage in Congress at present, so I am skeptical this will happen anytime soon.
Second, if President Obama fired Fed Chairman Ben Bernanke and replaced him with Paul Volcker, the price of gold would very likely decline within minutes after the announcement. However, I don't think the appointment of Volcker as Fed Chairman is likely to happen either.
Even on the Toronto exchange, this is a low-priced and not especially liquid issue, which - gold in the ground or not - adds to the risk for investors; do you have a limit in your head as to how big a position you'll take in illiquid stocks?
We generally won't take more than a 1% to 2% position of a company's outstanding shares in an illiquid stocks. This is a stock that trades anywhere from 250,000 to 500,000 shares a day. It should be important to remember that this is not a stock for traders who want to move in and out quickly. This is a stock for long-term gold investors.
Junior gold stocks are a long-term leveraged investment in gold, given that you are buying the underlying gold at a huge discount to the current market price. The key to this investment strategy is that an investor must (1) first of all believe that gold is in a long-term upward trend; (2) believe that eventually the market will properly price this undervalued gold play vis-a-vis its peer group mines, and (3) believe that there is a very high probability that Spanish Mountain will be subject to a buyout by one of the major mining companies.
Thanks, Paul, for sharing your choice with us.
Disclosure: Long SPA.V on the Toronto Exchange.
Read more Just One Stock interviews »
If you are a fund manager and interested in doing an interview with us on just one stock position you'd hold, please email us at Just One Stock.