Making The Connection
2011 was the last fiscal year that Abercrombie & Fitch (NYSE:ANF) saw positive same-store sales with overall comps increasing 5%. Since then, annual same-store sales have taken a nose dive with 2012 and 2013 fiscal years coming in at -1% and -11%, respectively.
2011 is also important in Abercrombie & Fitch's recent history because that is the last time since the Great Recession that the teen clothing retailer's stock has traded above $60 per share. Today the company's shares are trading below $30 per share and hovering around its 52-week low.
The clothing retail space overall has largely underperformed the S&P 500 the past year. Yet, no other chain knows more about underperformance in this sector than Aeropostale (NYSE:ARO) which has seen its shares tumble over 60% year-to-date, and which has been a popular rival of Abercrombie & Fitch for years.
While Abercrombie & Fitch and Aeropostale don't run identical retail businesses, each is similar enough to use Aeropostale as a barometer to what Abercrombie & Fitch's future might soon look like as both a stock and a company. This is because Aeropostale's collapse began in 2010 - one year prior to the last year Abercrombie & Fitch saw positive same-store sales - and the last year Aeropostale saw double-digit same-store sales.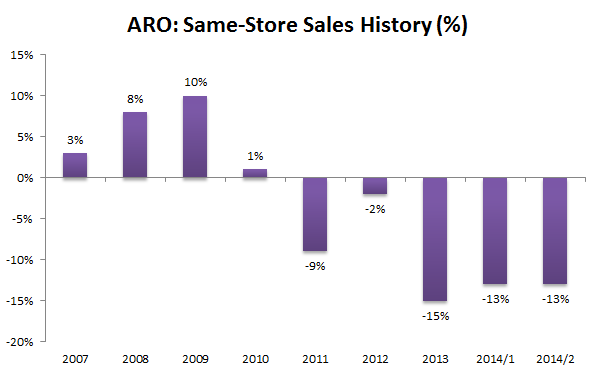 (Source: Aeropostale company annual reports)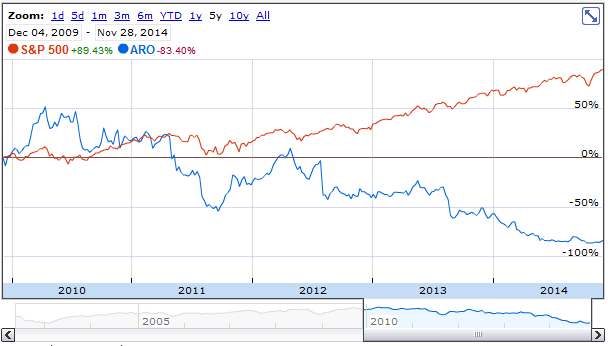 (Source: Google Finance)
Recent Financial News
In their second quarter fiscal 2014 earnings, Abercrombie & Fitch saw revenues fall 6% to $891 million, while net income climbed 13.2% to $12.9 million. Aeropostale, at least a year ahead of Abercrombie & Fitch in its timeline of tragic decline, saw its second quarter produce revenues that fell 13% to $396.2 million and a net loss of $63.8 million.
This week's third quarter earnings announcement for Abercrombie & Fitch shouldn't come completely as a surprise since the company released preliminary results back on November 7th. Revenues are expected to fall another 12% to $911.4 million on a year-over-year basis while net income will be officially revealed this week.
Comparable sales was the bigger news item in the preliminary earnings announcement as they fell 10% overall as U.S. and international same-store sales were down 7% and 15%, respectively. Management stated that same-store sales lost momentum throughout the third quarter and were significantly weaker in September and October when compared to August.
For several quarters direct-to-consumer or online sales has been the single bright spot in Abercrombie & Fitch's collapse. However, even online sales are starting to run out of steam. For the third quarter, online sales are expected to have increased 8%, down from the 11% seen in the third quarter of fiscal 2013. Even worse is the deceleration during this fiscal year alone. During the first quarter online sales grew 27% as management predicted that online sales would soon make up over 25% of total sales for the company.
Nevertheless, below is how Abercrombie & Fitch has performed on the top and bottom line numbers since the beginning of fiscal 2013.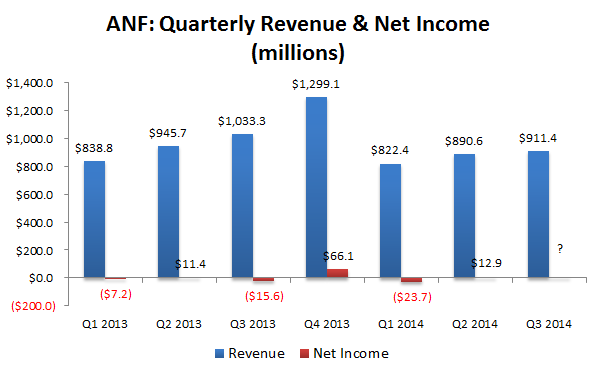 (Source: Abercrombie & Fitch quarterly earnings)
The One Metric That Will Decide Abercrombie & Fitch's Fate
In my opinion, overall same-store sales isn't the most important metric the market should focus on when Abercrombie & Fitch releases third quarter earnings this week. Instead, the one metric that will have the most impact on the company's overall future is same-store sales within the Hollister brand. Let's first look at the same-store sales growth breakdown chart below.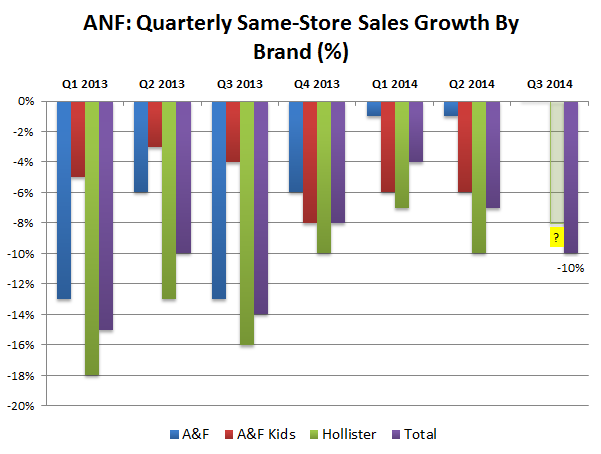 (Source: Abercrombie & Fitch quarterly earnings)
As you can see, Hollister has been by far the weakest link in the company. Since the first quarter of fiscal 2013, same-store sales at Hollister stores have dropped 10% or more in 5 of the last 6 quarters. Making matters worse is the huge effort and investment Abercrombie & Fitch as a company is making to remodel Hollister stores. Most recently, Abercrombie & Fitch brought in Fran Horowitz to be the new president of the Hollister brand. Her previous work experience includes executive positions at Ann Taylor's (NYSE:ANN) Loft brand, Express (NYSE:EXPR), and Bloomingdale's.
But why will same-store sales specifically at Hollister stores decide the overall company's fate?
Hollister has traditionally been the more affordable version of Abercrombie & Fitch merchandise. In many instances, the clothing among both brands would be hard to distinguish without looking at the tag on the back of the item. However, if Hollister continues to decline, it changes the landscape of the company. Does Abercrombie & Fitch reduce already lower prices at Hollister in an effort to improve sales and customer traffic? If this is the path chosen, what happens to the customers that potentially will just be moving from Abercrombie & Fitch branded products to Hollister?
A much darker scenario is the complete collapse of Hollister altogether. I see a possibility in the future where both Hollister and Abercrombie & Fitch merchandise is sold within the same store in sort of a brick & mortar consolidation plan since the company has stated in previous earnings announcements that the leases are coming to an end on many physical store locations across both brands. Then we have the very real problem of predicting what the customer chooses when he or she lines up items from both brands and sees very little difference, and therefore chooses the one that costs less - Hollister.
In the end, a Hollister brand collapse would make installing all the new glass storefronts, large video screens at store entrances, and overall store modeling a huge waste and, more importantly, a big dent in the bottom line of future earnings.
Don't Ignore The Other Factors Though
While Hollister is a huge problem for Abercrombie & Fitch, there are several other obstacles in the near-term that need to be considered.
First, the company seems to have an everlasting identity crisis. For years, Abercrombie & Fitch was blunt and often stubborn about maintaining its business philosophy with highlights that include discriminating against fat customers to marketing its merchandise only to cool kids.
Now the company has done a complete 180, almost out of pure desperation. Hollister stores are now brighter with the music lowered, while the overall company is moving towards fast fashion to keep up with newer rivals like H&M. Plus size merchandise is now being made more available across its clothing lines and the company at this point doesn't care if you are cool or not. Additionally, the company has re-targeted its audience to 20-year-olds for the first time in the company's history.
Second, the company's no-logo experiment doesn't appear to be saving the company's collapse yet. By early next year, it is expected that logos in the U.S. will be nearly gone on all Abercrombie & Fitch merchandise. Until then, though, the company is now having issues getting rid of products with logos that are still in inventory.
Third, Abercrombie & Fitch has started to sell more and more merchandise that isn't theirs in their stores. It started with Keds shoes and SeaVees footwear. Most recently, they are now selling Woolrich products which offer wool shirts, caps, bags, and even stadium blankets. This seems like another attempt to become something for everyone when the company for years offered something for a select few.
Lastly, teen trends may be the most important deciding factor of where Abercrombie & Fitch goes from here. After all, it is teens that have largely decided on Hollister's fate in recent quarters. Piper Jaffray released its semiannual report in October that revealed how teens in the U.S. are spending their money. For the first time in the report, T.J. Maxx (NYSE:TJX) is now in the top 10 of preferred clothing brands while Abercrombie & Fitch went from 9th place in the Fall of 2013 to 10th place in the Spring of 2014 to now not even being on the list.
Even worse is that both Aeropostale and Abercrombie & Fitch stores take the top 2 spots when it comes to store brands that are losing popularity. In the same ranking, Hollister happens to have been in the 3rd or 4th spot the past three straight reports.
Conclusion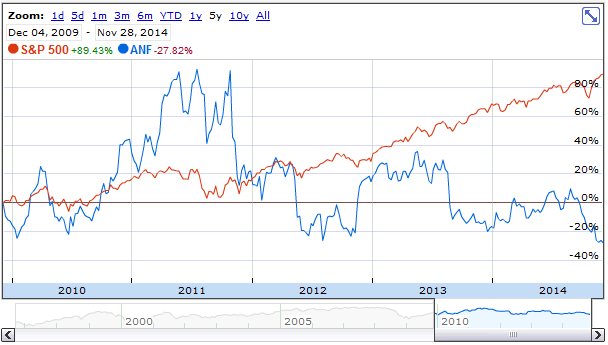 (Source: Google Finance)
At the end of November, Abercrombie & Fitch announced they will be making their first entry into Mexico with both Abercrombie & Fitch and Hollister stores. I believe this is unlikely to make any significant impact for the company overall.
The fact that management reiterated in their third quarter preliminary earnings update that weak store traffic is the main culprit to the quarter's weak earnings only shows that Abercrombie & Fitch continues to be a never-ending story of excuses and poor execution.
For one, why is the company spending millions to remodel physical store locations when management admitted earlier this year that online sales are becoming a bigger and bigger contributor to overall sales? Secondly, why didn't the company test out clothing without logos while still selling clothing with logos to truly see what customers prefer before going all in with a decision?
Aeropostale offers a glimpse into Abercrombie & Fitch's future because it has shown that once same-store sales start to reverse negatively, everything else follows - revenues, net income, and for investors, stock price. Having started its own collapse at least a year before Abercrombie & Fitch's, Aeropostale has struggled to win back customers as the chain's stock continues to make new lows, all while the net losses pile up for the once successful retailer.
In the end, though, the decision to logo or not to logo is not the right question to be asking. Instead, the real question is whether Hollister is an asset or a liability for the company going forward. That is why in this week's earnings, same-store sales for the Hollister brand is the most important metric to consider.
Disclosure: The author has no positions in any stocks mentioned, and no plans to initiate any positions within the next 72 hours.
The author wrote this article themselves, and it expresses their own opinions. The author is not receiving compensation for it (other than from Seeking Alpha). The author has no business relationship with any company whose stock is mentioned in this article.