Empire District Electric Company is yet another victim of the horrific devastation from the tornado in Joplin this past weekend. The stock had initially declined modestly earlier this week, but it plunged yesterday by 15%, wiping out $125mm in market value after the company suspended its dividend for two quarters. The company cited 8-10k customers that will be out of service for the forseeable future that will result in 10-15% loss of revenue and damage repair of $20-$30mm before potential insurance recoveries.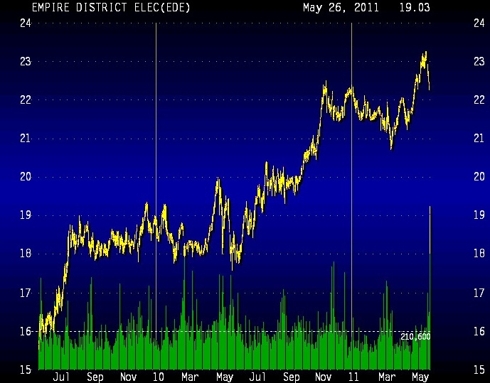 Is this a potential opportunity? It would appear so, though it will take time to play out and likely not reattain its recent 23+ level for at least a year.
If the company is correct that the dividend will be eliminated for just 2 quarters (saving about $20mm), shareholders are out .64 per share, significantly less than the 2.95 points it lost yesterday. Perhaps the long-term earnings will decline somewhat as well and pressure the dividend or at least its future growth. The company has paid the same .32 quarterly dividend since 1993. For the past few years, the payout ratio (Dividend/EPS) has been close to 100%, so there isn't a lot of cushion.

So, how does it likely play out? The very bullish case is that the company is able to resume dividend payments at the same level in six months (actually about 8 months, when the company would ordinarily declare the dividend payable in March 2012). The most likely case is that the company ends reducing the dividend somewhat.
The bear case, which is hard to assess, is that the company has some sort of liquidity issue. I read the SEC filings and was unable to find evidence of bank credit lines, though the company uses commercial paper. While I would expect that this should remain an option, clearly it would be a big problem if not. I am no expert in this area and mention this in case you are considering investing.

Though this seems like a good opportunity to take advantage of "shoot-first, ask later" mentality, I would give this a little time. Perhaps the company will be able to provide a clear update on its next quarterly report in late July.
Between now and then, one can get a better handle on potential liquidity issues. Usually about 210K shares trade per day, but yesterday the volume was 2.6mm. That means that almost 40mm shares didn't trade, and I would expect to see some distribution as income funds and individual shareholders (62% of shares), who probably have a profit still or a small loss given where the stock has traded the past decade, react further. Another wrinkle is that the CEO is retiring in a few days (EVP is succeeding him), and the CFO recently announced his retirement (Controller is succeeding him).

Disclosure: I have no positions in any stocks mentioned, and no plans to initiate any positions within the next 72 hours.