Introduction
ReneSola (NYSE:SOL) is among the leading shippers of solar products globally. Starting out as a recycled polysilicon supplier, the company has become one of the top panel suppliers in the world. ReneSola deals in a wide range of solar products, from polysilicon, cells, panels and inverters to mounting systems and saws used to cut wafers. It also has a presence in the downstream installation business.
SOL recently announced its Q314 results, which came in below expectations. Management cited currency fluctuations as one of the main causes for its unimpressive performance. However, ReneSola will still benefit from rapid growth in the industry going forward. The company has performed well in the past, it is among the largest panel shippers globally and is diversifying into project development. I would use this temporary setback to buy ReneSola.
What went wrong this quarter

Q3 2014 Results were not good.
Revenues for Q3 2014 came to $ 372.5 million, a 3.7% and 11.6% decline from Q2 2014 and Q3 2013, respectively. The company shipped almost 664 MW of solar modules and wafers in the current quarter, compared to 698 MW in the last quarter. ReneSola reported gross margin of 15.3% in Q3 2014, which was near the low end of a 15%-17% guidance range, and up from 14.7% in Q2 2014. The company reported a net loss of $ 11.7 million in the current quarter.
For a complete look at the quarter and management's response, see the Seeking Alpha transcript of the earnings conference call here.
The results were not good by any measure. While revenues and shipments declined, margins also did not improve much.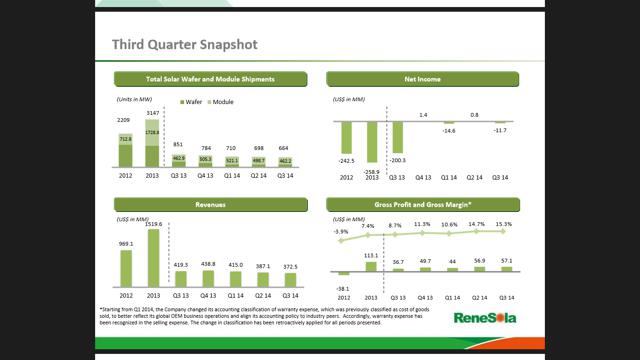 Source: ReneSola
Margins fell due to Euro and Yen depreciation
ReneSola's gross margins suffered because of declining ASPs (average selling prices). Europe and Japan are the two biggest markets for the company. However, both the euro and yen depreciated sharply against the dollar and the yuan. This led to the margins not improving much.

Here's what ReneSola CFO Daniel Lee had to say about ASPs on the above-linked conference call:
Okay, for Q3, let me just give you the ASP for different regions. For the US, our ASP was $0.73. Europe was $0.70, Japan $0.67, China $0.56, and rest of the world is $0.63. What we see in Q3 is -- this can be a downtick in ASPs across the board other than China which -- where we have seen [ph] this stable low-price as it is $0.06. In the US we have to see a penny or two decrease; but we will -- what we see as the biggest decline would be in Europe and Japan mainly to the reason we mentioned before, the currency depreciation of these two major currencies.

So we see the ASP on average for us probably would in the lower 60s, 63 -- $0.62 to $0.63.

What I like about SOL
Leading solar panel shippers. ReneSola entered the module business five years ago and is one of the top 10 solar panel suppliers globally. The company ships both solar modules and wafers.
Product wise Shipment Details (in MW)
| | | |
| --- | --- | --- |
| | Q3 2014 | Q2 2014 |
| Module | 462.2 | 498.7 |
| Wafer | 201.6 | 199.6 |
| Total | 663.8 | 698.3 |
Geographically well diversified. ReneSola has a well-diversified supply chain spread across leading solar markets. Currently, the company shipped the maximum to Europe amounting to ~47% of total shipments. There was a sharp increase in shipments to Japan. From the table below, we can see that shipments to Japan increased from 7% last year to 25% this year. ReneSola is trying to ship more to higher ASP regions. The company has an advantage over its Chinese peers, as it has procurement relationships for buying solar panels from countries other than China. This helps mitigate the effect of unfavorable sanctions on Chinese imports by different countries.

Source: ReneSola
Increasing Project Pipeline. ReneSola has 25 MW utility-scale projects in Bulgaria and Romania and 37 MW Golden Sun projects in Zhejiang, China. The project pipeline consists of 13.4 MW and 6.4 MW UK utility-scale projects in construction, which are expected to be grid-connected by year end and early next year, respectively. The company is thinking of shifting focus from large utility projects to commercial and residential projects and also expanding into downstream project development.
Risk
Competition. ReneSola, Jinko Solar (NYSE:JKS) and Canadian Solar (NASDAQ:CSIQ) were the best performing stocks in 2012, but SOL has deteriorated over the last 18 months. Though solar stocks have not generated good returns this year, the industry has strong growth potential and will yield better results in the future.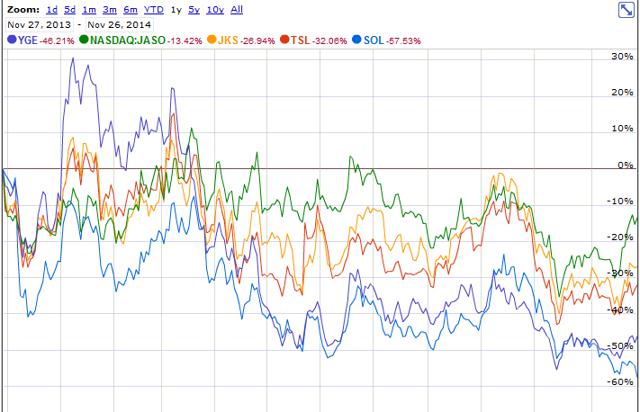 Source: Google Finance
Stock Performance & Valuation
SOL is cheap. As of intraday Monday, it trades at or near its 52-week low. Valuation is cheap, with P/B at 1.3x and P/S at 0.1x.
Conclusion
ReneSola has not been performing well in the last year. The current stock price reflects this poor execution. While margins continue to improve, the company is still losing money as Jinko Solar and Trina Solar (NYSE:TSL) turn profits. Investors have run out of patience, leading to its low valuation. However, the solar industry continues to grow in the high double digits and Renesola is a leading player in this industry. As the company improves its execution and increases its system development business, the stock price should go up.
Disclosure: The author has no positions in any stocks mentioned, and no plans to initiate any positions within the next 72 hours.
The author wrote this article themselves, and it expresses their own opinions. The author is not receiving compensation for it (other than from Seeking Alpha). The author has no business relationship with any company whose stock is mentioned in this article.