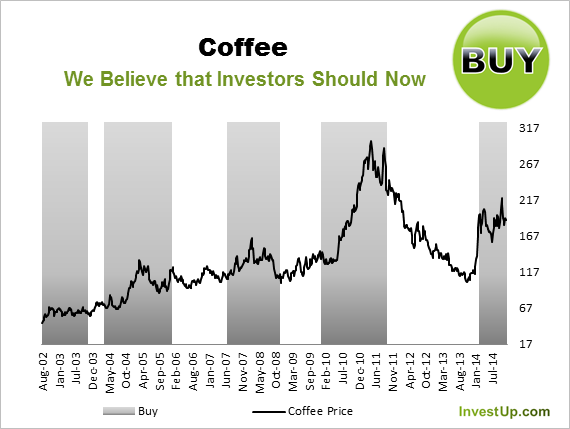 TRADE SUMMARY
Stay long coffee (ETF: the i

Path Dow Jones-UBS Coffee ETN

(NYSEARCA:JO); Futures: KC).
The BUY rating was issued at 175.65 on 2/25/2014.
The BUY rating has already helped investors produce potential gains of 5.48% before leverage.
Our target return is 24.26% before leverage.
ANALYSIS
We continue to look for coffee to outperform.
Unlike many other assets where our views are based on fundamental analysis, we use a mathematical approach to forecast coffee prices. Based on our framework that focuses on supply and demand relationships, we investigate the relationship between the coffee prices and macro trends such as global demand, emerging market growth, production growth, weather conditions, and inflation rates. Combined, these factors drive the majority of the coffee market's moves. The algorithm aims to comply with the theory of supply/demand, to create consistency and to cover the full depth and breadth of the coffee cycle scenarios we are considering.
The majority of the components are indicating that coffee has been trading cheap relative to where the fundamental data implies. Consequently, we are comfortable about our current positive view on coffee.