The solar industry been undergoing a transformation of sorts in the last decade. While solar adoption has been gaining a tremendous amount of traction, the industry itself has been characteristically unstable and cyclical. Although critics of the solar industry focus on its spectacular failures, such as the Solyndra debacle, there have been a few industry mainstays that have managed to survive the last decade of solar bankruptcies and consolidations.
SunEdison (NYSE: SUNE), which is currently one of the largest developers and installers of solar power in the United States, is one of the few companies to have weathered this chaotic solar era. The company has made some big news recently, with the most significant being its huge acquisition of First Wind, which has further bolstered the reputation of the company. Perhaps unsurprisingly, SunEdison's stock soared an astounding 29% on news of this acquisition alone.
While SunEdison initially started out as a silicon wafers manufacturer (which it is considered the pioneer of), the company has successfully expanded its businesses to encompass the entire solar value chain. While some may accuse the company of being spread too thin, the management thus far has been shown to be extremely successful. SunEdison's likely continued success in an industry where most have failed will be contingent upon the company's diversified nature, rapidly expanding pipeline, and yield co-centric model.
Diversification
SunEdison is involved with multiple aspects of the solar value chain. While most solar companies are focused on one specific aspect of the solar industry, such as manufacturing or panel installations, SunEdison has developed an extremely multifaceted business. In addition to its upstream business of manufacturing polycrystalline silicon wafers, the company is also heavily involved in the downstream market of solar development, installation, financing, and services. The company's diversified business portfolio has helped the company navigate through the volatile solar industry and will be essential for the company's future success.
Not only does SunEdison participate in the many different fields of operations within the solar industry, but the company also caters to a diversified global market. Rather than focusing on the U.S. market alone, SunEdison operates in wide array of countries, including but not limited to the emerging markets of India, China, Southeast Asia, and Africa. In China, for instance, the company is set to install 1 GW of solar over the next three years, which is impressive given that SunEdison's presence in China is comparatively weak in comparison to its presence in other countries.
While Sunedison already has a strong presence in developed countries such as the United States, the company's increasing involvement in the emerging markets is especially important. The afore mentioned emerging markets contain the majority of the world's population and also have the most potential to grow. China's per capita electricity consumption, for instance, stands at 3,297 kWh, which is only a fraction of the United States per capita electricity consumption of 13,246 kWh. In countries such as India or Africa, the energy use per capita is an even smaller fraction than that of the United States. By positioning itself as one of the first-movers into these emerging markets, the company stands to gain immensely in the future.
SunEdison's decision to diversify both in terms of its business model and its geographical reach will be crucial going forward. While business model diversification helps reduce the systemic risk inherent in the volatile solar industry, the company's geographical diversification in turn helps reduce the systemic risk of countries' unpredictable environmental politics. By establishing a presence throughout the world and offering a wide array of services, SunEdison is positioning itself to be a dominant global player in the years to come.
Aggressive Growth Path
Most individuals have continually underestimated the pace of solar's growth over the years. While it is natural to assume that solar would have a linear growth pattern, solar adoption has actually been exponentially increasing over the years. Solar panel nanotechnology is essentially the same as semiconductor nanotechnology, which means that solar panels, like computer chips, improve at an exponential rate. The exponential nature of solar has actually been named Swanson's Law, after the man who first noticed the pattern.
SunEdison has clearly recognized this growth trend, and is doing its best to take advantage of it. Unlike many other solar companies who have set relatively tepid or even non-existent growth targets, SunEdison is taking the opposite approach. The company already has a massive project pipeline of approximately 4.5 GW spanning across two dozen countries, highlighting SunEdison's aggressive growth path. In quarter 3 alone, SunEdison added approximately 560 MW to its project pipeline.
Evidence of an upcoming solar demand boom is slowly mounting, and SunEdison is clearly taking advantage of this. In fact, SunEdison's pipeline combined with the company lease and backlog increases projected future outlook to a whopping 8.5 GW of renewable power. While many other solar companies are opting to take more conservative growth paths, SunEdison is seizing the opportunity and aggressively planning for the future.
Yield Co Focused Model
The yield co model has become increasingly more popular among solar developers. A yield co, which is a publicly traded company formed to create predictable cash flows, can help lower the costs of capital by separating more volatile assets from more stable assets, such as solar or wind farms in SunEdison's case. This separation of assets helps attract more conservative investors who would never risk owning the stock itself. While many solar companies are already utilizing their own yield co's, such as NRG Energy's (NYSE:NRG) yield co NRG Yield (NYSE:NYLD), SunEdison has taken this strategy to another level.
SunEdison's yield co TerraForm Power (NASDAQ:TERP) has proven to be a major bright spot for SunEdison. TerraForm Power has attracted a multitude of different investors who would have never even considered buying SunEdison's stock. Given SunEdison's hunger for capital, TerraForm Power's ability to tap into new capital markets has been a major boon for the company.
Just recently, SunEdison and TerraForm Power acquired First Wind for $2.14B. This proved to be great news for SunEdison, and with the acquisition, the company became arguably the largest renewable energy developer. Unsurprisingly, SunEdison and TerraForm Power's shares jumped 29% and 26.7% respectively on this news, as this acquisition will undoubtedly attract even more capital to SunEdison.
(Notice the surge in share prices on the 17th due to the First Wind Acquisition)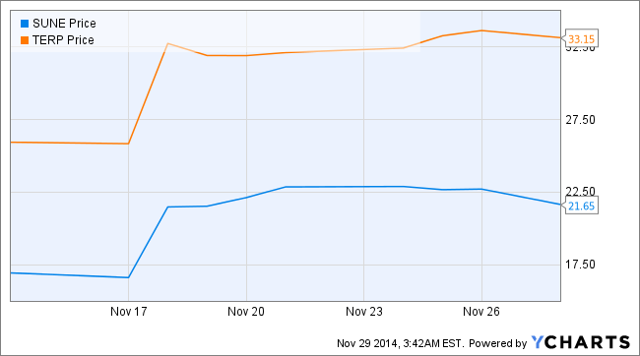 (Source: YCharts)
Financials and Conclusion
SunEdison's quarter 3 results show promise for its future. The company reported a GAAP revenue of $611.5M and a non-GAAP revenue of $672M, or a GAAP EPS of $(0.47) and non-GAAP EPS of $(0.00). Gross margin's also increased by 6% to 9.9%, and the company ended the quarter with $640M in cash and cash equivalent. While these are great metrics, they do tell the full story given the company's huge project pipeline. At a market capitalization of 6.15B, and a visibility of more than 8.5 GW of future growth, the company still has significant upside.
SunEdison has slowly started to stand out among its competitors. With the company's highly varied business model, diversified geographical reach, successful yield co, and enviable pipeline, SunEdison is well equipped for the future. After having survived the tumultuous last decade in the solar industry, SunEdison is prepared to take to lead.
Disclosure: The author has no positions in any stocks mentioned, and no plans to initiate any positions within the next 72 hours.
The author wrote this article themselves, and it expresses their own opinions. The author is not receiving compensation for it (other than from Seeking Alpha). The author has no business relationship with any company whose stock is mentioned in this article.