By far the most difficult, uncertain and highly theoretical forecast to make regarding Apple's (NASDAQ:AAPL) financials is figuring out what the company will record in terms of iPad sales. Not only do we have very little historical data upon which to base forward estimates, iPad sales are simply all over the place.
This makes it extraordinarily difficult to tell exactly what the seasonal trend looks like with the device and whether there is any meaningful seasonality to begin with. Is the iPad more like the iPod where there's a very noticeable massive seasonal spike in sales during the holiday shopping season or is the iPad more like the iPhone where sales don't seem to follow any sort of significant seasonal trend?
Since the iPod was introduced nearly 10 years ago (September 2011), iPod sales go through a normal seasonal shift throughout the year making sales somewhat easy to predict. We tend to see a nearly 100% rise in sequential sales during the holiday shopping season quarter (fiscal Q1) followed by a weak Q2 -- nearly half Q1's sales -- and even a slightly weaker Q3. Apple's fiscal Q4 tends to see an uptick in sales due to the upgrade cycle in September. Will we see the same with the iPad and does the current data suggest that this might be the case? We'll get to that.
The iPhone, by contrast, is very different than what we saw with the iPod -- and it wasn't altogether clear up front that this is how things would play out. Many people expected that, like the iPod, Apple's strongest iPhone quarter would by far be fiscal Q1. That simply hasn't been the case.
In fact, it's Apple's fiscal Q2 that is the most powerful quarter in the iPhone upgrade cycle. What we tend to see is a huge spike in iPhones in Q4 followed by an even bigger spike in fiscal Q1. iPhone sales then peak during fiscal Q2. For the past two years, that has been the seasonal trend. Q3 sales drop off a bit ahead of the upgrade cycle.
The Historical Data
So lets first take a look at Apple's historical data, and see whether there's any meaningful information or trend that can be drawn on the analysis. We've only had a solitary year of sales data so there really isn't much to go on in terms of year over year growth. But what we do have is a lot of sequential data.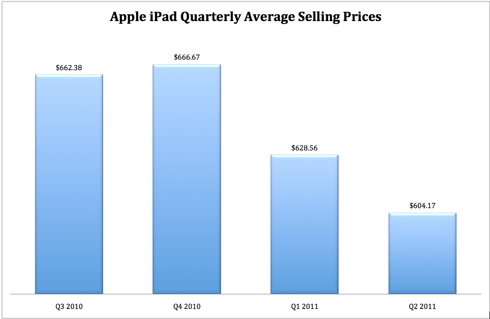 The iPad was first introduced in April 2010 -- at the beginning of fiscal Q3 -- and was met with very positive reception. Apple sold 3,270,000 iPads on a $662.38 average selling price in it's debut quarter -- this was far ahead of analyst expectations of 1 million units. Apple then followed it's debut quarter with an additional 4,188,000 iPads sold which resulted in $2.792 billion in revenue. Right from the get go, the iPad was heralded as being Apple's second biggest revenue driver for the future. The average selling price on the quarter rose to $666.67.
Yet, it wasn't until fiscal Q1 that the investment community learned just how important the iPad is for Apple's future growth. Sales skyrocketed by 75% to 7.331 million units on a sequential basis during the holiday shopping season. Apple recorded an additional $4.6 billion in revenue on the quarter resulting in a near 100% rise in year over year earnings. The big drawback on the quarter, however, was iPad ASP's which seemed to have fallen quite dramatically from $666.67 in fiscal Q4 down to $628.56 in fiscal Q1.
Apple then followed it's blockbuster Q1 with a fiscal Q2 introduction of the iPad 2. All indication seemed to point to the iPad looking more like the iPhone than the iPod in terms of seasonality. iPad estimates on the quarter reached a fever pitch with some analysts, bloggers and prominent Apple watches looking for iPad sales to come in around 7 million units on the quarter. Most blogger-analysts -- who have a far higher accuracy in forecasting Apple's revenue and earnings than do Wall Street analysts -- were estimating iPad sales in the high the 6 millions to low 7 millions.
Yet, due to major supply constraints, Apple was only able to produce sales of 4.7 million iPads. Revenue came in at $2.836 billion -- about $1.7 billion below expectations -- which was the result of further significant downside pressure to the iPad average selling price. iPad ASP fell to a low of $604.17, nearly 10% lower than two quarters earlier.
If it weren't for the major supply constrains during the quarter, I think it's clear that sales would have indeed risen to about 7 million units on the quarter which would match the 7.3 million iPads Apple sold during the holiday shopping season.
So what does this data seem to suggest about Apple's fiscal Q3, fiscal Q4 and what type of conclusions can we make about FYE 2012. First, I think it's clear that Apple's fiscal Q3 will be stronger than it's fiscal Q2. That much we know. Unit sales rose 28.1% between Apple's debut quarter and the next full quarter of sales. Moreover, there's plenty of evidence to suggest that Apple will be able to meet much of it's demand this quarter resulting in a huge uptick in sales.
I think the same can be said during any future quarter where Apple introduces a new iPad. One can expect iPad sales in the forward quarter to far exceed sales in the debut quarter. What's far more difficult to predict is what Apple will post in terms of sales in it's fiscal Q4. Last year, the third full quarter of iPad sales took place during the holiday shopping season which certainly had a big impact on sales. This year, the third quarter of iPad sales will fall during the back-to-school shopping season.
While no sound conclusion can really be drawn from the historical data with regard to Apple's fiscal Q4 without making some very shaking assumptions, there is certainly other data which points toward a strong follow-through to fiscal Q3. What I suspect will take place in fiscal Q3 and fiscal Q4 is a major spike in sales in Q3 followed by flat to slightly higher sequential growth in fiscal Q4. However, Apple's fiscal Q1 -- October through December -- will always be the strongest quarter on the calendar year.
Q4 will tend to either match or beat fiscal Q3 sales due to the back-to-school shopping season. As the iPad is more widely adopted in education, Q4 will begin to show significant strength in terms of iPad seasonality. Thus, what conclusions can be drawn from the historical data regarding what the fiscal year will tend to look like going forward
What we'll see is this. Fiscal Q1 will set the trend for the entire year. Apple's fiscal Q2 will either be very strong or very weak as it was this year. If the iPad continues to be released toward the end of the month leading to customers deferring purchases, iPad supply constraints and a discontinuation of the previous model for a matter of weeks, then Q2 will be Apple's weakest quarter of the year.
Yet, Apple if figures out how to smoothen the transition and is able to meet immediate demand on launch date, then Q2 sales will likely match fiscal Q1 and Q3. Fiscal Q4 will stand above Q2 and Q3 while fiscal Q1 of the following fiscal year will see a noticeable head over heals spike in sales -- something on the order of 30-50% sequentially.
Apple's guidance regarding Fiscal Q3 2011 iPad Sales
Now lets move on to the meat of the analysis. Apple's management has been known to be extraordinarily conservative when it comes to forward looking statements, guidance and setting expectations. In July 2008, for example, Apple guided down it's entire fiscal 2009 full year gross margins to 32%.
Wall Street took Apple to the woodshed due to these gross margin concerns. As irrational as it may seem, Wall Street actually took Apple's comments seriously. 2009 gross margin came in at 40.14% on the year -- 800 basis points above Apple's comments and far above the 35% Apple recorded in 2008. In only 1 quarter did Apple report below 40% and that was the 38% it recorded in fiscal Q1.
What this demonstrates is that Apple is extremely conservative with almost every aspect of the company. In fact, Apple's management is quite possibly the most conservative management in tech. They beat their own expectations by between 30% and 50% on a routine basis. Keeping all of this in mind, below are three very key comments Apple made during the conference call regarding what to expect from the iPad.
In a response to a question from Brian Blair of Wedge Partners regarding supply-demand parity of each of Apple's product, Tim Cook -- Apple's COO and heir apparent had the following to say:
By the end of the quarter, we were in supply-demand balance in almost all of our major markets [with the iPhone]. And I would say as of today, we're in supply-demand balance virtually everywhere. The other products, the Mac is in supply-demand balance and the iPod is in supply-demand balance. And the iPad has the mother of all backlogs [emphasis added] that we're working very, very hard to get out to customers as quickly as we can.
The mother of all backlogs?!?! Is this the same conservative Apple that beats it's own revenue guidance by almost $3 billion? Throughout the entire conference call, and in more than 1 occasion, Apple's management seems to be unable to contain themselves regarding the vast demand for the iPad 2.
But what about meeting that demand? How confident is Apple's management in their ability increase capacity? Here's what ultra-conservative Tim Cook had to say in response to a question from Goldman analyst Bill Shope regarding guidance on when Apple might reach supply-demand balance on the iPad:
Well, the demand on iPad 2 has been staggering. And we're still amazed that we are still heavily backlogged not only at the end of the quarter but also up to date. However, I can tell you that I'm extremely pleased with the progress of the manufacturing ramp, and we were so confident that we rolled out to 25 additional countries at the end of last month. And we are shipping to an additional 13 countries next week, and we're planning to add even more countries through the quarter. And so I'm very confident that we can produce a very large number of iPads for the quarter.
iPad 2 demand is "staggering?" Apple's management is "so confident" with their manufacturing ramp? Apple is "very confident" that they can produce a "VERY LARGE" number of iPads on the quarter? Is this one and the same conservative Apple that tries to temper expectations?
These two comments together seem to indicate that not only is demand for the iPad "staggering" but that Apple will be able to meet that demand in fiscal Q3 given how confident Apple's management seems to be with their manufacturing ramp. The iPad is also being rolled out to 38 more countries on the quarter.
If these two comments weren't enough to conclude that Apple is likely to sell at least 10 million iPads on the quarter, there was a significant inventory draw down in fiscal Q2 that needs to be rectified. In Peter Oppenheimer's (Apple's CFO) opening remarks during the conference call, he had the following to say regarding iPad channel inventory:
Including both the original iPad and iPad 2, we had distribution in 59 countries by the end of the March quarter. Given the very strong customer demand and despite the increased geographic distribution, iPad channel inventory declined by 400,000 units from the beginning of the quarter, implying sell-through of about 5.1 million. This resulted in ending channel inventory of below 850,000, which was below our target range of 4 to 6 weeks. We sold every iPad 2 that we could make during the quarter and would have liked to end the quarter with more channel inventory.
What this comment indicates is that Apple pretty much sold all of their iPad 2's to end customers directly as a result of a massively unanticipated explosion of demand. It seems that Apple will be working on not only getting the iPad 2 to more customer hands in Q3, but that it will be working on filling it's world-wide distribution channels during the quarter. This will add an additional buffer to sales. Expect one massively explosive iPad number this quarter.
What this should also indicate is that iPhone sales will probably see a sequential decline to 16.5 million units. You can read my analysis and forecast for 2011 iPhone unit sales here, and my 2012 forecast and estimates for the iPhone here.
Why will iPhone unit sales decline this quarter? Well aside of the fact that Apple significantly increased it's iPhone channel inventory on the quarter, Apple guided for $23 billion in total revenue for Q3.
Apple's management also spent a lot of time trying to temper iPhone expectations while simultaneously raising analyst expectations for the iPad. In more than one occasion did Apple's management, during the conference call, note that there will be a much higher mix of iPads to iPhones this quarter and that gross margins will see pressure as a result of the less favorable product mix.
Now while Apple's management is conservative, they are giving us boundaries with their guidance. They raised guidance by about $1 billion above their guidance for fiscal Q2. This raise in guidance indicates a simultaneous sequential decline in iPhone sales and a skyrocketing of iPad sales. I expect that Apple will sell about 10 million iPads on the quarter and 16.5 million iPhones.
When it comes to Apple, I'm not 100% perfect. Historically speaking, my estimates tend to fall within a 5% band +/- Apple's actual results. However, that being said, I think it's very important that readers understand one very clear concept from this article. iPhone sales will probably come in at 16.5 million units but will almost certainly be no less than 14.5 million and any higher than 17.5 million. iPad sales probably have a 1 million band as well.
Much of the skill in being able to predict Apple's earnings depends on not only understanding the historical seasonal and sequential trend as well as the intangibles issues specific to the particular quarter in question, but it requires a deep understanding of management expectations as subtly related in the conference call.
Understanding Apple's management is probably one of the most important aspect of making good sound forecasts. Apple's management clear seems to indicate that there will be a higher mix of iPads to iPhones, iPhone sales will see a sequential decline as a result of channel fill in fiscal Q2 and iPad sales are going to be massive on the quarter. The conjunction of management commentary and revenue guidance pretty much tells us the whole story.
In the spirit of not rambling on, below are my iPad expectations for Apple's fiscal Q3, fiscal Q4 and FYE 2012. My estimates for Apple's fiscal Q3 are based on the reasons set for in the conference call and my fiscal Q4 2011 & FYE 2012 estimates are based on what I think will be the season trend given what we've seen thus far. Once Apple reports it's fiscal Q4, we'll have more than enough data to adjust 2012 estimates to a relatively more precise forecast.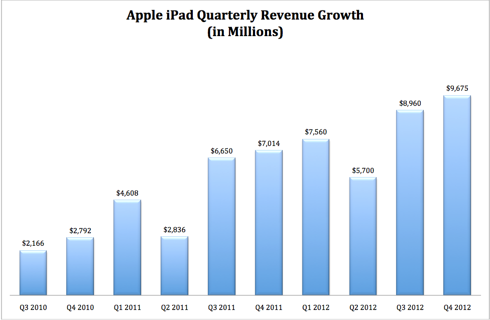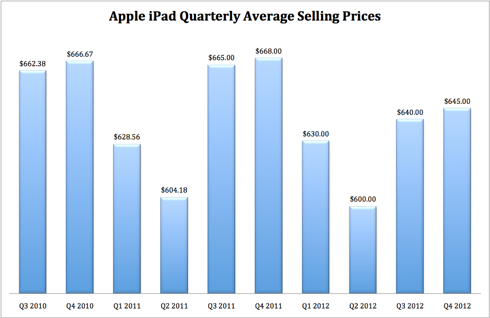 Disclosure: I am long AAPL, SPY, QQQ.