To most, Signature Bank (NASDAQ:SBNY) seems to have all the characteristics of a growth stock, but at a bargain price. The bank has an innovative business plan that focuses on hiring high-performing individuals or teams with established books of business to work out of office buildings. This way, Signature saves the cost of establishing and maintaining "bricks-and-mortar" branches. This strategy has translated into 16 straight quarters of double-digit earnings growth.
Signature also focuses on providing a variety of basic credit services to small businesses and their owners. One of the reasons their clients bank at Signature is that they deal directly with a sole private banking group instead of representatives from various divisions. SBNY is also known for sticking to its core business of commercial banking, not other businesses such as sales and trading and investment banking. Their business is so simple that their CEO, Joseph DePaolo, has boasted that a second-year finance student could decipher their balance sheet. Their management prides themselves on maintaining one of the best capital ratios in the business. In 2013, Forbes recognized Signature as the second best bank in America.
However, things are often not what they seem. If you dive into SBNY's financial statements, you can see that commercial and industrial loans make up slightly less than 20% of their business. A little over 23% of these loans are taxi medallion financing in New York City. As you can see from the screenshot below, Signature has close to $600 million in taxi medallion loans on its book.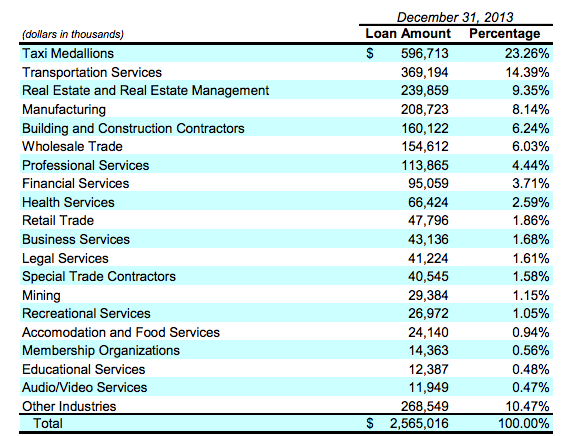 According to Signature's 10-K, C&I loans pay an average yield of 4.59% (less than 40% are variable rate loans). Therefore, $600 million in taxi loans should generate approximately $27.5 million in interest annually. Allowances for uncollectible C&I accounts hover at $36 million, so let's assume that $9 million (23.3% of $36m) is assumed uncollectible for medallion financing.
On Nov. 27, the New York Times published an article detailing the struggles of the taxi medallion industry in metropolitan cities across the U.S. According to the New York Taxi and Limousine Commission sales data, the average price of a NYC taxi medallion fell from $1.05 million in June 2013 to $872,000 in October 2014. Other cities such as Chicago, Boston, and Washington, D.C., have experienced similar pressure, with prices more than 20% below their 2013 high.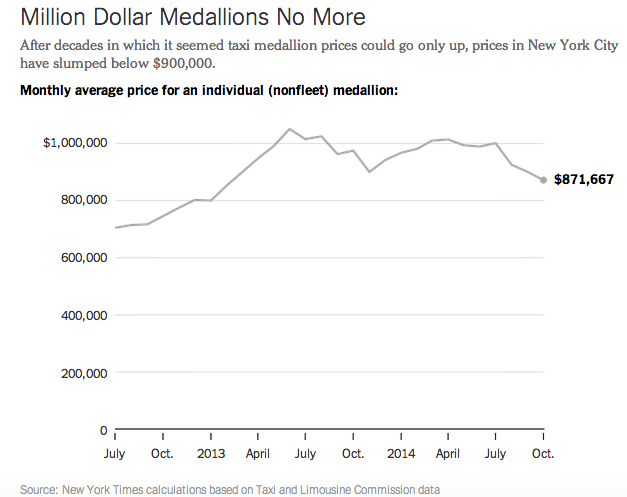 According to the New York Times, the reason for this downward pressure on prices is largely due to third-party car services such as Uber and Lyft. Unregistered drivers gain market share by providing car services through these services for an average price almost half as much as the going rate of metropolitan taxi cabs. If consumers are unwilling to pay the higher rate, demand falls and taxi drivers make less money. If taxi revenue continues to fall, at some point driving a taxi will not pay off. When this occurs, drivers will not be able to afford leasing medallions, thereby reducing the value of these medallions significantly.
Now, demand remains somewhat elastic. Since taxi drivers are mostly new immigrants, these hard-working people may not have other alternatives to support their families. But, if taxi demand falls to a point where these individuals can't make enough money to support their family, they might choose to leave and pursue whatever other opportunities might be available.
High medallion prices leave owners with no option but to finance the cost of ownership. In addition, fixed supply has led to a steady increase in value, which has made banks believe these loans are low risk. In their 2013 annual report, Signature Bank stated:
As of Dec. 31, 2013, the largest component of our C&I portfolio consisted of loans to finance taxi medallions, which are the licenses required to operate taxicabs. We conduct this business in stable, well-regulated markets, such as New York City, where the supply of these medallions is limited. Accordingly, these loans have historically had strong credit performance.
If taxi demand falls further, a widespread drop in demand for leasing medallions could lead to lower revenues and major defaults, even to credit-worthy borrowers. Does this sound similar to what happened in the U.S. housing market a few years ago?
Looking back, it seems reasonable to conclude that a bubble has been growing all along. Since the end of World War II, cities have required taxis to buy medallions to operate. To control the marketplace, cities have limited or fixed the supply. For example, in the 1940s NYC issued about 12,000 medallions. Today, this number is around 13,605 (a change that doesn't factor in population and tourist growth). Rising demand and fixed supply have caused the price of medallions to shoot up from about $250,000 in 2003 up to over $1 million in 2013.
A higher price should translate into higher growth. Many of the 13,437 NYC taxicabs do most of their business south of 110th Street, whereas "boro taxis" generally operate in Harlem and the outer boroughs such as Queens and Brooklyn. However, services such as Uber and Lyft compete for market share within yellow cab territory (south of 110th Street).
To many people, increased competition hasn't affected the pricing of medallions as there are flaws in the reports published from the NYC Taxi Commission that show the average monthly price per medallion. These reports indicate that prices for individual medallions are still hovering near the $1 million record set last summer. According to the Commission, transactions at a price more than $10,000 less than the previous month are considered outliers and are excluded from the report. This means that a large rapid drop in prices might largely go unseen by banks and lenders. It seems as if taxi medallion owners will continue to face an uncertain future, and their assets may lose value. If this is true, there is a good chance of widespread defaults among taxi medallion owners.
Let's look back at Signature's financials. If 25% of these loans default through 2015, $6 million in annual revenues would be lost and 2013 assets would be overstated by roughly $125 million. Unexpected losses might directly deduct from the $250 million or so of net income expected in 2014. This is harmful, but nothing that could doom the bank. However, if there was a widespread default among taxi medallion owners, $400-$500 million of the $600 million in assets could turn toxic and $20-$30 million in annual interest revenues would be lost. This would have a material effect on the bank's bottom line.
Today, SBNY trades at a trailing P/E of 25 ($121 price per share on $4.84 2013 EPS). Since there are 50.32m shares outstanding, a reduction of $6 million net income would translate into a $0.12-per-share loss annually, where a widespread default can translate into a loss of about $0.50 per share. At an EPS of $4.72, a $0.12 loss translates into a stock price of around $117 per share, while a loss of $0.50 translates into a stock price of around $108. This doesn't factor in future tangible and intangible costs. Therefore, we consider the risk of widespread default a legitimate concern for Signature Bank.
Disclosure: The author has no positions in any stocks mentioned, and no plans to initiate any positions within the next 72 hours.
The author wrote this article themselves, and it expresses their own opinions. The author is not receiving compensation for it (other than from Seeking Alpha). The author has no business relationship with any company whose stock is mentioned in this article.