Today's release of the ISM Manufacturing report for the month of November confirmed some of the recent weakness that we have been seeing in the regional Fed manufacturing surveys, as the headline reading showed a decline of 0.3 points, falling from 59.0, down to 58.7. Even with the decline, though, today's report came in stronger than the consensus forecast of 57.8.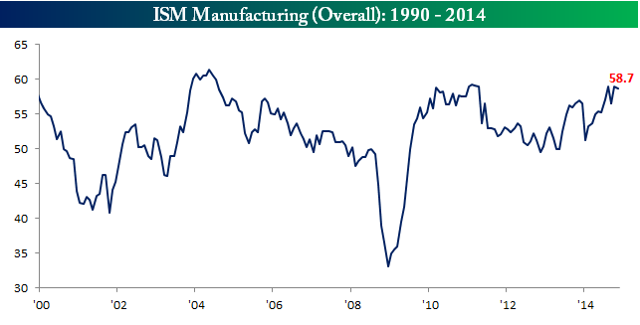 The table below breaks down the breadth of this month's ISM Manufacturing report by each of the index's subcomponents. Although the headline reading saw a decline this month, more of the index's components increased (6) than declined (4). Relative to a year ago, the breadth was even stronger with seven out of 10 components showing a year-over-year increase.
Prices Paid was by far the biggest mover of any component this month. While economists were forecasting a level of 52.5, the actual reading was much lower at 44.5. This was the lowest reading for this component since July 2012, the largest monthly decline since June 2012, and the largest miss relative to expectations since June 2012.