Belviq, the anti-obesity pill from Arena Pharmaceuticals (NASDAQ:ARNA), launched in the summer of 2013 and marketing partner Eisai began airing television commercials in April of 2014. Television advertising, ran both nationally and regionally, helps to build brand awareness. In the prescription anti-obesity sector, Belviq television advertising is unique in that it is the only one of the three newer drugs on the market to consumers via this method. Television ads are tracked by iSpot.tv, and the company does an outstanding job of giving very detailed data about commercials, when they air, what consumers are saying, and even social media impacts. I have stated many times that the service can be a valuable tool for investors to gauge how strong of a push is being made, and how well consumers are accepting that push. Savvy investors can overlay the advertising data with the sales data to help determine what is working, what is not working, and how the market may shift.
I track the advertising data daily. I report on that data about once a week for member readers, and once a month for all readers. With the beginning of a new month, it is time once again to assess the realm of Belviq advertising and the changes we have seen over the month of November. The peak for advertising was in September of this year. At peak, there were nearly 700 ads aired with 129 of those ads coming in prime time (between the hours of 8:00 PM and 11:00 PM). To date, there have been nearly 10,000 ads aired on a regional and national basis with nearly 800 of those ads coming in prime time. Nearly 8% of all ads run are run in prime time. The most popular time slot is 12:00 Noon, with 3:00 AM being the second most popular and 10:00 AM being third. The slot with the fewest ads aired has been 11:00 PM. Advertising has now been running for 33 weeks at an average of 294 ads per week and 23 of those ads being in prime time. November has been about in line with the averages, but has stepped down a bit from the pace we were seeing in October, and is well below the impressive pace we saw in September.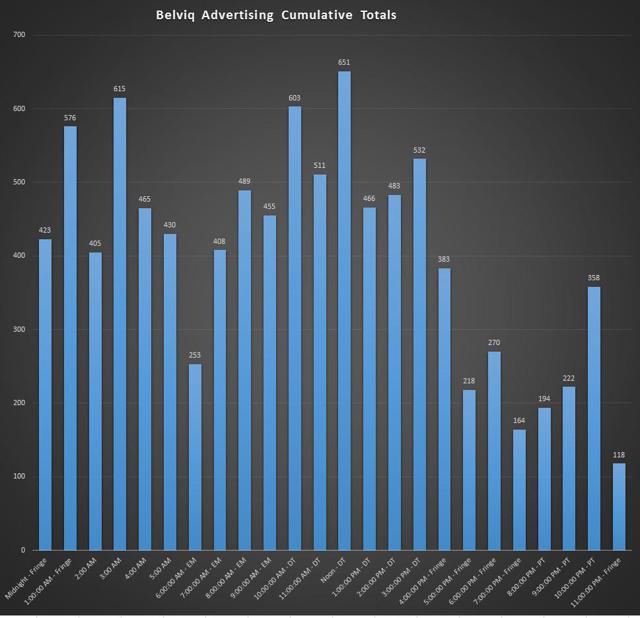 Chart Source - Spencer Osborne with Data from iSpot.tv
While it may be a bit of coincidence, the peak in script sales came at about the same time we saw a peak in advertising. Since that point in time script sales and advertising have been flattening out. Over the past few months the concentration of ads is in the mid day, while the overnight has toned down, and prime time and evenings have picked up. Certainly Arena's marketing partner Eisai is monitoring the campaign closely in an effort to maximize potential. That being said, television ads cost dollars, and Eisai must have a budget to work within. In contrast, competitor Vivus (NASDAQ:VVUS) does not do television ads for its weight loss product Qsymia. Qsymia has seen flat sales all year, while Belviq has seen weekly sales numbers move from sales of about 6,800 when ads started to about 12,000 today. Belviq sales have been flat for the last 12 weeks or so. This begs the question of whether or not the cost of the ads is worth while, or if so, how much Eisai can afford to spend on them. It is estimated that Eisai has spent over $15 million on television ads since launch. With Belviq carrying a gross revenue of $199.50, it would take 75,000 bottles (on a gross basis) to pay for the ads. There is value in future sales that needs to be considered, but the spend rate seems appropriate for the level of sales being attained. As sales increase, the advertising can increase as well. On a net sales basis, the margins are much tighter.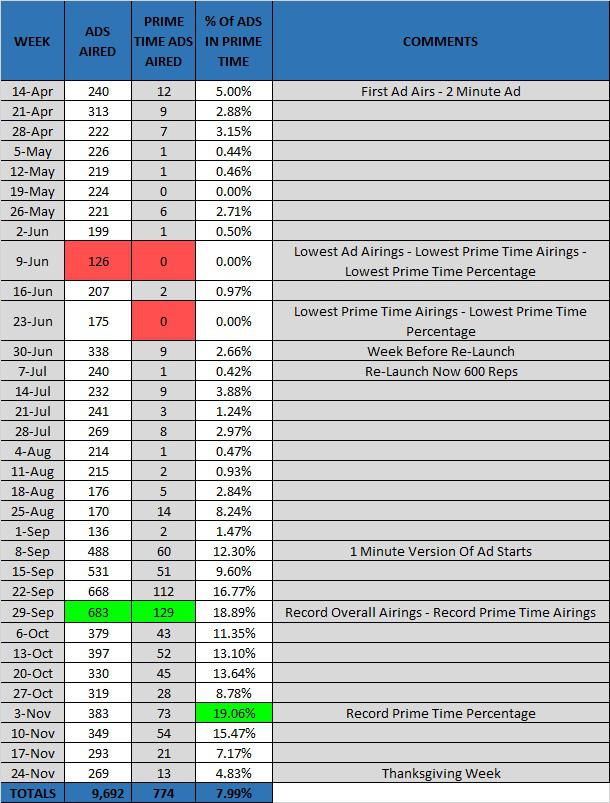 Chart Source - Spencer Osborne with data from iSpot.tv
What we are currently seeing is that advertising seems to be stepping down a bit. While it is my opinion that this is a great time to build an awareness, and thus advertise more, I do not hold the purse strings at Eisai. In my opinion now would be a great time to launch a new and refreshed version of the ad that reflects the fact the weight loss season is coming. The current ad has its place and purpose, but Belviq is "new" and needs to remain fresh. The current ad is now 33 weeks old, and weight loss season will begin with the new year. It will be interesting to see the December strategy that Eisai deploys.
Summary
Advertising is not a slam dunk with any product. Weight loss drugs seem to have the even tougher job of getting the message across in a field of fly-by-night weight loss solutions that typically do not work and always seem to promise the world. Advertising Belviq effectively is no easy task. Investors will want to pay attention through the end of the year to see if Eisai is going to ramp up ads heading into weight loss season. The ramp up in advertising in September brought record script sales in the midst of a lull in weight loss season. If a push can happen going into January, we could see some impressive numbers in terms of script sales. Stay Tuned!
Disclosure: The author is long ARNA.
The author wrote this article themselves, and it expresses their own opinions. The author is not receiving compensation for it (other than from Seeking Alpha). The author has no business relationship with any company whose stock is mentioned in this article.
Additional disclosure: I may add to my ARNA position at oppotune times. I have no position in Vivus