Thor Industries (NYSE:THO) is a recreational vehicle manufacturer that was founded in 1980 by Wade Thompson and Peter Orthwein. Thor is coming off a year of acquisitions and expansion plans in the hopes of continued prosperity within the growing industry of RVing. With increasing sales and a growing backlog, Thor hopes to keep its share price climbing for years to come.
The reasons for the expansion, or dare I say "growth explosion," within the RV industry are many. Retiring baby boomers looking for an adventure, families wanting to travel without the hassle of flying, a second home with wheels, and decreasing gas prices are a few of the many rationales for RV ownership. Whatever the reasons, Thor and other RV manufacturers are enjoying the surge in sales. Thor Industries' 2013 year-over-year sales increased to $3.53 billion from $3.24 billion. Equally impressive was the backlog increase over the same period of $538 million from $442 million, along with plans to capitalize with expansion announcements.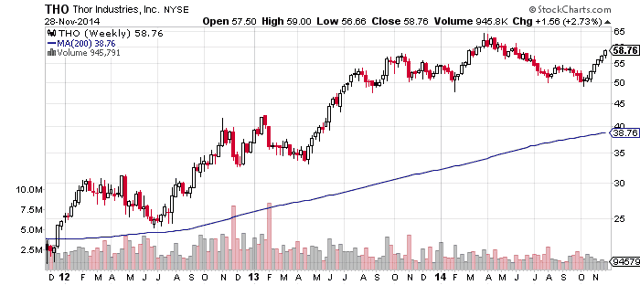 Thor's fourth-quarter balance sheet from the period ending July 31, 2014, clearly shows the company's propensity to keep cash and debt in check. Oftentimes, companies that attempt to keep up with huge backlogs and increased sales will overextend their long-term debt while completely depleting their cash reserves. That's a gamble that rarely ends well. Growing a company through expansion and acquisitions and still remaining fiscally responsible are a rare trait that usually end up rewarding shareholders handsomely down the road. This type of fiscal awareness is exceptionally important in this industry, since one of Thor's biggest competitors is Warren Buffett's Forest River.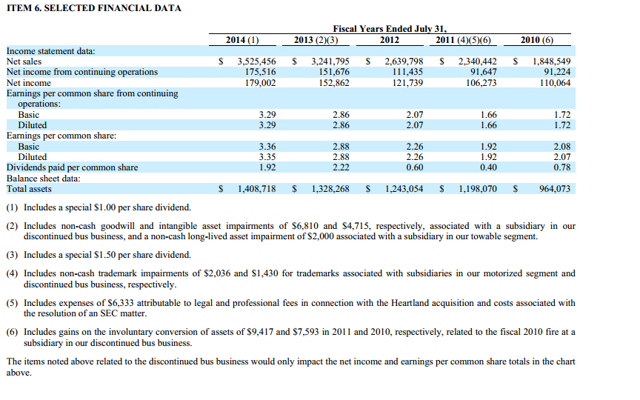 Source: Thor Annual Report -- Sept. 25, 2014.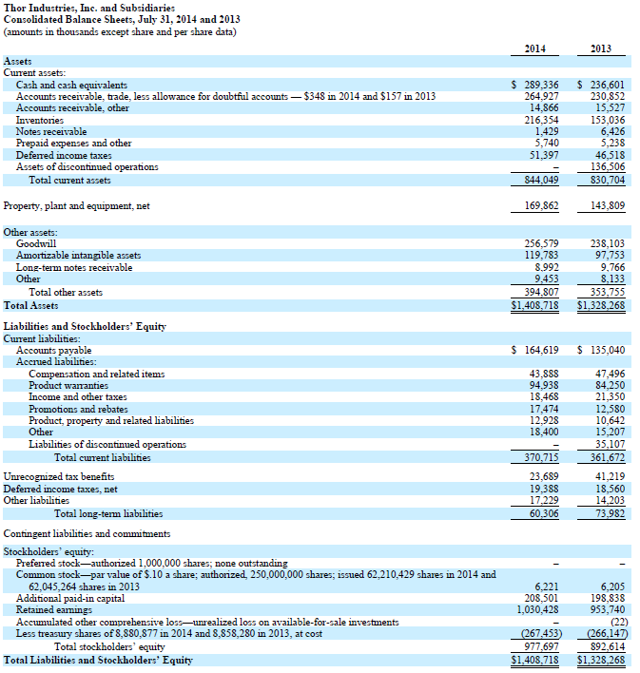 Source: Thor Annual Report -- Sept. 25, 2014.
Industry Landscape
According to RVBusiness industry news online, both motorized and towable segments have grown significantly year over year. RVBusiness' report on the motorhome segment dated Nov. 12, 2014, states that the "Class A motorhome market posted a 14.4% gain in September and a year-to-date increase of 13.1% compared to the previous year. Thor led the sector with a 22.8% market share followed by Winnebago (20.2%), Forest River (15.7%), and Tiffin Motorhomes, Inc. (15.2%)." On the towable side, Thor also showed well in the industry report dated Nov. 18, 2014: "By segment, Forest River was No. 1 in travel trailer sales for the nine months with a 37.4% market share, ahead of Thor (34%) and Jayco (14.4%). Thor was No. 1 in fifth-wheel sales, capturing a 49.3% market share, followed by Forest River (30.8%) and Jayco (8.8%)."
However, this rapid plan for growth through expansion and acquisitions could put the company in a tough position if this climb in RV sales is related primarily to discounted fuel prices. The balance sheet shows an increase in year-over-year inventory to $216 million from $153 million. The 41% increase in inventory does raise a warning flag and will need to be reevaluated upon the first-quarter release. Thor must be confident that the industry climb is mostly non-fuel-related, so overproduction doesn't create the need for deep discounts to move inventory, thus hurting margins going forward.
Motor Coachin' On
With a strategic focus that includes expansion of production facilities along with brand diversity, Thor is positioned for a great fiscal 2015. Thor with RV brands that include Airstream, Bison Coach, Crossroads RV, Dutchmen, Heartland RV, KZ RV, Livin Lite, as well as Thor Motor Coach also recently announced a joint Community Foundation with leading competitor Berkshire Hathaway's Forest River. I fully expect that Thor will show a show investors a strong first-quarter report after the close today, Dec. 1. They should show continued growth and a socially responsible commitment to the RV community, while remaining fiscally prudent. If Thor can also keep inventory levels in check, they will keep investors on the road to prosperity.
Disclosure: The author has no positions in any stocks mentioned, and no plans to initiate any positions within the next 72 hours.
The author wrote this article themselves, and it expresses their own opinions. The author is not receiving compensation for it (other than from Seeking Alpha). The author has no business relationship with any company whose stock is mentioned in this article.