Energy giant Halliburton (NYSE: HAL) recently announced its acquisition of Baker Hughes (NYSE: BHI) in a stock and cash deal valued at $34.6 Billion. While the recent sell-off of Halliburton has diminished the deal's value, it has unlocked substantial intrinsic value as Baker Hughes investors will now receive undervalued Halliburton shares in the newly combined company. The acquisition price is illustrated below based on Halliburton's closing price on November 28: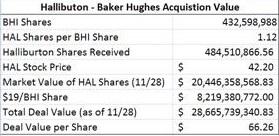 Baker Hughes will receive a $3.5 billion breakup fee if the deal is not completed. And while there are no guarantees as to if the shareholders would receive this in a breakup, the fee effectively creates an additional $8.09 per share for each Baker Hughes shareholder which reduces the risk of the deal not getting done.
Reasons the Deal is Likely to Get Done
The boards of both companies have approved the merger
Both companies' managements have estimated the newly formed company will realize $2 billion in cost synergies.
Halliburton will pay a $3.5 billion breakup fee if the merger is blocked because of an anti-trust ruling, shareholder dissent, or other regulatory matters
Halliburton is prepared to divest $7.5 billion in assets and has hired top notch anti-trust counsel - actions that show strong desire to get the deal done
Thesis
The $2 billion in cost synergies with emphasis in North American operations will create sustainable 20%+ operating margins for the combined company. Despite management's projections, this article will explain why the savings will likely be closer to $2.78 billion with expansion opportunities in North America. The cost synergies from this potential merger will lead to about an 84.32% increase from $2.36 in 2013 to $4.35 in 2017 once earnings become accretive. Arbitrageurs will likely realize 13-20% returns while they wait for the closing of the merger. Ultimate price target is $63-64 based on 14.63x pro forma projected earnings.
"The combined company will have annual revenue of approximately $50 billion, with significant synergistic opportunities. We've got an actionable plan to capture nearly $2 billion in annualized cost savings by the end of the second year following closing. We spent a lot of time looking at this and we expect the savings will be achieved by improving operations in North America, reducing expenses in other regions around the world, and by eliminating overhead and other redundant fixed costs."

-Halliburton CFO Mark McCollum
Cost Synergies a Response to Weakening North American Market
Below is a breakdown of the cost synergies projected through the merger.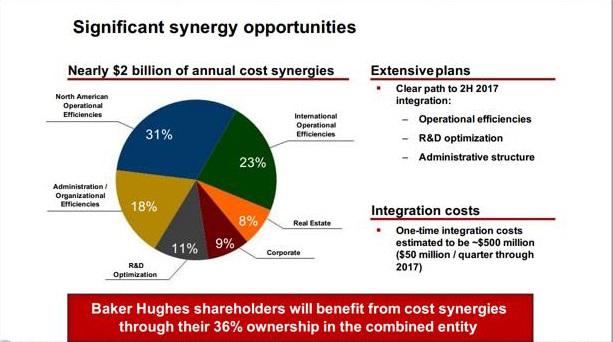 Source: Form 8-K filed November 17, 2014 with SEC
54% of cost synergies (~ $1 billion) will be directly tied to reducing Halliburton's fixed production costs while the other 46% (~$920 million) will be realized through reducing operating expenses.

Management has projected the cost synergies from the prospective merger will create an opportunity to expand operating margins in the North American region (accounting for about 50% of each respective companies' revenue) by 7%, or $800 million per year. When added to Halliburton's 15% historical operating margins, the likely effect will create 20% sustainable operating margins in the combined company. The move is important as the North American market, like much of the world, has seen pricing pressure and overcapacity of late.
"Completion and Production operating income decreased 9% compared to 2012, primarily due to the North America region, where operating income fell 15% due to pricing pressures in the United States hydraulic fracturing market and lower activity in Canada."

"The curtailment of natural gas drilling activity along with an influx of stimulation equipment into the industry has resulted in overcapacity and pricing pressure for hydraulic fracturing and other services."

-2013 Halliburton 10-K on pressures in the North American market
The $800 million expansion opportunity coupled with the $620 million production cost synergies should result in a ~$1.4 billion increase in operational efficiencies in North America for the combined company once the merger closes. Moreover, the respective $920 million and $460 million in operational expense and international efficiencies will further bolster operating margins. All told, the $2.78 billion in cost synergies ($1.4B + $920M + $460M) should boost operating margins by at least 5.5%. ($2.78 billion/$50 billion in combined company revenue)
Projected Earnings for the New Look Halliburton
The following screen image provides a likely earnings scenario once earnings become accretive by the end of the second year following closing. (1H2017)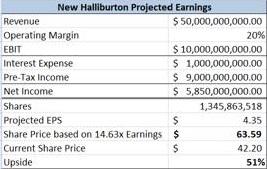 Note: This projection assumes operating margins will expand to at least 20% by the end of 2017. Interest expense is projected to be two percent of revenue, corporate tax rate of 35%, ~1.345 billion shares outstanding in the new company (HAL shares received/36%) based on BHI shareholders owning 36% of new company and 14.63 times earnings multiple based on Energy Select Sector SPDR ETF (NYSEARCA:XLE) average P/E.
It should be noted that Halliburton's historical operating margins have hovered around 15%. Halliburton's diluted EPS in 2013 was $2.36. Thus, expanding operating margins to 20% should increase EPS nearly 85% from $2.36 in 2013 to $4.35 on a pro forma basis once earnings and cash flow become accretive.
Projected Risk Adjusted Arbitrage Returns
Arbitrageurs would likely realize ~13.5% risk adjusted return if the deal closed December 2015 as shown below assuming the deal is 90% likely to close.
The following model was derived from Ben Graham's risk adjusted arbitrage formulas and Warren Buffett's methods as demonstrated in Warren Buffett and the Art of Stock Arbitrage.

Note: Projected Loss = Investment price - share price before deal was announced. APL = PL*Likelihood of deal falling apart. PP = Offer Price - I. PRR = PP/I. APP = PP*Likelihood of deal happening. APRR = APP/I. RAPP = APP - APL. RAPRR = RAPP/I
Monthly Rate of Return = Risk Adjusted Projected Rate of Return/Number of Months to Completion
Risk Adjusted Annual Projected Rate of Return = Monthly Rate of Return * 12
Investors could realize something like 20% profit if the deal closed as soon as July 2015 as seen here.

Conclusion
The operational efficiencies created by a merger are too important to ignore - there would be a likely 85% increase to EPS in the combined company by 2017. Moreover, there is strong incentive to get the deal done to realize these synergies. The 10% breakup fee coupled with Halliburton's willingness to divest $7.5 billion in assets (an unlikely scenario) points to a management team that realizes the long-term value creation of a merger and an intense desire to get the deal consummated as soon as possible. Management has understated the potential cost savings at $2 billion when in all likelihood the number is closer to $3 billion when the $800 million North American expansion opportunity is included. Finally, investors will likely realize 13-20% profits on their Baker Hughes holding in 2015 depending on the timeline of closing.
8-12 month upside is 13-20%, 24 - 36 month upside is likely 51%. Beyond that and the new Halliburton could go even higher. Stay tuned.
Recommendation: Buy BHI, short HAL to hedge price volatility. 2-3 year price target is $63-$64 if the merger is consummated, a 51% upside from current levels.
Disclosure: The author has no positions in any stocks mentioned, and no plans to initiate any positions within the next 72 hours. The author wrote this article themselves, and it expresses their own opinions. The author is not receiving compensation for it (other than from Seeking Alpha). The author has no business relationship with any company whose stock is mentioned in this article.