Clean Diesel Technologies (NASDAQ:CDTI) ended Thursday's session on the corner of euphoria and delirious, roughly doubling in value. Put in perspective, by the end of the day shares were twice as expensive as the session prior.
Yet it was a scant news release maintaining that the company "received nearly $2.0 million in orders for its verified (approved) emission reduction products" that drove shares beyond rational boundaries. The $2M order represents approximately 4% of Clean Diesel Technologies' sales on an annual basis (per its 10K filing) -- hardly justification for the irrational trading that took place on Thursday.
Further, as of the most recent quarter, cash and equivalents totaled just $1.245M, down from $5M in the previous quarter, per its 10Q filing. During the same period, accounts receivable grew more than 36%, suggesting some complacency on the part of debtors.
To the dismay of by-the-number type investors, debt continues to grow and the exhaustion of certain prepaid expenses may put a strain on cash, particularly in the short-term. The question then becomes: Who will finance the company -- or rather, how will the company finance itself?
Last quarter, Clean Diesel Technologies drew on a $2.5M line of credit, but still saw significant depletion of cash. Cash flows from all three accounts were negative. And as a fantastic turnaround in operations and the divestiture of non-existent assets remains improbable, the only account Clean Diesel Technologies is looking towards to solve its cash woes is none other than financing activities. As such, beware of a possible stock sale.
Clean Diesel Technologies traded yesterday at its highest point since the year began. At these prices, financing by issuing common stock seems attractive, if not downright logical. However, issuing new stock would pose significant risk to existing shareholders, greatly diluting the small outstanding count. For example, if 1M shares were issued at $7/share, shareholders would be diluted roughly 25% in exchange for enough cash to get Clean Diesel Technologies through the next two or three quarters. This would put tremendous pressure on management to grow the company at a rapid rate, only to justify the financing.
Returning to the theme of an irrational market, more than double the number of shares floating traded hands on Thursday. This implies speculation was the driver, as traders mechanically inflated the stock price, perhaps at the expense of shareholders and naive investors.
An intraday look at trading reveals that after peaking at $8.64, the price slid more than 14% to close at $7.60. This implies that traders booked profits and/or sold foreseeing a retracement in the upcoming session.
[Click to enlarge]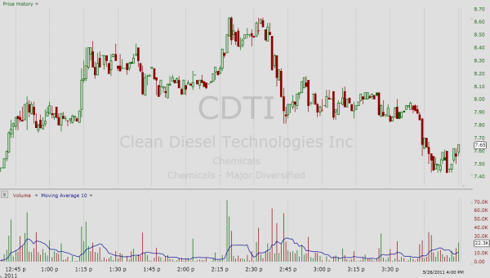 As a rule of thumb, what goes up must come down. In this very instance, Clean Diesel Technologies finds itself overextended to the upside, clinging onto the edge of a cliff.
Disclosure: I have no positions in any stocks mentioned, but may initiate a short position in CDTI over the next 72 hours.