The 180-day lockup period for MobileIron (NASDAQ:MOBL) expires on December 9. The conclusion of this period will give MOBL's pre-IPO shareholders, executives and directors the opportunity to sell their 63.5 million shares of the stock.
(A lockup period is an agreed-upon time, usually ~6 months, during which insider shares are prohibited from entering the public market and possibly skewing early trading sessions.)
This immediate increase in the available shares on the stock market could produce a significant decrease in the price of MOBL, opening a short opportunity for experienced investors.
MOBL's reported net loss and increasingly stagnant market performance, detailed below, are catalysts for selling, as well.
Overview of Mobile Device Management Software
Founded in 2007, MobileIron develops software for mobile devices on the premise that mobile apps will overtake conventional computers as the primary business information tool. The company focuses on providing comprehensive business solutions across content management, mobile application management and device management via their mobile IT platform.
The MOBL platform integrates conventional mobile device management with mobile content and application management, along with comprehensive security. MOBL products give customers the ability to manage the entire lifecycle of a mobile device and applications, while rapidly converting their operations over to mobile infrastructure.
Their product lineup includes the MobileIron AppConnect Ecosystem with the following components: Apps@Work, Docs@Work, Web@Work, Help@Work, Tunnel and DataView.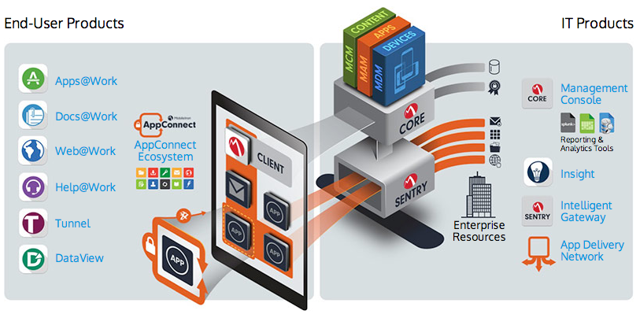 (Source)
Reported ~30% Revenue Increase
For the third quarter that ended on September 30, 2014, MobileIron reported revenue of $34.9 million, an increase of 32 percent over the previous year, and a net loss of $0.20 per share. Currently, over 7,500 clients have bought the IT platform since 2009.
In the second half of 2014, MOBL released its MobileIron Enterprise Mobility Management IT Platform with key improvements that allow clients to access content regardless of its location. The enhanced platform also gives IT professionals the ability to increase their visibility into their mobile deployments.
Early Market Performance: Strong Start with a Subsequent Leveling Off
MOBL's IPO was priced at $9 per share, and the stock opened at $10 and closed the first day at $11.05. After reaching a high of $12.05 on September 3, the stock has declined and closed at $9.27 on Friday, 11.28.2014.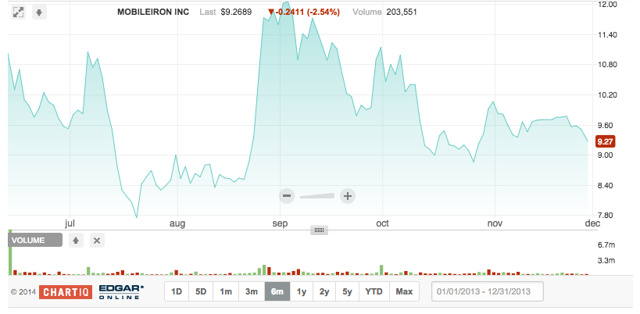 (Nasdaq.com)
Details of Impending Share Unlocking
As noted above, the conclusion of the lockup period will give MOBL's pre-IPO shareholders, executives and directors the opportunity to sell their 63.5 million shares of the stock.
Major insiders include 12 individuals and entities affiliated with Storm Ventures, Norwest Venture Partners, Sequoia Capital, and Foundation Capital.
Research from Harvard and Duke Universities shows a correlation between tech firms with VC-backing and price declines at the time of the lockup expiration. Our own recent studies show abnormal negative returns to be (5.5%) in the (-11, +9) days surrounding the event (Day 0).
MOBL offered a total of 11.1 million shares in its June 11, 2014 IPO.
Conclusion: Reasons to Sell
MOBL's increasing revenues are promising, which could be a catalyst for insiders to begin taking profits. At the same time, MOBL's increasingly stagnant market performance and reported net loss could lead the same insiders, particularly VC firms, to dump their holdings and move on to other projects.
If some or all of the restricted shares are sold (which currently amount to nearly six times the number of freely traded shares) it could create a supply shock and, at least temporarily depress MOBL's price.
We suggest aggressive investors consider selling in advance of the lockup expiration to take full advantage of the likely decline.
We invite readers wishing to join the discussion on IPO lockup expirations to click the +FOLLOW button above the title of this article, and those looking for the latest updates to click +Get real-time alerts.
Disclosure: The author has no positions in any stocks mentioned, and no plans to initiate any positions within the next 72 hours.
The author wrote this article themselves, and it expresses their own opinions. The author is not receiving compensation for it (other than from Seeking Alpha). The author has no business relationship with any company whose stock is mentioned in this article.