An S&P 500 company that is generating money like, well, an AMT, is American Tower (NYSE:AMT). Cell towers are a necessary evil. A conversation I often hear people discussing is their carrier and how many bars they are getting. American Tower builds the towers and then rents bandwidth to the retailers. The company is seriously considering becoming a REIT and cranking out cash flow in the form of cash dividends. I found the company looking on Barchart for companies showing current upward price momentum.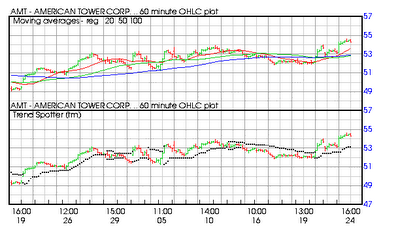 American Tower Corporation is a wireless communications and broadcast infrastructure company with three operating segments. The company operates a leading network of communications towers and is the largest independent operator of broadcast towers in North America. The company provides comprehensive network development services for wireless service providers and broadcasters. The company also operates a leading teleport business, which transmits Internet, voice, data and video communications worldwide. They are building or acquiring new towers at the rate of 7800 this year and plans for another 5350 next year.
Factors to consider:
Technical Factors:
100% Barchart short term technical buy signal
Trend Spotter buy signal
Above 20, 50 and 100 day moving averages
11 new highs and up 6.18% in just the last month
Relative Strength Index 62.92% and rising
Trades around 54.30 with a 50 day moving average of 51.35
Fundamental Factors:
Wall Street brokerages analysts like this stock and have published 7 strong buy,12 buy and 3 hold recommendations for their clients
Sales increases of 20.00% this year followed by another 10.40% next year are projected
Earnings estimates are aggressive increases of 6.60% this year, 35.70% next year and 17.82% annually for the next 5 years
General Investor Sentiment:
The individual investing public on Motley Fool like this stock and expressed 914 opinions on the site
The CAPS members vote 653 to 67 that the stock will beat the market
The more experienced All Stars agree with a 178 to 16 vote
Summary: The stock is moving and income investors might like it if and when it becomes an REIT. At its present rate of sales and earnings growth I'd estimate investors will see an average of 11% total return annually over the next 5 years.
Disclosure:
I have no positions in any stocks mentioned, and no plans to initiate any positions within the next 72 hours.