Histogenics Corporation (NASDAQ:HSGX), expects to raise $73,928,560 from its impending initial public offering (IPO).
This Waltham, Massachusetts based biotech company is developing an implantable regenerative tissue treatment to address damage to the cartilage of the knee.
HSGX expects to float 4,285,714 shares at an expected price range of $13 to $15 per unit.
HSGX filed on October 7, 2014.
Lead Underwriters: Canaccord Genuity, Cowan & Co. and Needham & Co.
Secondary Underwriters: BTIG, LLC
Business Summary: Biotech Firm Developing Regenerative Tissue Implant for Knee Cartilage
Histogenics is a biotech firm that is developing an implantable tissue to produce regeneration of knee cartilage. Its primary product, NeoCart, is currently in Phase III clinical trials. Histogenics expects to use the proceeds of this IPO to fund the ongoing trials.
The company expects to complete enrollment for the NeoCart Phase III trials during the first half of 2016. The NeoCart implant is created from the patient's own cartilage cells gathered from the femur. The method cultivates and embeds these cells in a collagen environment that is then placed into incubation. When the lab sees initial signs in the cells of chondrocyte function, which indicates healthy cartilage, it ships the NeoCart to the surgical team which implants it into the knee with Histogenic's bioadhesive.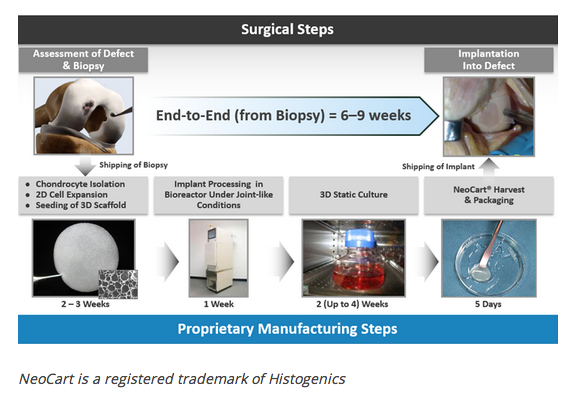 (Source)
This Phase III trial is expected to show the higher efficacy of NeoCart versus microfracture. The microfracture surgical technique repairs several types of cartilage defects by creating perforations in the knee bone proximate to the cartilage damage, thereby allowing bone marrow cells to seep into the damaged area. However, microfracture has proven to be a short term solution because the tissue that grows has less durability than knee cartilage.
Strong Early Supports Bode Well For Early Trading Sessions
Histogenics already has several well known investors, including Sofinnova Ventures (27 percent), Split Rock Partners (18 percent), Altima Partners (6.9 percent) and Boston Millennia Partners (5.9 percent).
Current investors have committed themselves to purchasing up to $15 million of the IPO. Intrexon currently owns a $10 million promissory note, which will convert to stock on the IPO. In addition, Intrexon has indicated interest in purchasing up to $15 million of the IPO stock.
For further details, see the firm's SEC filings.
Executive Team With Decades Of Biotech Experience
President and CEO Adam Gridley has more than 20 years of experience in the biotechnology, medical device and pharmaceutical industries. Prior to joining Histogenics, Mr. Gridley held several executive positions for various firms including Merz, BioForm Medical and Gliatech, Inc. Mr. Gridley has a bachelor of science and an MBA from the University of Denver.
CFO Kevin McArdle has an extensive background in financial and bio-tech capitalization and fund raising. Prior to Histogenics, Mr. McArdle held positions with Avedro, INVO Biosciences and Microsulis. Mr. McArdle holds a B.S. and an MBA from Boston College.
Potential Competition: Arthrosurface, Zimmer, Arthrex and Osiris
Because the market for knee repair and regeneration is growing as the U.S. population ages, the companies pursuing treatments compete against one another with several methods of cartilage repair. This includes methods such as non-cell based treatments, uncultured cell based, cultured cell base without a platform, cultured cell and platform based and cultured cell and platform based that integrates tissue engineering.
Histogenics' NeoCart falls into the latter category; however, NeoCart will face competition from any of the above methods. Companies that have products for knee cartilage repair include Arthrosurface (HemiCAP), Zimmer (DeNovo NT), Arthrex (Biocartilage), Osiris (Cartiform), Aastrom (Carticel) and ISTO (RevaFlex).
Valuation
Histogenics Corporation published the following figures from its S-1 statement of earnings and balance sheet for the nine months ended September 30, 2014:
Revenue: N/A
Net Income: ($23,714,000)
Total Assets: $11,995,000
Total Liabilities: $43,444,000
Stockholders' Equity: ($102,354,000)
Net loss has widened from ($11,328,000) in 2013 as total operating expenses have increased.
Conclusion: Buy
HSGX should not be expected to turn a profit until it has commercialized NeoCart; however, once it successfully completes Phase III trials for the product-the market is huge.
According to the firm's research, musculoskeletal-related conditions are enormously prevalent in the United States, with cartilage damage resulting in 60% of cases of knee arthroscopies. 750,000 knee replacements are performed in the US annually, for which NeoCart could be beneficial.
HSGX has a solid underwriting team, strong management, and impressive early investors--all of whom could help the firm to early trading success.
As the only major IPO this week, HSGX could garner additional attention, as well.
We suggest investors strongly consider buying into this IPO.
We invite readers wishing to join the discussion on IPOs to click the +FOLLOW button above the title of this article, and those looking for the latest updates to click +Get real-time alerts.
Disclosure: The author has no positions in any stocks mentioned, and no plans to initiate any positions within the next 72 hours.
The author wrote this article themselves, and it expresses their own opinions. The author is not receiving compensation for it (other than from Seeking Alpha). The author has no business relationship with any company whose stock is mentioned in this article.