The decline seen in shares of ONEOK, Inc. (NYSE:OKE) and units of its MLP ONEOK Partners (OKS) is quite sickening. These two stocks have declined over 10% in recent days and over 25% since early September. In my opinion, this decline is wrongheaded and a clear overreaction by the market, much like what is happening with fellow midstream Kinder Morgan (NYSE:KMI).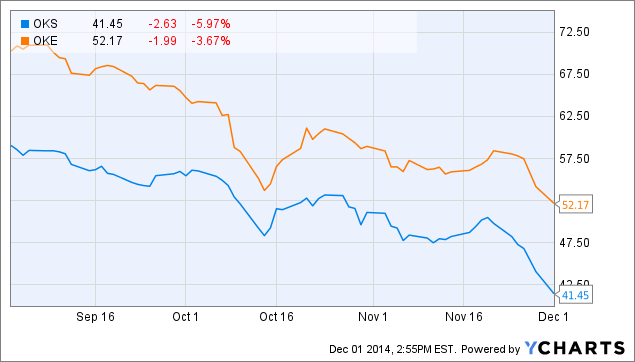 OKS data by YCharts
Company overview
First, let me breakdown what is actually owned by OKE and OKS specifically.
OKE
OKE is the General Partner of OKS. This means that it owns the 2% General Partner interest and the related incentive distribution rights, or IDRs. In other words, as OKS' cash flows growth, OKE is entitled to an increasing portion of this growth, up to a 50/50 split. Besides the General Partner interest, OKE owns a large chunk of OKS' limited partner units, 38.3%, or 68 million units, as of the Q3 2014 filing. As a result, OKE is incredible tied to the future success of OKS, with basically all of its cash flows coming from its equity positions in that company. You can read more about my thoughts about OKE is my earlier article.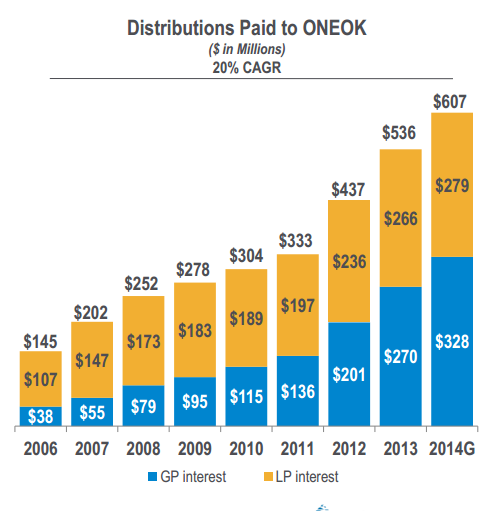 OKS
On the other hand, OKS is a large midstream natural gas and natural gas liquids "NGLs" MLP. Its earnings come from fee-based cash flows related to the servicing natural gas, such as via gathering, fractionation, pipeline transportation, marketing, and storage. You can read a more detailed report about OKS in my earlier article.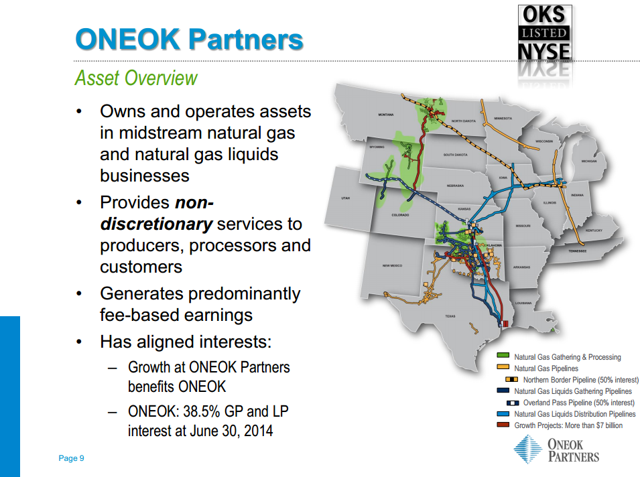 Why ONEOK should be unfazed by lower oil prices
Hopefully, the above breakdown made it clear that driver of success for both OKE and OKS comes from OKS' operating performance. This is why the 10% 2-day decline in their price is so shocking. Below are a few points highlighting this:
First, while oil is in freefall, OKS has little reason to worry as it has almost no oil exposure, either price or volume. NGL prices have seen some volatility as they are somewhat linked to oil, though this is mostly due to fears of a warm winter.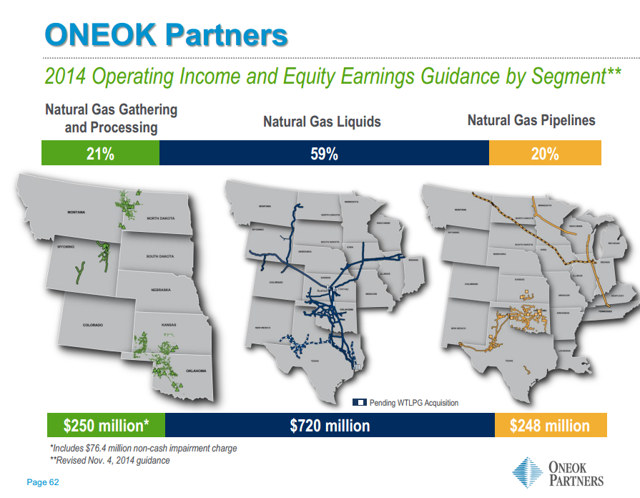 Second, OKS is a natural gas midstream with the vast majority of its revenues tied to fee-based, low risk natural gas gathering and processing, and NGL gathering, fractionation, transportation, marketing and storage. Only 22% or so of OKS' margins are related to commodities. Of that, almost all of this exposure is via natural gas and NGLs, NOT oil.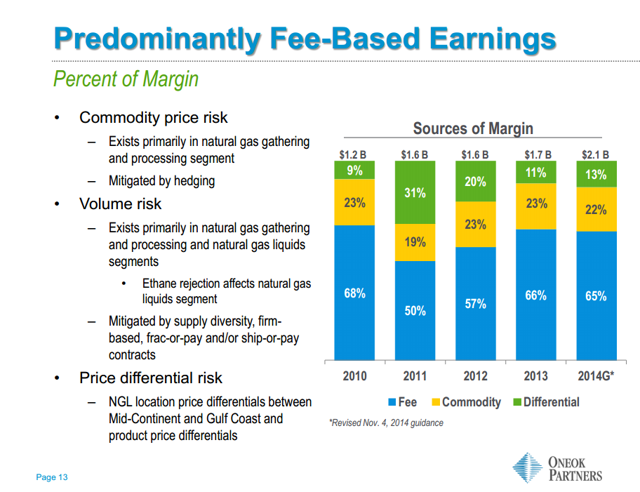 Third, OKS' services are non-discretionary and under long-term contracts, either by volume, fee based or demand. OKS does not build out infrastructure without securing commitments from producers, processors, and end-users.
Lastly, demand for natural gas in the US has become decoupled from oil demand. Demand for natural gas is expected to increase significantly in the next few years as power generation, chemical, and industrial uses increases. Natural gas is fast replacing coal as the go to energy source for major infrastructure projects. This does not include increase demand from possible natural gas exports.
Conclusion
In my opinion, we are seeing a repeat of the 2009 volatility in energy prices. That year, oil prices fell to around $40 per BBL before fast recovering due to a supply squeeze.
That this volatility is impacting the non-oil related stocks such as OKE and OKS is quite remarkable and represents just how jittery the energy market is. The company is tied to natural gas and NGL volume growth, not prices. Just because oil is falling does not mean natural gas volumes or prices will fall. Indeed, natural gas prices have held steady, at or around $4.00 per MCF.
OKS, like many midstreams, has been able to steadily increase its distributions. Since 2010, the distributions per unit have posted a CAGR of 6% to 8%, all while maintaining a coverage ratio of between 1.05x to 1.15x. With a yield of 7.5%, it offers a compelling combo of both income and growth.
For OKE, it is expecting dividend growth in excess of 10% through 2016. Its yield of 4.50% makes it a true bargain for dividend growth investors.
Disclaimer: The opinions in this article are for informational purposes only and should not be construed as a recommendation to buy or sell the stocks mentioned. Please do your own due diligence before making any investment decision.
Disclosure: The author is long OKE, OKS, KMI.
The author wrote this article themselves, and it expresses their own opinions. The author is not receiving compensation for it (other than from Seeking Alpha). The author has no business relationship with any company whose stock is mentioned in this article.