We come across opportunities everyday. As investors, we need to evaluate each opportunity and capitalize on those that would increase our asset base. Of course, there will be times where we see an opportunity and its benefits, and fail to take advantage of what's been presented to us.
In 2009, I worked for a Seattle-based coffee company called Starbucks (NASDAQ:SBUX). As an idealistic 19-year-old, I didn't understand the value of having a company offering me discounted stock purchase options. I didn't understand that the crash in 2008 created buying opportunities in 2009, and that these low prices may not be seen again for a very long time. At that time, if I had stayed with the company, I could of purchased shares for a little more than $8 a share. Starbucks' current price is just under $80, and pay a dividend with a yield of 1.4%.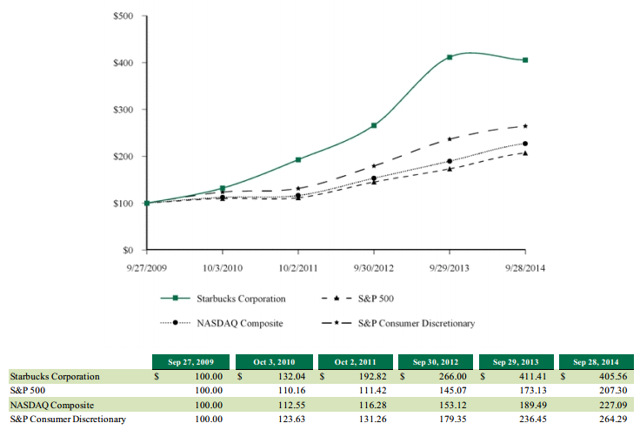 Of course, no one could have predicted the relentless bull market we are experiencing 5 years later. And I was even more naive than I am now, so there was almost no way for me to utilize any foresight and buy as much stock as I could possibly get my hands on.With a P/B of 5.64 and a P/FCF of 16.3, SBUX was priced perfectly for a small time investor like me. The temptation now is to right the wrongs of my past follies. As investors, we can't allow the frustrations of our past mistakes cause us to make poor decisions now. Hindsight will always be 20/20, and Starbucks is a much different company now than it was in 2009. Let's examine Starbucks and see if owning this business will add value to our portfolio.
We all know coffee is the most addictive, legal substance because of the caffeine it contains. Combine this with our habit of associating higher prices with better quality, a relaxing environment with its own unique language, and a commitment to green and social entrepreneurship, and that's the short version of Starbucks. Starbucks' revenue increased 11% to $16.4 billion in 2014. However, when we begin to compare net income and free cash flow to last year's performance, things get a little tricky. Starbucks was locked in a lawsuit with Kraft Foods Group (KRFT) over the distribution of Starbucks' packaged coffee to grocery store chains. The $2.8 billion Starbucks paid Kraft was expensed in Q4 2013, but paid in Q1 2014. As a result, EPS for 2013 was $.01, compared to $2.71 for 2014, and free cash flow per share was $2.30 in 2013 and -$.72 in 2014.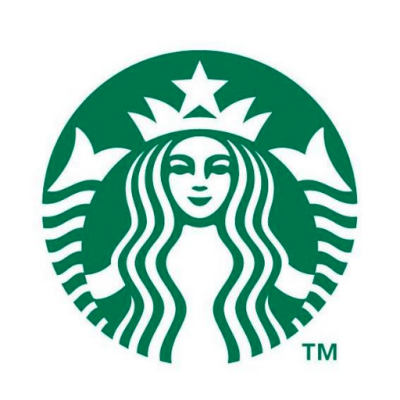 SBUX also increased the amount of debt it issued to help pay their obligation to Kraft. Starbucks currently has a little over $2 billion in debt, can issue another $727 in commercial paper through their revolving credit facility, and paid $64 million in interest on their long-term debt. With cash holdings of $1.7 billion, and the Kraft payment behind them, SBUX can finance its growth without issuing more debt, or may issue commercial paper to finance stock repurchases.
SBUX's free cash flow will continue to be low for the company in first quarter 2015. This is because SBUX has reached an agreement with their venture partner Sazaby League, Ltd. SBUX will acquire the remaining 60.5% ownership interest in Starbucks Japan. The transaction will be completed in Q1 2015 through a two-step tender offer, totaling $893 million using offshore cash. Starbucks has been a hit in Japan since they opened up their first store in 1996, and the trend doesn't seem to be slowing down. This would increase 2015 revenues, have a positive effect on both net income and free cash flow (in Q2-Q4 and 2016), resulting in increased shareholder value.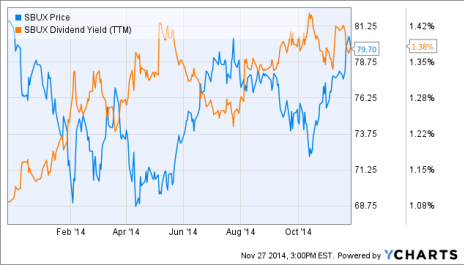 SBUX data by YCharts
With a dividend payout ratio of 38%, SBUX could easily increase its dividend in the years to come. SBUX has already increased its dividend by 23%, from $.23 a share to $.32. This increase in addition to $769.8 million in stock repurchases brings their Shareholder Yield to 2.6%. You can read more about Shareholder Yield here. While most of this news may signal you to buy or increase your holdings of SBUX, we need to consider what we are paying for SBUX and whether its value as a company justifies the price we pay.
Ben Graham teaches us that it is not enough to buy great companies; true added value is realized based on the price we pay rather than the price we eventually sell at. SBUX is priced at an alarming 11.35 times its book value, 29.3 times its earnings, and last year was priced at 33.3 times cash flow. This is an expensive company, and we have to ask ourselves whether SBUX is a growth stock with a dividend attached to it, or if SBUX is a value buy based on it's future potential? And how will this growth be achieved? I'm not sure SBUX's current price will continue to rise in the short term, although I do think that the business will continue to add value in the long term. I'm simply not comfortable paying more than 10 times book value based on potential.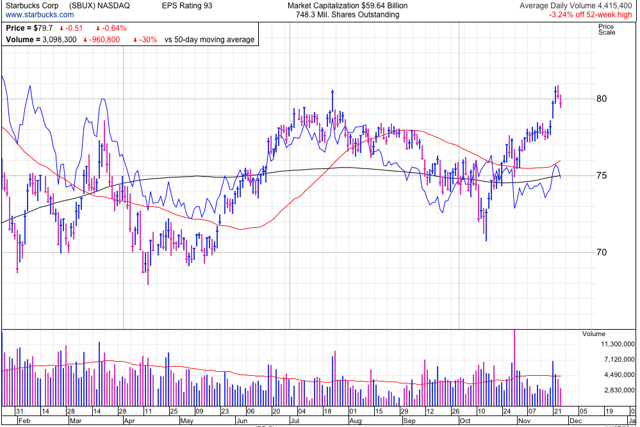 If we look at the price behavior of SBUX, we see that it has been consolidating between $70 and $80 a share during 2014. At the top of its range, SBUX would need more than increased revenue and the news of their Starbucks Japan takeover to push their stock price higher. Let's also remember that SBUX is subject to the commodity prices of coffee beans.
With a current price of $4.983 per pound, the premium Arabica coffee beans SBUX is known for have been increasing in price this year. The increase seems to have investors unsure of SBUX growth, which would explain the price consolidation. Both Brazil and Colombia, the first and third-largest coffee producers respectively, beat analysts' predictions for coffee production this year. As a result, the price of coffee could continue to rise, and may cause a decline in SBUX price for the short term.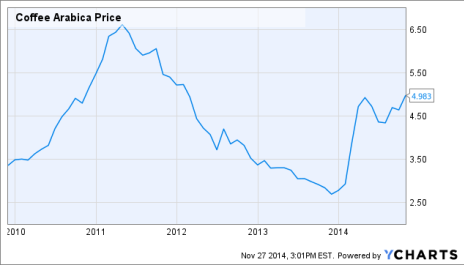 Coffee Arabica Price data by YCharts
I don't think SBUX is a buy at its current price. SBUX is a great company that can continue to grow and dominate the premium coffee industry, but it seems overvalued at this point. I don't think SBUX will crash the way we do after a caffeine high, but I don't think higher share prices are awaiting investors in 2015. Value investors should proceed with caution, and growth investors should be careful not to dive completely into a SBUX position. Q1 and Q2 2015 will be big quarters, and growth investors should be on the lookout for how well Starbucks Japan does, as well as how the increase in coffee price will effect SBUX's expenses and margin.