Aryzta (OTC:ARZTF) is a bakery company that was created through the merger of Hiestand Holdings of Switzerland and IAWS (Irish Agricultural Wholesale Society) from Ireland in August 2008. The company still maintains a dual listing structure with quotations on both the Zurich and the Dublin Stock Exchanges, under the respective ticker symbols ARYN and YZA. It also has an American Depository Share (OTCPK:ARZTY) that trades on the OTC market with modest liquidity. Its two predecessors were active acquirers of companies and Aryzta has proceeded with growth through acquisitions in the years since the merger. In 2013 it bought Klemme AG in Germany and added Pineridge Bakery from Canada and Cloverhill Bakery in the US during 2014. These acquisitions have made Aryzta amongst the largest bakery companies in the world and significantly larger than Flowers Foods (NYSE:FLO) for example. Because the company is in almost constant acquisition mode, it reported a lot one-time costs associated with integration activities during 2014. The earnings statements therefore show a large discrepancy between reported earnings and underlying earnings. On an underlying basis the company appears to be priced quite modestly at less than 15x net earnings, especially when taking expected growth into consideration. This analysis is intended to get a better look at the company and whether or not it presents an attractive investment at the current price level.
Business
Because of its history of acquisitions Aryzta actually consists of a host of different businesses that are located primarily in Europe and North America. It currently operates 60 bakery facilities that next to North America (29) and Europe (20) can also be found in Asia, Australasia and South America (11 in total). Its products range from bread, baked goods and morning goods to pizza bottoms, tarts, pies and many others. It is the largest frozen bakery product company in the world and its customers consist of the food service and food retail industries and the quick service restaurant sector. To give you an impression of Aryzta's aggressive acquisition strategy I have included a short list of acquisitions. Between 1998 and 2014 the company acquired the following companies; Cuisine de France, Delice de France, La Brea Bakery, Coup de Pates, Otis Spunkmeyer, Great Kitchens, Fresh Start Bakeries, Maidstone Bakeries, Honeytop Specialty Foods, Klemme AG, Cloverhill Bakery and Pineridge Bakery. Since the company's two predecessors also merged in 2008 this means the company has completed one acquisition every 15 months or so (on average) for the past 16 years.
In the table below an overview is provided for the company's revenue per customer segment. Large retail customers currently account for 30% of the company's overall sales, while Other Foodservice and Quick Service Restaurants follow closely at 29% and 26% respectively. Convenience & Independent Retail is the smallest customer group at 15% of company sales during fy2014. Although the company has many customers that cater to consumers it is not really a consumer driven business. All of its sales are made to corporate customers and consumer recognition of Aryzta's brands is probably very low. Because its customers are generally very large quantity buyers of product, which they need to sell profitably to their own customers, Aryzta's margins are held at quite low levels. Gross margin was about 27.8% during fiscal year 2014 for example. Economic power in Aryzta's business seems to rest largely on scale, which can provide cost benefits in procurement and production as well as some level of bargaining power versus its customers. However, given that many of its customers are either food service or food retail customers such as supermarket chains, club wholesalers and fast food restaurants I think they have substantial leverage to put pressure on the company's pricing. Although some of its product categories (such as store bake-off products) show decent growth, the company overall operates mostly in mature markets. Aryzta itself estimates underlying market growth at 1-2% in its current markets. Organic growth opportunities are therefore very limited for this business.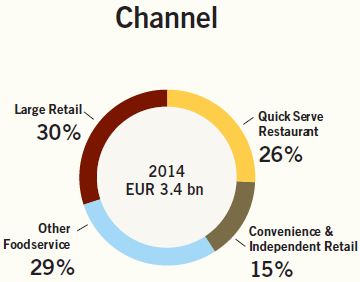 Above table: data from FY2014 results presentation. Table below: compiled from data available in AR 2014.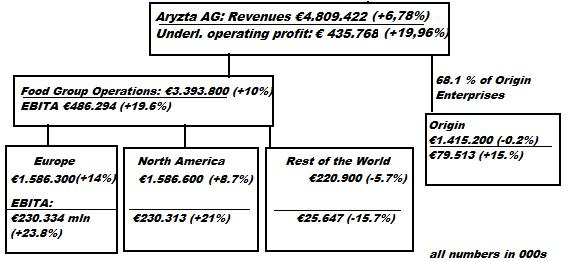 In the above table the company's revenues and operating profit is split by operating division. The company is organized as one food group with three geographic operating segments and its interest of 68.1% in Origin Enterprises (OTC:ORENF), which is an agribusiness company partly spun-off in 2007. Operating segment results are presented in EBITA due to the company reporting their results as such. Last year, the company experienced quite healthy growth of +6.8% in what are mostly mature product markets. This was mostly due to the benefits of acquisitions made in the prior and fiscal 2014 year, which contributed 8.9% to revenues while organic growth was very modest at 0.5% (and currency exchange made up the difference at -2.6%). Excluding the acquisition effects the company's revenue therefore dropped by -2.1%, primarily because of the weakening of the Euro against the US Dollar. The Food Group's Europe and North America segments are by far the largest revenue and profit contributors of the group and were both benefactors of the acquisitions made in Germany (2013) and the US (2014). Organic growth in revenues was 2.1% in Europe (excl. -0.1% forex difference) and 1.3% in North America (excl. -5.6% forex difference). When combined, these geographic segments accounted for almost 66% of company revenues (incl. Origin) and 81.4% of EBITA. Reported operating income grew +5.5% at the company level, while underlying operating profit growth was almost 20%. Unfortunately I was not able to calculate operating profit growth at segment or company level on an organic basis, because the company did not report the numbers required to do so. I consider this a shortfall in reporting from the company's side.
The almost constant flow of acquisitions makes it very difficult to analyze how the company is doing on an organic basis. It is also hard for me to imagine how such an extremely acquisitive company can maintain its reporting and control standards. It seems to me that this acquisition pace comes with a certain level of execution risk regarding the integration process as well. To be fair the integration of the different businesses into one coherent company with standardized corporate processes and reporting is an issue the company has addressed by way of its Aryzta Transformation Initiative. Started in 2011 this program was intended to optimize the company's supply chain and implement a company-level ERP. Apparently, all its different businesses and bakeries now run the same software platform to manage their product listings, bakery production capacities and customer delivery channels. The 2014 acquired US companies have also begun to implement the ATI program changes. Aryzta has invested very significant amounts of capital to complete this initiative, which is meant to pay for itself through increased efficiency benefits. According to the company it is currently on track to achieve the program's goal of 15% underlying ROIC on the food group's assets.
Origin Enterprises
Just like Aryzta itself Origin Enterprises is a collection of businesses under one corporate roof. Its business activities can be divided into Agri-services companies, which are subdivided into integrated agronomy service companies and agri-inputs companies. The first subdivision consists of companies Agrii, Dalgety Agra Polska and Agroscope, which all focus on providing services to the agricultural sector. The second subdivision consists of Goulding, Origin Fertilizers, PB Kent, Rigby Taylor and Origin Northern Ireland. These businesses focus mostly on supplying fertilizers and other agricultural input products such as seeds and chemicals to agricultural businesses. The rest of Origin consists of interests in two joint ventures called R&H Hall (animal feed) and Valeo Foods (consumer foods). Because Aryzta owns a controlling and economically significant stake in Origin Enterprises it is essential to include its valuation in an analysis of Aryzta. Origin's market value at the current share price of €8.00 is slightly over €1.042 billion, which makes Aryzta's 68.1% ownership worth roughly €682 million.
However, at the current time Aryzta fully consolidates the financial results from Origin Enterprises into its own financial statements and then subtracts the 31.9% minority interest from net income in the income statement. This may be precisely as it should be done according to accounting standards, but it also creates a misleading picture regarding Aryzta's actual sales from companies it is the beneficial owner of. According to my calculations, if the minority ownership of Origin' sales were subtracted from Aryzta's revenues over 2014 the company's sales would be lower by roughly €451 million. In my opinion this is a very meaningful amount as this means a reduction of almost -9.4% on total reported sales of €4.809 million. I think investors should be aware of this. Origin Enterprises trades at an underlying P/E of 13.9 (for trailing earnings) and provides a current yield of 2.5%. I have chosen not to separately analyze Origin Enterprises in this article and will value Aryzta's stake at the current market price.
Valuation
I expect revenue growth for Aryzta to materialize mostly by way of acquisitions, while earnings growth could be derived from synergy benefits and cost cutting in the acquired companies as well. Given its low dividend yield, Aryzta's slow organic growth profile makes any potential investment in the company mostly a consolidation story. If you believe Aryzta can continue to play an important role as an industry consolidator and derive meaningful economic benefits in the process, it may provide satisfactory returns. Admittedly, I have my doubts about this company. Reporting on business progress is sub-par in my opinion and its annual reports and presentations provide no real insight into practically all the worthwhile information needed to determine whether or not Aryzta is an attractive investment opportunity. This concerns important business variables such as pricing, volume, category growth, production capacity used, potential factory consolidation, new product introductions, etc. I also consider its aggressive acquisition pace a notable risk for investors in this company, since there is very little information on the valuations paid for example. This makes it very difficult to assess the company's capital allocation track record in this regard.
Simply looking at rising earnings is not enough in my opinion. Free cash flow generation for example lags underlying net profit by a huge margin and is more in line with the far lower reported net profit number. Aryzta's balance sheet meanwhile carries a large debt load and a huge intangible assets post as well. Given the mediocre economics of the industry in which it operates I cannot help but wonder whether all these acquisition related intangible assets are still worth what they are on the books for. There's also a serious possibility for input cost inflation to depress margins in case important input costs such as flower, sugar, chocolate, butter, labor or energy become subject to rising inflation. So, while the company may look quite cheap from an underlying earnings perspective I think the company is actually priced quite optimistically, since forecasts for growth largely depend on management's ability to close acquisitions at sensible prices and then successfully integrate those companies. Given the low amount of visibility the company provides on both its current business and on its acquisitions, Aryzta seems like a black box to me.
Below I have included an overview of the company's forward EV/EBITDA valuation versus a group of its peers. The table is from financial data website infinancials.com. I have replaced an Indian bakery business included in this table with a smaller peer from the UK called Finsbury Foods, on which I have written an article earlier. The reason for this replacement is that Finsbury, like Aryzta, is also active in the UK bakery market and therefore seemed more relevant to me than an Indian company. As can be seen in the table Aryzta's valuation resides in the middle range of its peer group, of which only Lotus Bakeries and Flowers Foods are currently trading at higher market valuations. Lotus Bakeries deserves a higher valuation multiple in my opinion because the company owns a branded business in the cookie and cake category and achieves far higher margins, as well as having more organic growth potential. I therefore think Aryzta is actually valued quite a bit higher versus the average of its peer group, with the possible exception of Flowers Foods from the US. According to my calculations its trailing EV/EBITDA is actually quite high for a business with mediocre economics and growth at 11.21, while its price/sales ratio is also quite high for a low margin business and low organic growth, namely 1.28x (when adjusting its sales for the minority interest in Origin that is listed publicly).

Current analyst estimates (from Reuters) call for the company to earn (underlying) EPS of €4.69 on average in the current fiscal year. This implies a P/E ratio of roughly 13.5 for fy2015. Given the low organic growth profile, the necessity for heavy capital expenditures, the risks surrounding acquisition integrations and its position in the upper range of the peer valuation comparison, I do not consider Aryzta an attractive investment at this price level.
Disclosure: The author has no positions in any stocks mentioned, and no plans to initiate any positions within the next 72 hours.
The author wrote this article themselves, and it expresses their own opinions. The author is not receiving compensation for it (other than from Seeking Alpha). The author has no business relationship with any company whose stock is mentioned in this article.
Editor's Note: This article discusses one or more securities that do not trade on a major U.S. exchange. Please be aware of the risks associated with these stocks.