* All data are as of the close of Friday, November 28, 2014. Emphasis is on company fundamentals and financial data rather than commentary.
The Packaging and Containers industry is another great example of how practicality outperforms sex appeal. Though the industry's products and services are rather boring and mundane, they are indispensable to manufacturers and retailers everywhere, and will never by phased out as long as consumerism is alive.
Here's a brief summary of what the nation's three largest companies in the industry offer:
International Paper Company (NYSE:IP), headquartered in Memphis, Tennessee, manufactures containerboards, including linerboard, medium, whitetop, recycled linerboard, recycled medium, and saturating kraft, as well as writing, printing and imaging papers. Its packaging products include coated paperboard used by the food, cosmetics, pharmaceuticals, computer software, tobacco products, greeting cards, paperback book covers, lottery tickets, and direct mail industries, as well as paper cups and plates, and other food containers.
Ball Corporation (NYSE:BLL), headquartered in Broomfield, Colorado, supplies metal packaging products to the beverage, food, personal care, and household products industries, including aerosol, paint, general line, and extruded aluminum containers. It also supplies the aerospace and technology industries with aerospace systems, including spacecraft instruments and sensors, radio frequency systems and components, data exploitation solutions used in civil, commercial, and national security aerospace applications. It also designs, manufactures and tests satellites, remote sensors, ground station control hardware and software, launch vehicle integration and satellite operations, target identification, warning and attitude control systems and components, cryogenic systems for reactant storage, sensor cooling devices, star trackers, and fast-steering mirrors used in various applications, including astronomy and space systems, information warfare, electronic warfare, avionics, intelligence, and training.
Sealed Air Corporation (NYSE:SEE), headquartered in Elmwood Park, New Jersey, provides food safety and security, facility hygiene, and product protection solutions for loading, filling, dispensing, and aseptic processing. It also offers graphic design, printing, training, field quality assurance, remote diagnostics services, facility hygiene solutions, and open plant systems that integrate cleaning chemicals, lubricants, floor care equipment and cleaning tools, including products and dispensing systems for hard surface cleaning, disinfecting and sanitizing, hand washing, deodorizing, ware washing, hard surface and carpeted floor cleaning systems, cleaning tools and utensils, and fabric care for professional laundry applications. It also offers packaging solutions for cushioning, void fill, positioning/block-and-bracing, surface protection, retail display, and containment used by the food and beverage, industrial, commercial, healthcare and retail industries.
These are the companies other companies turn to for their retail packaging and shipping packaging needs. The industry is, therefore, extremely dependent on the state of the industrial and commercial sectors, and will fall hard when the economy stumbles, but it will also surge spectacularly when the economy revives. Hence, the more active manufacturing is, the busier the Packaging and Containers industry is, as is clearly evident in the graphs below.
During the market downturn from mid-2007 to early 2009, where the broader market S&P 500 (NYSEARCA:SPY) index [black] and the Select Sector SPDR Materials ETF (NYSEARCA:XLB) [blue] which the industry belongs to both fell 56%, SEE [orange] and IP [beige] consequently fell as well, some 67% and 89% respectively.
Yet, BLL [purple], given its more diversified activities in the aerospace and defense sectors, fell much less than even the broader market, with a drop of only 34%.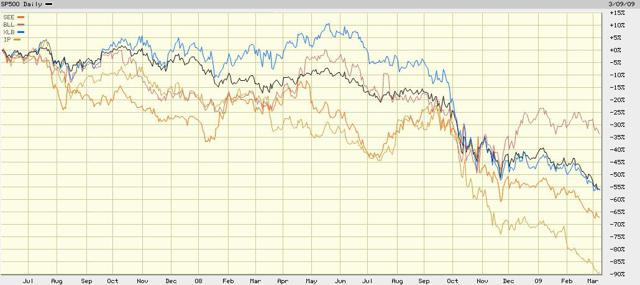 (Source: BigCharts.com)
But oh how their fortunes turned around once manufacturing and retailing picked up again, as graphed below.
Since the economic recovery began in March of 2009, where the broader market S&P has gained some 205% and the XLB has gained 170%, SEE has gained 275% and IP has surged 1,140%.
BLL, however, was held back a little at just 265%, again given its diversification into other fields, sparing it from much of the packaging industry's contraction, but also limiting the benefits from the industry's expansion, as diversification often does.
On an annualized basis, where the S&P has averaged 36.18% and the XLB has averaged 30%, BLL has averaged 46.76%, SEE has averaged 48.53%, while IP has averaged an outstanding 201.18% per year!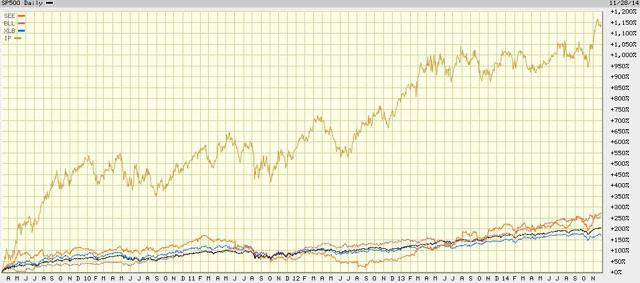 (Source: BigCharts.com)
Looking forward, the Packaging and Containers industry as a whole looks to simmer down quite a bit, as tabled below, where green indicates outperformance and yellow denotes underperformance.
Most likely due to expectations of manufacturing growth returning to more normal levels, the packaging industry's earnings are seen underperforming the broader market's average growth significantly this quarter, before climbing to just a slight underperformance next quarter.
That growth is set to continue climbing to slightly outperform the market in 2015, before settling back down to market-performing over the next five years.

Zooming in a little closer, however, the three largest U.S. Packaging and Containers companies are expected to put in a split performance, with SEE seen outgrowing its peers as well as the broader market average by as much as 2.04 times over the immediate term, before settling into a more sustainable 1.50 to 1.67 times growth rate in 2015 and beyond.
IP and BLL, on the other hand, are expected to contend with earnings shrinkage in the current quarter, with IP rebounding dramatically next quarter, while BLL continues to underperform near-term and in 2015.

Yet, there is more than earnings growth to consider when sizing up a company as a potential investment. How do the three compare against one another in other metrics, and which makes the best investment?
Let's answer that by comparing their company fundamentals using the following format: a) financial comparisons, b) estimates and analyst recommendations, and c) rankings with accompanying data table. As we compare each metric, the best-performing company will be shaded green, while the worst performing will be shaded yellow, which will later be tallied for the final ranking.
A) Financial Comparisons
Market Capitalization: While company size does not necessarily imply an advantage, and is thus not ranked, it is important as a denominator against which other financial data will be compared for ranking.

Growth: Since revenues and expenses can vary greatly from one season to another, growth is measured on a year-over-year quarterly basis, where Q1 of this year is compared to Q1 of the previous year, for example.
In the most recently reported quarter, SEE posted the greatest revenue and earnings growth year-over-year, while BLL and IP split the slowest growth between them, each reporting some shrinkage.
Profitability: A company's margins are important in determining how much profit it generates from its sales. Operating margin indicates the percentage earned after operating costs, such as labor, materials, and overhead. Profit margin indicates the profit left over after operating costs plus all other costs, including debt, interest, taxes, and depreciation.
Of our three contestants, BLL operated with the widest profit and operating margins, while SEE and IP contended with the narrowest.

Management Effectiveness: Shareholders are keenly interested in management's ability to do more with what has been given to it. Management's effectiveness is measured by the returns generated from the assets under its control, and from the equity invested into the company by shareholders.
For their managerial performance, BLL's management team delivered the greatest returns on assets and equity, while IP's team delivered the lowest.

Earnings Per Share: Of all the metrics measuring a company's income, earnings per share is probably the most meaningful to shareholders, as this represents the value that the company is adding to each share outstanding. Since the number of shares outstanding varies from company to company, I prefer to convert EPS into a percentage of the current stock price to better determine where an investment could gain the most value.
Of the three companies here compared, BLL provides common stockholders with the greatest diluted earnings per share gain as a percentage of its current share price, while SEE's DEPS over current stock price is the lowest.

Share Price Value: Even if a company outperforms its peers on all the above metrics, however, investors may still shy away from its stock if its price is already trading too high. This is where the stock price relative to forward earnings and company book value come under scrutiny, as well as the stock price relative to earnings relative to earnings growth, known as the PEG ratio. Lower ratios indicate the stock price is currently trading at a cheaper price than its peers, and might thus be a bargain.
Among our three combatants, IP's stock is the cheapest relative to forward earnings and company book value, while SEE's is cheapest relative to the 5-year PEG. At the overpriced end of the scale, each company is most overvalued on one of the ratios.

B) Estimates and Analyst Recommendations
Of course, no matter how skilled we perceive ourselves to be at gauging a stock's prospects as an investment, we'd be wise to at least consider what professional analysts and the companies themselves are projecting - including estimated future earnings per share and the growth rate of those earnings, stock price targets, and buy/sell recommendations.
Earnings Estimates: To properly compare estimated future earnings per share across multiple companies, we would need to convert them into a percentage of their stocks' current prices.
Of our three specimens, IP offers the highest percentages of earnings over current stock price for all time periods, while SEE offers the lowest percentages in all periods.

Earnings Growth: For long-term investors, this metric is one of the most important to consider, as it denotes the percentage by which earnings are expected to grow or shrink as compared to earnings from corresponding periods a year prior.
For earnings growth, SEE offers the greatest growth this quarter and over the next five years, while IP offers it next quarter and in 2015. At the slow end of the spectrum, BLL offers the slowest growth next quarter and in 2015, while IP offers it this quarter and over the next five years, with both IP and BLL suffering earnings shrinkage this quarter.

Price Targets: Like earnings estimates above, a company's stock price targets must also be converted into a percentage of its current price to properly compare multiple companies.
For their high, mean, and low price targets over the coming 12 months, analysts believe IP's stock offers the greatest upside potential and least downside risk, while BLL's offers the least upside and SEE's offers the greatest downside.

Buy/Sell Recommendations: After all is said and done, perhaps the one gauge that sums it all up is analyst recommendations. These have been converted into the percentage of analysts recommending each level. However, I factor only the strong buy and buy recommendations into the ranking. Hold, underperform, and sell recommendations are not ranked, since they are determined after determining the winners of the strong buy and buy categories, and would only be negating those winners of their duly earned titles.
Of our three contenders, IP is best recommended with 5 strong buys and 6 buys representing a combined 55% of its 20 analysts, followed by SEE with 2 strong buy and 5 buy recommendations representing 53.84% of its 13 analysts, and lastly by BLL with 2 strong buy and 1 buy ratings representing 20% of its 15 analysts.

C) Rankings
Having crunched all the numbers and compared all the projections, the time has come to tally up the wins and losses and rank our three competitors against one another.
In the table below, you will find all of the data considered above, plus a few others not reviewed. Here is where using a company's market cap as a denominator comes into play, as much of the data in the table has been converted into a percentage of market cap for a fair comparison.
The first and last-placed companies are shaded. We then add together each company's finishes to determine its overall ranking, with first-place finishes counting as merits, while last-place finishes count as demerits.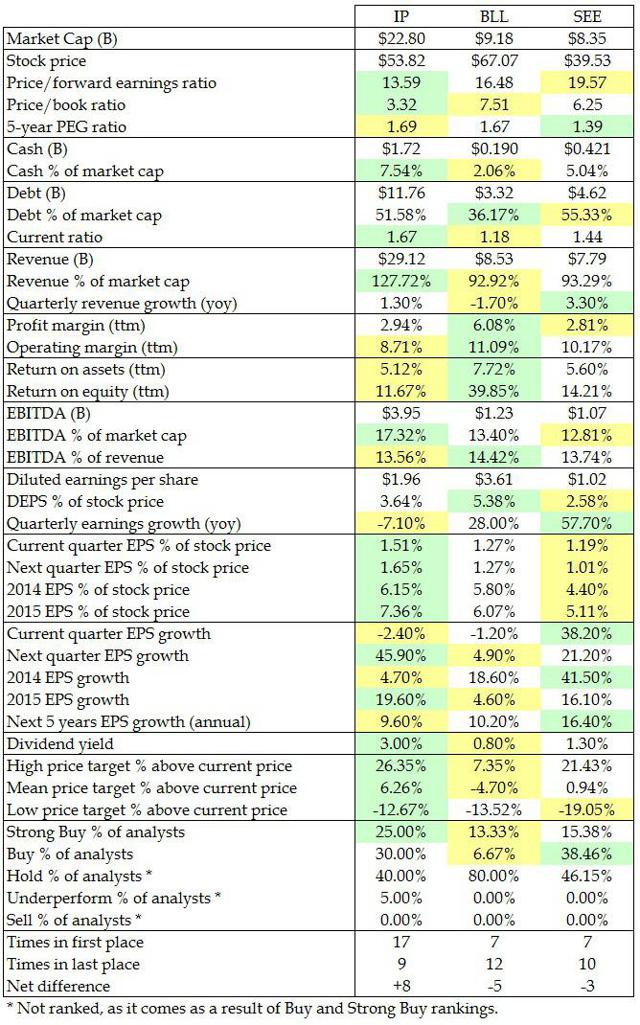 And the winner is... International Paper, outperforming in 17 metrics and underperforming in 9 for a net score of +8, followed far behind by Sealed Air Corp., outperforming in 7 metrics and underperforming in 10 for a net score of -3, with Ball Corp. close behind, outperforming in 7 metrics and underperforming in 12 for a net score of -5.
Where the Packaging and Containers industry is expected to underperform the S&P broader market significantly this quarter and negligibly the next, outperform negligibly in 2015, and market-perform beyond, the nation's three largest companies in the space are expected to split-perform, with SEE growing more than its peers and the broader market clear across the calendar, while IP and BLL alternate from underperformance to outperformance, before averaging market performance over the next five years.
Yet, after taking all company fundamentals into account, International Paper stands first among its peers, given its lowest stock price-to-forward earnings and company book value, highest cash and revenue over market cap, highest current ratio, highest EBITDA over market cap, highest future earnings over current stock price in all periods, highest future earnings growth next quarter and in 2015, highest dividend, best price targets, and most strong buy analyst recommendations - decisively winning the Packaging and Containers industry competition.
Recent Consumer Goods articles you might also enjoy:
• Comparing America's 3 Largest Processed and Packaged Goods Companies
• Comparing America's 3 Largest Major Diversified Food Companies