Apple (NASDAQ:AAPL) declined by a fairly sizable percentage intraday Monday. A pretty massive blip showed up around 9:50 AM as the stock was down by 6% at its lowest point before quickly moving back up to close the session down 3.25% at $115.07. For whatever reason investors were fleeing for the exits, which was probably a symptom of high-frequency trading, institutional selling or a technical glitch.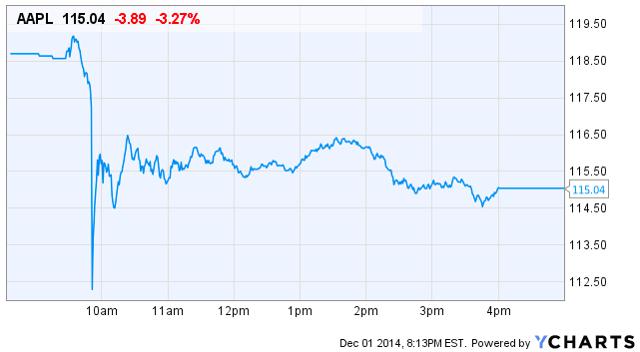 Source: YCharts
Fundamentally, not a whole lot has changed with Apple. The iPhone is selling like hotcakes. The delay of the Apple Watch shouldn't negatively impact financial performance by much. Apple Pay is having some trouble acquiring merchants, but in the end, many believe these challenges will peter out. Affluent customers will either demand the service or go to a retailer that supports it.
Apple's profit margin will improve on the back of better pricing and things seem to be moving smoothly with the international iPhone 6 rollout. Even with a delayed launch in China, Apple is struggling to produce enough iPhone 6 units to keep up with various sales channels. Analysts are anticipating unit growth in excess of 20% in Q1 FY 2015, with the impact to revenue likely to be higher due to a mix shift to higher end-memory or screen configurations.
Maybe the recent sell-off was more programmatic in nature? After all, it's not at all uncommon to see massive discrepancies in pricing over narrow windows like this following the flash crash back in 2010.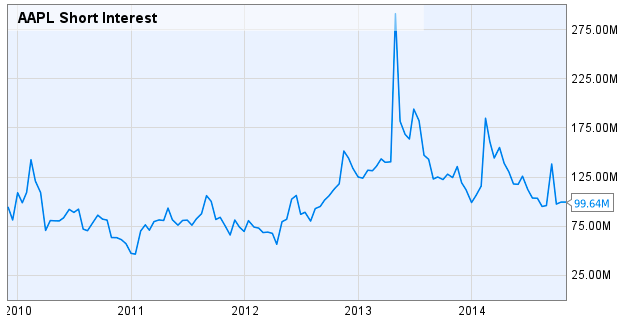 Source: YCharts
Short interest looks relatively stable, so there's hardly any conviction behind the sell-off. If investors were convinced that the underlying security was either overvalued or was due for a massive pullback, short interest would have gone up significantly. However, that's not the case, which also negates the likelihood of a broad change in underlying sentiment from a technical standpoint. It seems that long-term investors are still invested in AAPL due to growth prospects and the stability of the company's balance sheet.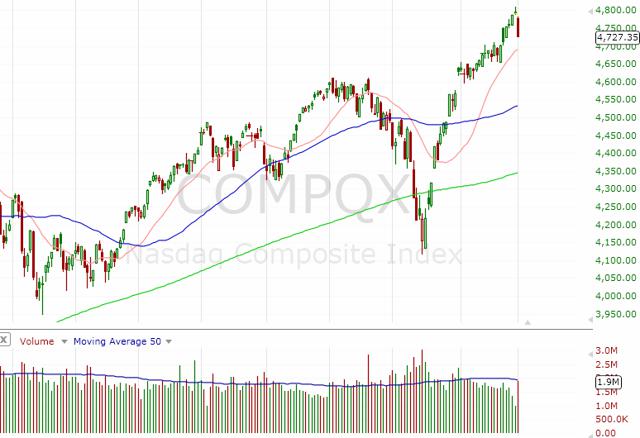 Source: FreeStockCharts
The broader equity sell-off may be another factor in AAPL's recent downward move as AAPL's price action is not completely isolated. Computer trading algorithms do not come without faults. Perhaps the offers swung out of control and, as soon as it became obvious that Apple's relative volatility to the broader index was many standard deviations from the mean, the same computers went the opposite direction and started rapidly bidding. I mean we're talking about computers operating on a time frame in the millionths of a second, so the rapid execution of orders goes in both directions. Someone with a sizable book may have decided to close out their position, which set off a flurry of high-frequency trading, which sent the stock price lower over a narrow time frame.
After a robust Black Friday and Cyber Monday that favored e-tailers, investors may be selling the news as many independent firms are releasing various channel checks to buy-side firms. Everyone knew that e-commerce was going to have a robust holiday season on the back of falling energy prices and various sentiment indicators. But new data indicates brick-and-mortar sales were either flat or down year-over-year for the day.
However, timing this sort of event is difficult. Intraday trading isn't something I recommend as many lack a competitive edge over shorter time frames. Investors tend to outperform by holding securities over time. Therefore, I think investors can safely disregard the recent market volatility as much of it is temporarily driven by computer trading and changes in short-term expectations. It does nothing to negate the underlying investment thesis of owning AAPL.
Investors may want to buy some shares on the recent pullback. I reiterate my buy rating, and $165 price target.
Disclosure: The author has no positions in any stocks mentioned, and no plans to initiate any positions within the next 72 hours.
The author wrote this article themselves, and it expresses their own opinions. The author is not receiving compensation for it (other than from Seeking Alpha). The author has no business relationship with any company whose stock is mentioned in this article.