Last quarter I compared the different companies in the Tanker industry and their ability to manage their Operating Expenses, Revenue, and Balance Sheet. With the end of the 3rd Quarter, it's time to look at them from quarter to quarter to see if some trends emerge.
The tanker industry has begun to see an uptick in rates over the 4th Quarter, which will help to continue the streak of improving revenue and earnings over the past quarters. Some of the rises are due to cyclic rates, but the fall in oil prices is also helping to increase demand across the world.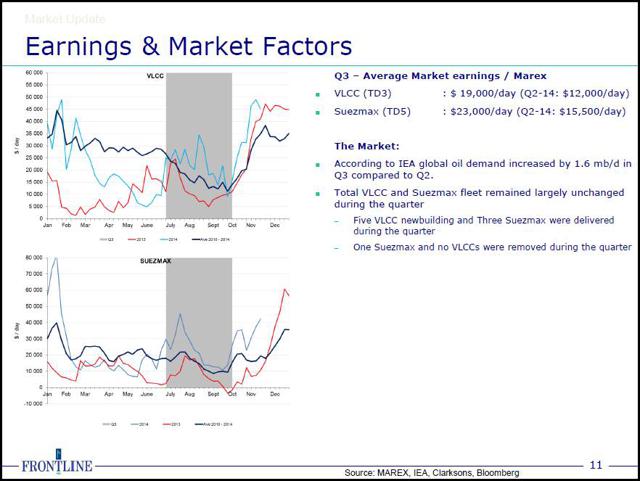 (Source: Frontline 3Q14 earnings presentation)
VLCCs will typically carry product between two ports with a higher revenue and earnings rate than some of the smaller ships. However, on a per DWT basis, the smaller ships might be able to charge a premium over the VLCCs due to being able to deliver to smaller ports.
Overview
The companies looked at are Ardmore Shipping (NYSE:ASC), DHT Holdings (NYSE:DHT), Frontline Ltd (NYSE:FRO), KNOT Offshore Partners (NYSE:KNOP), Navios Maritime Acquisition (NYSE:NNA), Nordic American Tankers (NYSE:NAT), Teekay Tankers (NYSE:TNK), and Taskos Energy Navigation (NYSE:TNP). Future articles will also compare expenses and debt/assets on the same basis.

Over the past three months the entire industry has seen a slump with TNK and NAT finishing up near where they were three months ago. On the other end, FRO has fallen almost 40% over the last three months.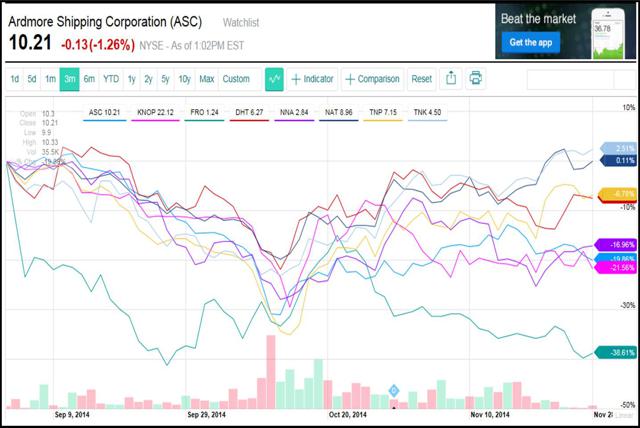 Revenue
Over the 3rd Quarter, all the companies saw an increase in revenue from the previous quarter, and are seeing gains over previous years.

When the revenue is broken down on a per ship basis, FRO, KNOP, and NAT all generated the highest revenues per ship. The VLCC's will generate more revenue per ship than smaller ships, so looking at revenues on a per DWT basis helps to level the playing field. On a per DWT basis, ASC, KNOP, and NAT all generated above average rates.

FRO has a mixed fleet of VLCC's and Suezmax's, while NAT has a fleet of pure Suezmax. KNOP operates its vessels as shuttle tankers, which is a different strategy than a pure tanker shipping business, but is generating higher returns on both a per ship and per DWT basis.
Earnings
On a per ship earnings basis, KNOP, NNA, and NAT all emerge as producing above average returns. When the earnings are compared on a per DWT basis, ASC, KNOP, and NNA are on the high end.

2Q14 vs 3Q14
When compared with the last article covering the Revenue and Income in 2Q14, there are general consistencies with which companies are performing at the top and maximizing revenue and income for their ships.
On a per ship basis, FRO and KNOP were at the top for both quarters. FRO averaged $2.5M per ship in 2Q14 and $3.4M per ship in 3Q14. KNOP averaged $3.1M per ship in 2Q14 and $4.9M in 3Q14.
On a per DWT basis ASC and KNOP were once again the top performers for both quarters. ASC generated an average of $25.32/DWT in 2Q14 and $35.63/DWT in 3Q14. KNOP generated $22.04/DWT in 2Q14 and $34.15/DWT in 3Q14.
On the earnings side, there are similar consistencies. KNOP and NNA were both top producers in both quarters on a per ship basis. KNOP averaged $2.3M/ship in 2Q14 and $3.6M/ship in 3Q14. NNA averaged just under $1M/ship in 2Q14 and just over $1M/ship in 3Q14.
When looking at the numbers on a per DWT basis, ASC, KNOP, and NNA were all above average for both quarters. ASC averaged $9.16/DWT in 2Q14 and $10.92/DWT in 3Q14. KNOP averaged $16.28/DWT in 2Q14 and $25.62 in 3Q14. NNA averaged $7.37/DWT in 2Q14 and $10.38/DWT in 3Q14.
Another consistency was the negative earnings from FRO from both Quarters. In 2Q14 the company lost an average of -$480K/ship and -$1.96/DWT. In 3Q14 the company lowered the loss, but still came in at -$371K/ship and -$1.51 per DWT.
Conclusion
From 2Q14 to 3Q14 there are consistencies with top performers for revenue generation and earnings. ASC and KNOP are clear standouts for both Revenue and Earnings going forward. However, prior to committing to a particular company, investors should also look at Operating Expenses and the Balance Sheet.
Disclosure: The author is long FRO.
The author wrote this article themselves, and it expresses their own opinions. The author is not receiving compensation for it (other than from Seeking Alpha). The author has no business relationship with any company whose stock is mentioned in this article.