The utilities/power providers industry has long been characterized by its monopolistic nature and slow innovation. For decades, the electrical utilities/power providers have virtually been left unchanged, and it has often been said that Nikola Tesla and Thomas Edison would have had little trouble distinguishing the modern day grid to the electrical grids of their time. While the monopolistic nature of the utilities/power provider industry is not surprising given the economic moat created by heavy government regulation, electrical utilities/power providers are finally starting to transform for the first time in decades.
NRG Energy (NYSE:NRG), the second largest conventional power generation company, has been the poster child for large power provider innovation and transformation. The company has been one of the first large fossil fuel based power provider to embrace renewable energy, with its renewable assets capable of producing 2,281 MWs of energy. Although this is only a small percentage of the total 52,410 MWs of energy produced by the company, this percentage is still significantly higher than the industry standard.
NRG Energy is clearly ready to go all in on renewables, and is doing so in a big way. In addition to owning huge solar and wind farms, the company is actively promoting and developing green energy. In fact, the company ranked number 2 in total megawatts of solar installed in the United States, even among a list of companies that included pure-play solars.
Not only has NRG Energy been at the forefront of the renewable energy revolution, but it has also stated its intention of pushing the renewable message in a more forceful manner, as evidenced by the company's extremely ambitious carbon reduction goals. In time, NRG Energy's forward-thinking business model will likely outperform that of other power providers through the company's intense focus on renewable energy.
NRG Energy's Forward-Looking Renewables Business
While much emphasis has been put on NRG Energy's renewables business, it must be continually stressed that the vast majority of the company's energy generation still comes from traditional fossil fuels. NRG Energy understands that fossil fuels are still an essential part of today's economy given their comparatively cheap nature in comparison to renewables. When the long-term externalities of fossil fuels are put into the cost equation though, the picture becomes less clear of which method of energy generation is truly the most beneficial to society. Despite this, renewable energies, with solar in particular, are quickly coming down in cost and becoming cost competitive with conventional energy sources such as natural gas.
NRG Energy has been one of the first major power providers to recognize this dramatic/inevitable energy paradigm shift, and is taking full advantage of this knowledge. The company currently has 31 wind farms and 5 solar farms spread out across the United States. While wind certainly plays a large role in NRG Energy's renewable portfolio, solar energy is the renewable energy with the real potential, and NRG Energy is coming to realize that.
While most solar companies in the world are pure-play solar companies, NRG Energy is the notable exception. Because of NRG Energy's fossil fuel based business, it has the advantage of having a huge balance sheet not typical of pure-play solar companies. This advantage will allow the company to leverage some of its billions of dollars to stake a large claim in the solar business. While the company has already largely done this in the utilities scale solar sector, it has also been making preparations to enter the residential solar scale sector.
Focus on Residential Solar Sector
The residential solar sector has perhaps the most potential in the solar sector and energy sector in general. While utility scale generation has been the dominant form of energy generation thus far, distributed solar generation will likely become increasingly important in the future. In fact, CEO David Crane has even stated that there is an "inexorable trend towards a distributed generation-centric, disaggregated future featuring individual choice and the empowerment of the American energy consumer." While further battery innovation will certainly be needed for this to happen, NRG Energy is already building its infrastructure for its distributed residential solar business.
(Solar power's growth by sectors)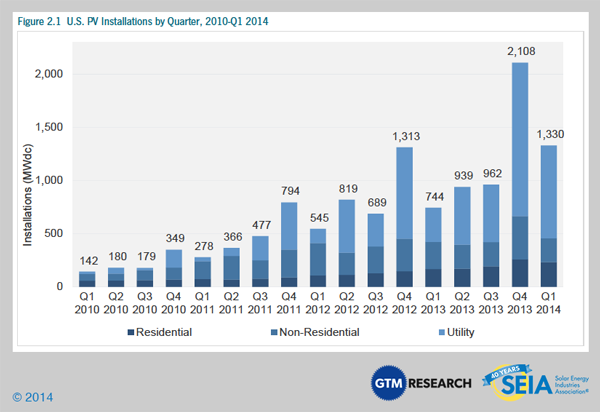 (source: GTM Research)
NRG Energy has been building its residential solar infrastructure for years now. While residential solar's main players such as SolarCity (NASDAQ: SCTY) and Vivint Solar (NYSE: VSLR) have been publicly dominating and eating up market share in this sector, NRG Energy has been secretly developing its residential solar capabilities. The company has only recently started to shed light on its future plans in this arena.
Like SolarCity, NRG Energy has been vertically integrating companies in order to reduce costs. NRG Energy, for instance, acquired Diagnostics Solar and Pure Energies in order to compete on costs with the SolarCity's highly integrated business model. While SolarCity or Vivint Solar have taken up more than 50% of the residential solar sector, it is conceivable that NRG Energy will be a huge player alongside these companies once the company fully engages in the residential market. In fact, NRG Energy may even have advantages in certain regards. David Crane quoted that:
Our home solar business is going to be about marrying up, cross-selling and seamless integration of solar-driven home energy solutions, including complementary grid system sales, backup generation and other energy products and services. In this regard, unlike other residential solar companies that talk about offering more than just solar to their customer base, we already have many of the capabilities in place to offer many of these complementary products and services.
In addition, having the balance sheet of a large power provider does not hurt either. While NRG Energy is entering the residential solar sector relatively late, it boasts several advantages that no other major residential solar company possesses. With revenues of over 4.5b in quarter 3, NRG Energy clearly possesses financial superiority over its residential solar competitors. Only time will tell if NRG Energy will be able to effectively deploy its huge finances in order to compete with the more established residential solar players, but it seems likely that it will given management's fastidious planning and long track record of success.
Valuation, Risks, and Conclusion
While the vast majority of NRG Energy's assets are still primarily invested in the fossil fuel industry, its entrance into the renewables sector is a promising sign for the future of the company. As previously stated, the company's involvement in the fossil fuel industry gives NRG Energy a huge competitive edge over other solar companies in the form of its massive revenues and profits. With a quarterly gross profit of 1.291b, the company may seem to be fairly valuaed with a market capitalization of 10.45b. This valuation though does not properly take into consideration the potential of NRG Energy's renewable business, and as a result, the company's market capitalization could have significantly more upside.
Despite this, there are still many risks associated with this stock. One big risk is how oil price movements affect NRG Energy's business. While solar and oil are generally not in the same market, as only 1% of oil is used as electrical generation, oil price movements nonetheless affect solar because there are many mutual funds and ETFs that share both oil and solar stocks. If anyone sells these mutual funds or ETFs to reduce their oil holdings, solar stock will inevitably be part of the sell off. For instance, OPEC's recent inaction over oil prices have further caused oil to plummet to around the $65 level. Unsurprisingly, NRG Energy's stock also fell in this period, although not as severely as some pure play solar stocks.
While the solar industry may be a tiny fraction of energy generation within the United States, solar power generation is exponentially increasing due to improvements in solar nanotechnology. Solar nanotechnology essentially belongs in the same technological realm as semi-conductors, and like semi-conductors, improves at an exponential rate. The management, in particular David Crane, has caught on to this exponential solar/renewable trend. It is remarkable and certainly a rarity that such a big power provider has embraced renewables with such fervor.
While most of the large utilities/power providers are fighting tooth and nail against the renewables trend, NRG Energy has been one of the few power providers to fully embrace, and even push, the renewable energy transition.
Disclosure: The author has no positions in any stocks mentioned, and no plans to initiate any positions within the next 72 hours.
The author wrote this article themselves, and it expresses their own opinions. The author is not receiving compensation for it (other than from Seeking Alpha). The author has no business relationship with any company whose stock is mentioned in this article.