By Stuart McPhee
Gold for Tuesday, December 2, 2014
After making repeated runs at the resistance level at $1200 and failing every time, gold fell sharply away a few days ago before surging higher again in the last 24 hours to back above $1200 and reaching a new one month high above $1220 in the process. It is presently easing away slightly back towards the Key $1200 level. In the last few weeks gold has enjoyed a strong resurgence back to the key $1200 level where it has met stiff resistance up until recently. Throughout the second half of October gold fell very strongly and resumed the medium term down trend falling from above $1250 back down through the key $1240 level, down below $1200 to a multi year low near $1130. It spent a few days consolidating around $1160 after the strong fall which has allowed it to rally higher in the last couple of weeks. Earlier in October gold ran into the previous key level at $1240, however it also managed to surge higher to a five week high at $1255.
In late August gold enjoyed a resurgence as it moved strongly higher off the support level at $1275, however it then ran into resistance at $1290. In the week prior, gold had been falling lower back towards the medium term support level at $1290 however to finish out last week it fell sharply down to the previous key level at $1275. During the second half of June, gold steadily moved higher but showed numerous incidents of indecision with its multiple doji candlestick patterns on the daily chart, around $1320 and $1330. The OANDA long position ratio for gold has moved back towards the 50% level as gold has fallen sharply back to around $1150.
At the beginning of June, gold did very well to repair some damage and return to the key $1275 level, then it has continued the momentum pushing a higher to its recent four month high. After moving so little for an extended period, gold dropped sharply back in May from above the well established support level at $1275 as it completely shattered this level falling to a four month low around $1240. It remained around support at $1240 for several days before its strong rally higher. It pushed down towards $1280 before sling shotting back and also had an excursion above $1300 for a short period before moving quickly back to the $1293 area again.
Gold slipped on Tuesday but retained most of the gains from its biggest daily jump in a year the day before as a rebound in oil prices and a weaker dollar burnished its appeal as a hedge. Spot gold had dipped 0.3 percent to $1,206.30 an ounce by 0042 GMT, after gaining nearly 4 percent on Monday - its biggest one-day jump since September 2013. The metal hit $1,220.99 in the previous session - its highest since October 29, after dropping to $1,142.91 earlier in the day after Switzerland voted against a proposal to boost its gold reserves. Spot silver gained nearly 7 percent on Monday, recovering from sharp declines to a five-year low. The metals got a boost as crude oil markets jumped as much as 5 percent on Monday, rebounding from five-year lows with their biggest daily gain since 2012, on fears that the high U.S. shale output blamed for the global oil glut may be shrinking.
(Daily chart / 4 hourly chart below)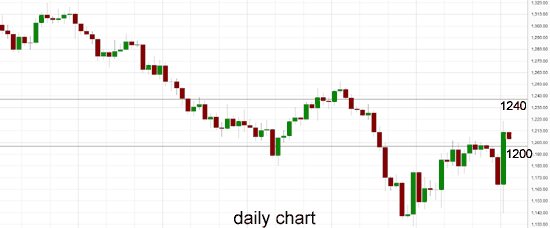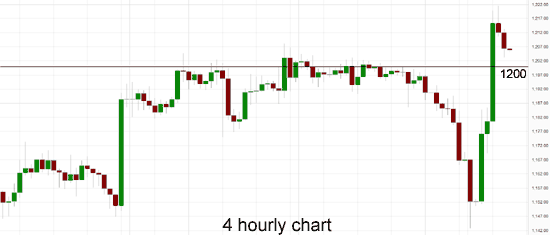 Gold December 2 at 01:55 GMT 1207.5 H: 1213.2 L: 1203.3
Gold Technical
| | | | | | |
| --- | --- | --- | --- | --- | --- |
| S3 | S2 | S1 | R1 | R2 | R3 |
| 1130 | - | - | 1200 | 1255 | - |
During the early hours of the Asian trading session on Tuesday, gold is easing slowly back to the $1200 level after surging higher in the last 24 hours from around $1150 to back above $1200. Current range: trading right above $1200 around $1208.
Further levels in both directions:
• Below: 1130.
• Above: 1200 and 1255.
OANDA's Open Position Ratios
(Shows the ratio of long vs. short positions held for gold among all OANDA clients. The left percentage (blue) shows long positions; the right percentage (orange) shows short positions.)
The long position ratio for gold has moved below 50% for the first time in several months as gold has rallied strongly back to above $1200. The trader sentiment is in now quite even between long and short positions.
Economic Releases
00:30 AU Building approvals (Oct)
00:30 AU Current Account (Q3)
00:30 AU Net Exports of GDP (Q3)
03:30 AU RBA - Overnight Rate
09:30 UK CIPS/Markit Construction PMI (Nov)
10:00 EU PPI (Oct)
15:00 US Construction Spending (Oct)
US Vehicle Sales (Nov)
* All release times are GMT