Background:
Avid Technology (NASDAQ:AVID) is the premier provider of technology solutions to create, manage, distribute, and monetize media content. Avid provides software for both video and audio content creation. Management's strategy dubbed "Avid Everywhere" describes the company's vision to connect the entire value chain of the media/content industry from pre-production, production, post-production, and distribution and delivery. Avid shares currently trade over the counter due to a financial restatement related to the timing of revenue recognition and software updates inherited from a prior management team. The good news is that as of earlier this year, Avid re-filed financials, is now current with SEC reporting requirements, and plans to re-list to the Nasdaq this month.
Competitive Landscape:
While Avid has many opportunities to extend its product offering, its core business is regarded as the best of breed product suite in an oligopolistic market structure also occupied by Adobe Systems (NASDAQ: ADBE), Apple's Final Cut Pro X Product (low end of the market), and Belden (NYSE: BDC). Adobe Premier Pro is Avid's primary competitor in the professional market, with Apple operating more in the consumer market where Avid no longer plays. Avid's strong competitive position is evidenced by leading customers including Universal, Paramount, Disney, CNN, BBC, 6/6 major film studios, 8/10 leading international news networks, and 70% of today's music is created using Avid products. Source: Investor Business Update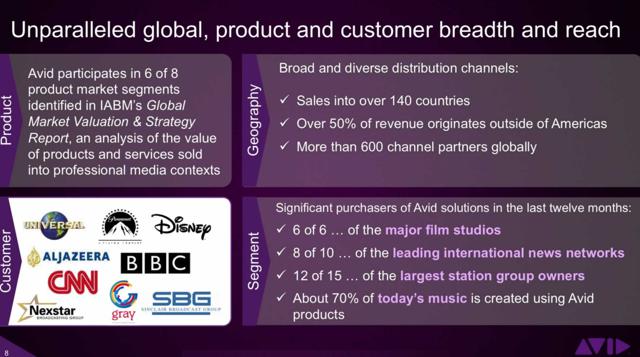 Despite Avid's enviable product suite and market position, shareholder returns have been lackluster over the past ten years as prior management destroyed significant value through terrible acquisitions and poorly allocated R&D in an attempt to enter the consumer market. I believe Avid shareholders past pain will not repeat as a new management team comprised of CEO Louis Hernandez and CFO John Fredrick are executing on a basic blocking and tackling playbook of de-emphasizing lower return projects, and accelerating higher growth higher margin products. As John Fredrick stated on the Q4'2013 conference call,
"You'll see that overall costs will trend down over time. Naturally, we're not giving guidance for 2015 yet, but I think it's fair to say that costs will come down. Having said that, we have a pretty particular ROIC, return on invested capital, filter, and every one of -- every one of the decisions we make around it. And so we're very focused on the cash-on-cash return."
While a reference to ROIC is music to any value investor's ears, management's credibility has already been demonstrated by the reversal of prior trend of increasing losses and bookings declines despite inheriting a disruptive restatement process. Source: Investor Presentation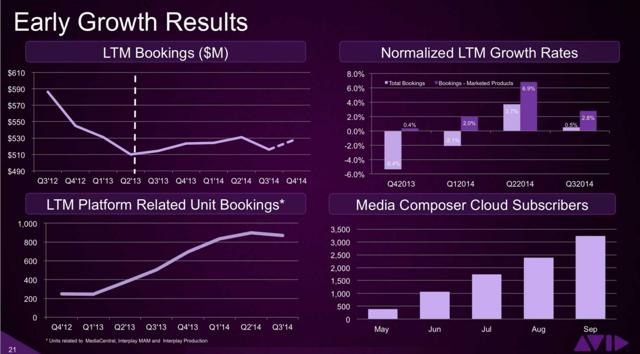 Avid's earnings power is set to increase significantly over the next few years:
Avid has opportunities to further rationalize its cost structure. In the past I have had success investing in companies that were formerly mismanaged where a capable management team can streamline operations and increase earnings power. Companies that undergo restatements also typically endure extra compliance costs which can be peeled back over time as business processes are improved.
On the revenue side, Avid's bookings and revenue are set to increase significantly over the next several years. Management can now devote their entire attention to driving the business forward instead of being bogged down by a restatement and customers unwilling to buy from a vendor in a restatement can return to the company. Management has focused selling efforts on key products that will drive future cross sales to increase customer penetration-a playbook that I believe makes sense. Additionally, industry trends are beginning to blow at Avid's back, as they now have software as a service products that increase the addressable market of users and improve efficiency and profitability. Finally, there should be some benefit to Avid from the wider adoption of 4K content creation across the media industry.
Valuation:
Avid trades at a discount to peers Belden and Adobe as well as other high return on capital software business models. That said due to some complexities of the restatement, Avid's current year profitability is being inflated by the recognition of ~$30m in previously deferred revenue at 100% margin.
Avid shares recently changed hands over the counter at $12.50 per share, implying a market cap of $485m and an EV of $460m ($22m in cash, $8m in debt).
This year management has guided to revenue in excess of $535m and EBITDA of $64-72m. Based on Avid's achievement of $58m in Adjusted EBITDA in the first 3 quarters of 2014, I believe that Avid will easily exceed the high end of guidance when they report Q4.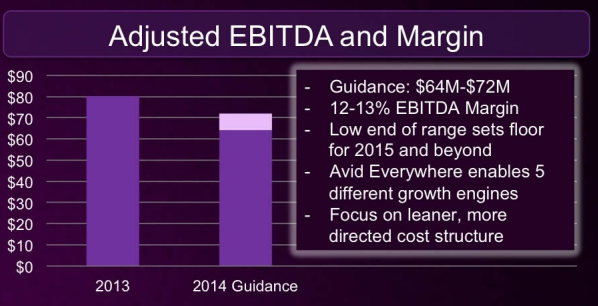 However, as mentioned above, Avid's EBITDA receives the benefit of burn down of prior deferred revenue, so current revenue and profits must be adjusted to get a better sense of normalized earnings power. According to CFO John Fitzpatrick on the Q2 conference call the burn down is ~$30m in 2014:
Unidentified Analyst:
So to keep margin flat, you need to at least keep up with the decline in that amortization, correct?
John Wilbert Frederick
Chief Financial Officer, Chief Administrative Officer and Executive Vice President
That's correct. So the burn-down, the incremental burn-down, is, say, give or take $30 million. And we've been - as you've seen, we've improved bookings, and the bookings where we're seeing growth are in places where we have higher margins read prints and software.
So based on this information our 2014 proforma numbers are revenue of $500m and EBITDA of $40m; however, management has guided to continued cost cutting and I believe current bookings trends will likely continue or accelerate. Assuming $10m in cost cuts (off of a cost structure of $450m+) and 4% bookings growth I arrive at a proforma EBITDA estimate of $60m for 2015. As a result this market leading, high return software business trades at 7.5x 2015 EBITDA and .9x Revenue. I believe that Avid's current valuation represents a very attractive absolute valuation multiple on what is not far removed from trough EBITDA and revenue.
Comparable valuation: while a pure comparable is tough, competitor Adobe trades at 22x consensus 2015 EBITDA. Additionally, Belden, a software roll up that has acquired some companies in the media content software space trades at 11x EBITDA and nearly 2x revenue. It is notable that Avid's conversion of EBITDA to free cash flow should be excellent due to $621m in NOLs which would be worth in excess of $150m to an acquirer based on a tax rate of 35% and a very conservative 50% haircut for time value of money. If one were to subtract the value of Avid's NOLs from its EV, we can create the business at 7.5x 2014 and 5x 2015E Proforma EBITDA.
In a ROIC valuation framework, taking Avid's Q3 invested capital of $133m and comparing it to expected 2015 cash earnings derived from EBITDA-MCX we can see that AVID is earning 35%+ returns on invested capital. I believe AVID's ROIC has the potential to significantly increase above that number overtime and as a result AVID shares have the potential to successfully compound shareholder capital at attractive rates and be accorded a high multiple.
I believe that if AVID is successful in its turnaround strategy, the business could produce cash flows in excess of $65m per year within the next 3 years simply by growing bookings in the mid-single digits per year and making targeted costs cuts. Belden currently trades at 22x EV/uFCF. Applying a 20x multiple to my projected 2017 FCF of $65m produces a stock price of $33 or 3x the current share price of ~$12. While I believe that Avid possess multi-bag potential over a 3-year holding period, to take a more conservative approach I arrive at a 1-year price target of $17 based on a 15x multiple on 2015E FCF of $45m. As a measure of downside, I arrived at a $10/share value by taking 2014E proforma EBITDA estimate of $40m (management's guidance less the adjustment for the amortization of deferred revenue) less TTM CAPEX of ~$15m, applied a 10x FCF multiple and added back $150m in value for the NOLs. These valuation exercises show that AVID shares bear an attractive risk reward profile with 2:1 upside downside over a 12-month period and close to 3 bag potential over a longer time horizon.
Avid shares were recently the subject of extremely heavy insider buying:
Director Robert Backish purchased 100,000 shares in the open market between 11-19 and 11-25, spending in excess of $1m of his personal assets.

While directors can't predict where the stock price will go, they know more than outside investors about the business and I interpret this buying as a vote of confidence that there is still significant upside to the Avid story.
Catalysts:
The best catalyst for a stock is always strong financial results ahead of street expectations; however, in AVID's case there are several additional catalysts that should help the shares revalue upwards.
Re-listing of the shares on the Nasdaq anticipated before year end 2014
This will allow a significant amount of investors who have been limited from buying AVID shares to re-underwrite the name and buy the stock
Avid plans to host an Analyst Day by the end of the year which will serve as a catalyst for sell side coverage to return to the stock
Risks:
In addition to the risks typical of any form of stock specific investing, Avid faces the risk that its complex financial statements following the restatement will be misinterpreted by investors creating additional volatility in the shares. I believe this risk will be managed by a management team that appears competent at controlling communication with the investment community. The bigger risk to the business is that managements plan to unify the value chain fails and the industry is plagued by further commoditization. While I believe that management's plan to focus on key products and connect the value chain will likely vastly improve AVIDs revenue and margins, if this fails, upside in the stock will be somewhat limited. However, we are only paying 7.5x 2014 EBITDA for AVID when including some value for their NOLs, so Avid's downside should be relatively limited by an acquisition from the likes of Belden or another acquirer who could significantly cut costs and utilize the value of AVID's NOLs rapidly to unlock value.
Conclusion:
Due to a complex restatement that is now complete, AVID has been an abandoned stock but this software turnaround is positioned to reemerge in both the minds of customers and Wall Street investors leading to a period of significant FCF growth and multiple expansion. I believe that Avid shares will trade at $17+ within the next 12 months with the potential for further price appreciation over a longer time horizon.
Disclosure: The author is long AVID.
The author wrote this article themselves, and it expresses their own opinions. The author is not receiving compensation for it (other than from Seeking Alpha). The author has no business relationship with any company whose stock is mentioned in this article.
Editor's Note: This article discusses one or more securities that do not trade on a major U.S. exchange. Please be aware of the risks associated with these stocks.