Panic selling in many commodities, including crude oil, has overtaken the investor decision process since September 2014. Ludicrous calls of $50 or even $30 a barrel for WTI or Brent crude oil permeated the financial media last week despite an average cost of production of $70-$75 globally and a requirement of $80+ to sustain level supplies to the marketplace in future years. The main excuse for selling crude oil from $105 this summer to $65 on December 1st has been "fear" of a slowing global economy and related demand trends for crude oil and energy.
Oil Supply and Demand Remains in Balance
Despite some minor adjustments down in forecasted worldwide demand by oil agencies and industry experts, the trend is still for rising growth in energy usage. The U.S. Energy Information Administration EIA is forecasting a rise in total global demand for 2014 of 91.4 million barrels of oil per day from 90.5 million in 2013, and a further climb in demand to 92.5 million in 2015.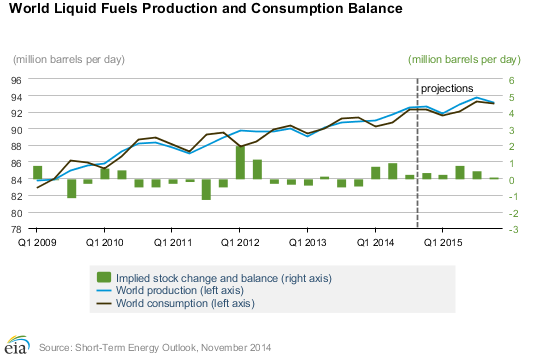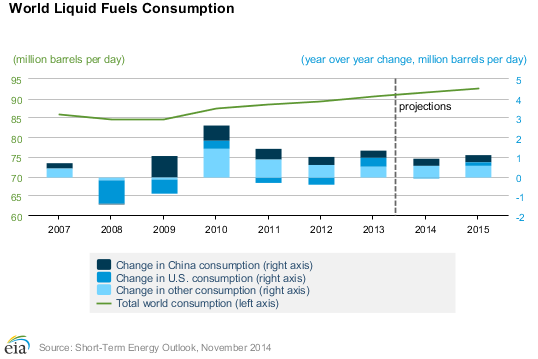 Given all the talk of a U.S. shale boom led glut of oil, little evidence of such exists today. In fact, American inventories of crude oil, gasoline and natural gas are near or BELOW the levels of one year ago! You would think a major boom in U.S. supply and production would show up first in our domestic numbers. Contrary to the panic selling mantra, rising U.S. production has thus far just offset declining production in other parts of the world. You can read more about the Peak Oil supply problem here, and other articles I have written on Seeking Alpha.
If the industry's goal is to increase production to meet ever rising demand in the future, marketplace prices WELL ABOVE the cost of finding, drilling, pumping and transporting oil will be necessary. Nevertheless, the current quotes under $70 a barrel for long may serve to create massive shortages of oil, as early as next year, without any type of supply disruption from the important Middle East oil region or elsewhere! Supply constraints and production cutbacks from money-losing wells today will directly lead to major spikes in the oil price in 6-12 months, as demand continues to rise, far outpacing available production in no time at all.
Cost of Oil Production
Two well researched and authentic reviews of existing oil production costs and estimated break-even levels for new projects highlight the need for prices above $80 a barrel to meet expanding global demand. A Business Insider article in May 2014 gave a nod to Morgan Stanley and their analysis of production costs for oil. As the chart below makes clear, prices below $70 a barrel will turn many wells unprofitable and all but halt expansion plans for new wells in existing fields.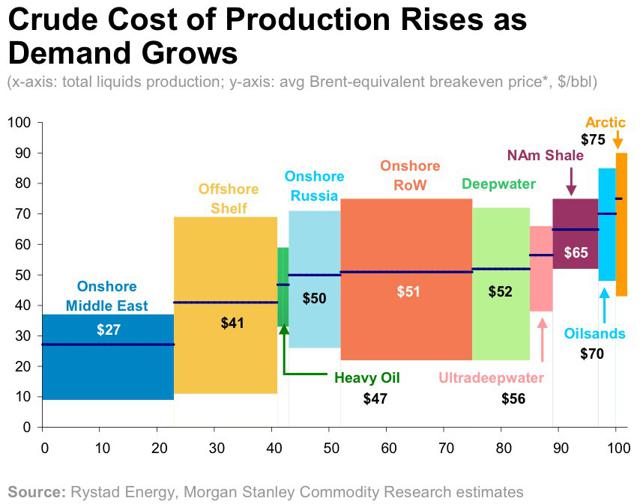 Another Business Insider story this week highlights the breakeven costs for new projects under development globally. The Citibank analysis explains a vast majority of projects require $60-$70 a barrel prices to proceed into production, and replace the falling output trends of many depleted oil fields going forward. If prices stay under $70 for 6-12 months, decisions to stop funding new development may exaggerate and multiply a shortage of oil globally as demand zigzags higher. Basically the lower crude oil stays into 2015, the higher prices may go in 2-3 years! A real boom and bust cycle if your will, as opposed to a steadier, balanced, more predictable situation for investors, consumers, and businesses.
Best Positioned Oil Driller
So which stock has been unfairly beaten down the most by the recent crash in oil prices? From my perspective and experience, the oil driller declines of 50% or more in price during 2014 seem the best area to search for bargains. The logic for selling investors is a prolonged slump in crude oil will decimate the business prospects of drillers and prospectors of newer high-cost oil supplies. The discovery and exploration budgets of oil companies are usually the first to go in a low price environment like today. While such thinking makes sense at face value, a sharp reversal in oil prices and the necessity of new supplies to replace depleted reserves (more so than in past decades) argues for continued long-term investment in low-cost, high margin drilling providers.
My pick for the best long-term "value" in the oil drilling field is Rowan Companies (NYSE:RDC). The company is projected to be quite profitable in 2015 with a modern specialized rig fleet vs. competitors and long-term contracts. The company has high profit margins during 2014 already, a relatively conservative balance sheet, and is selling today WELL BELOW the replacement cost for its plant and equipment and net assets overall. In terms of "margin of safety" issues on your invested capital, alongside higher-than-normal leverage to rising oil prices, Rowan appears to be an excellent choice for long-term oil exposure at this low stock price and operating business valuation.
Rowan provides offshore oil and gas contract drilling. The business owns 30 jack-up drilling units and ultra-deepwater drillships. The company is based in Houston, Texas, with 3,500 employees around the world. Rowan operates a modern and relatively newer rig fleet with two-thirds of its offshore drilling rigs less than 15 years of age. Rowan has 19 high-specification jack-up rigs to drill deeper wells more efficiently than conventional rigs. The company also runs four drillships at high specification, allowing them to drill at significant water depths vs. competitors.
Rowan's profit margins are on the high end for the industry during 2014-15, with Wall Street analyst consensus and company estimates for gross margin of nearly 40%. Net profit margins of 15% on sales in 2014 approaching 18% in 2015 are forecasted. EPS is expected to climb from $2.10 this year to $3.50 next. At a $21 price per share, the current P/E ratio of 10x trailing results compares quite favorably with the S&P 500 average of 20, and next year's P/E projection of 6 is well below the expected stock market average of 18! Remember this ultra-low valuation is coming during a period of industry-wide pain and investor pessimism about Rowan's future. The 10-year average trailing P/E for Rowan is 12.
Similar undervaluations for Rowan are apparent on most every fundamental metric. The stock's trailing price to sales multiple currently of 1.4 is low vs. the 10-year average of 2.5. Rowan's typical 8x ratio of common equity price to trailing cash flow generation the past decade would produce a $35 stock quote today. Using next year's estimates, an investor could argue fair value for shares will be north of $45 in late-2015, far from the present $21 number, using long-term price to cash flow valuations!
Rowan's price to book value and net asset liquidation numbers are also looking more interesting. Against a 10-year average price to book value ratio of 1.5, today's stock price at half of book value seems quite low. At the end of September 2014, the company held $8.8 billion in depreciated rig assets, property, cash and receivables against just $3.7 billion in total liabilities. The remaining $5.1 billion in underlying replacement value for its rigs and assets is abnormally sizable against just $2.7 billion in stock market value for the whole organization! Today's discount to net assets is basically the same 50% rate as the Great Recession, panic selling bottom of early 2009 for Rowan. (For perspective on potential outcomes, Rowan's stock price rose 300% between early 2009 and early 2011). How many other industry-leading, blue-chip stocks can you find trading close to the lowest valuation in several decades when the U.S. stock market is near its highest valuation point in modern history?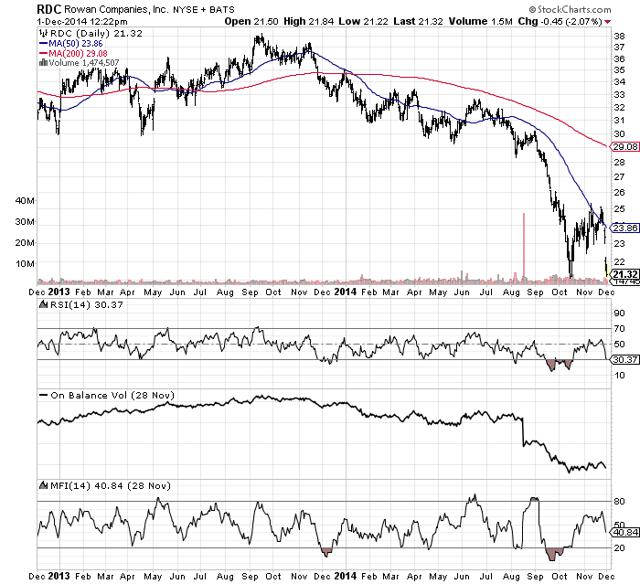 Chart courtesy of StockCharts.com
Conclusion
Warren Buffett believes in the practice (and preaches the merits) of focusing your long-term stock market purchases on just one or two major deep value plays per year. His analogy revolves around a single punch ticket for each investor where individuals would surely have better returns over their lifetimes if they were allowed only 50 or so possible buy decisions over many decades. The idea is value investors thinking calmly and methodically will be more careful with buy and hold investment decisions, disavowing the human urge to trade and gamble in the market daily.
Investing in rising oil price vehicles like Rowan at a panic low price sounds reasonable to me considering: 1) steady oil demand globally is reality today, 2) low inventories exist in the U.S. where the supposed glut from booming oil shale production is taking place, 3) the effect of sub-$70 prices potentially generating shortages in oil supply and sharply higher prices in a year or two, and 4) third world producers from Russia to Venezuela, Iran to Libya cannot pay their international obligations and national budgets for long at this ultra-low oil export price.
The buying opportunity present in early December for Rowan and other oil related stocks may not last. I remain quite positive on the oil/energy production assets mentioned in my previous Seeking Alpha articles the last 12 months, by the way.
A truly contrarian position based in rational analysis would argue $100 a barrel crude oil during 2015 is more probable than market participants understand. The entire move lower in oil prices is more a function of transitory circumstances like a stronger U.S. Dollar against other fiat currencies, somewhat slower economic growth in Asia and Europe, plus background geopolitical stories of the U.S. punishing Russia and Saudi Arabia punishing Iran with lower export prices. Any or all of these situations could reverse course with little warning for oil market participants. If we get $150+ oil in 24-36 months, oil investments as a group will run circles around S&P 500 type returns from here.
Given a sharp and sudden crude oil price rise, drilling demand and trends would blossom next year. Rowan's low-$20 stock price currently may look like the buy entry point of a lifetime when looking back in 2016-17! What would Warren recommend you do with your punch ticket? As always, do your own due diligence and diversify money holdings into at least 20 or 30 positions from a variety of industries, asset classes, and investment vehicle types. Good hunting.
Disclosure: The author is long RDC.
The author wrote this article themselves, and it expresses their own opinions. The author is not receiving compensation for it (other than from Seeking Alpha). The author has no business relationship with any company whose stock is mentioned in this article.