Union Pacific Corporation (NYSE:UNP) is the largest publicly traded railroad company in the world. The company commands over 31K miles and is strategically well placed to take advantage of transportation network in the western US. The system map for UNP shows the dominant role UNP plays in the western US.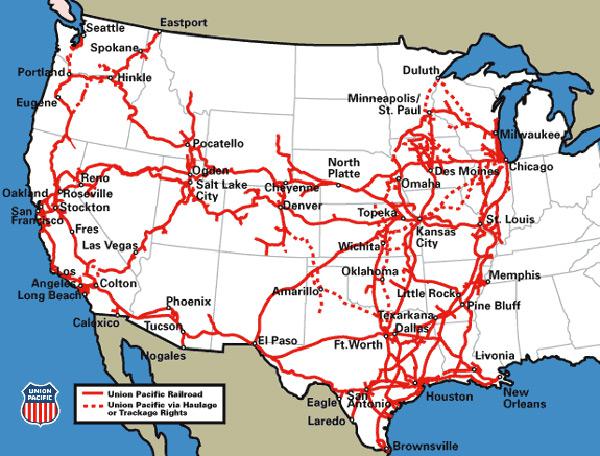 Corporate Profile (from Yahoo! Finance)
Union Pacific Corporation, through its subsidiary, Union Pacific Railroad Company, provides rail transportation services in the United States. The company offers freight transportation services for agricultural products, including grains, commodities produced from grains, food, and beverage products; automotive products, such as imported and exported shipments, finished vehicles, and automotive parts; and chemicals consisting of industrial chemicals, plastics, crude oil, liquid petroleum gases, fertilizers, soda ash, sodium products, and phosphorus rock and sulfur products. It also provides transportation services for coal and petroleum coke; industrial products comprising construction products, metals, minerals, consumer goods, lumber, paper, and other miscellaneous products, as well as steel, aggregate, cement, and wood products; and intermodal import and export containers and trailers. Its rail network includes 31,838 route miles linking the Pacific Coast and Gulf Coast ports with the Midwest and eastern United States gateways. Union Pacific Corporation was founded in 1862 and is headquartered in Omaha, Nebraska.
The Railroad Industry
Railroads are the pulse of the economy. Whether transporting crude, lumber, merchandise, agricultural or industrial products, railroads are what keeps the economy moving. While the transportation for entities such as coal (which used to be the largest users of railroad service a few years ago) has fallen due to the fall in crude prices and rise of green energy alternatives, the transportation need for crude has risen significantly. While pipelines are the largest competitors for crude transportation, the immediate lack of infrastructure spells good news for the railroads.
This has also turned into a double-edged sword for the railroads. The fall in crude prices results in lower running costs for the transportation industry, but considering that the payload for the railroads is also crude products, the industry is facing downward pressure - as is evident during the last couple of weeks. Regardless, railroads are still an important part of the economy and while short-term pains exist, the long-term prospects remain just as bright as ever. A detailed account of advantages and disadvantages of the railroad industry was already discussed in this article.
The following table compares Union Pacific to the rest of the railroad industry - Canadian National (NYSE:CNI), CSX Corp. (NYSE:CSX), Norfolk Southern (NYSE:NSC), Canadian Pacific (NYSE:CP), and Kansas City Southern (NYSE:KSU).
| | | | | | | | |
| --- | --- | --- | --- | --- | --- | --- | --- |
| Company Name | Ticker | Market Cap | P/E | Yield | Payout Ratio | 5-yr DGR | ROE |
| Union Pacific | UNP | $103B | 21.55 | 1.71% | 31.3% | 26.1% | 23% |
| Canadian National | CNI | $58B | 22.7 | 1.25% | 26.8% | 13.9% | 22.3% |
| CSX Corp. | CSX | $36B | 19.83 | 1.75% | 27.8% | 18.1% | 20.8% |
| Norfolk Southern | NSC | $34.5B | 17.39 | 2.04% | 33.6% | 10.8% | 16.8% |
| Canadian Pacific | CP | $33B | 34.93 | 0.65% | 21.8% | 12.4% | 15.5% |
| Kansas City Southern | KSU | $13B | 27.66 | 0.94% | 23.0% | NA | 13.6% |
Dividend Stock Analysis
Financials
Expected: A growing revenue, earnings per share and free cash flow year-over-year looking at a 10-year trend.

Actual: Revenue has grown 14% annually for the past five years and maintains a steady upward trajectory. EPS and FCF also show a healthy increase year-over-year.
Dividends and Payout Ratios
Expected: A growing dividend outpacing inflation rates, with a dividend rate not too high (which might signal an upcoming cut). Low EPS and FCF payout ratios to indicate that the dividends can be raised comfortably in the future.

Actual: Union Pacific is a Dividend Challenger having raised its dividends 8 years in a row. The current dividend stands at a yield of 1.71%, with a payout ratio of 31.3%. The 1/3/5/10-year dividend growth rates (DGR) are 18.9/35.1/26.1/20.5%. The Chowder Rule of UNP is 27.8. The payout ratios and estimated earnings growth (current 5-yr EPS growth according to analysts is 12.9%) suggest that the dividend growth rate can continue and easily beat inflation rates.
Outstanding Shares
Expected: Either constant or decreasing number of outstanding shares. An increase in share count might signal that the company is diluting its ownership and running into financial trouble.

Actual: Outstanding shares have steadily declined over the years indicating that shareholders value is increasing.
Book Value and Book Value Growth
Expected: Growing book value per share. Sometimes stock repurchases are authorized by the board to reward management at the expense of book value.

Actual: The book value per share maintains a steady upward trajectory although the book value growth has slowed over the past year.
Return on Equity
Expected: A good healthy return on equity of over 20%.
Actual: UNP has a return on equity of 23%.
Valuation
To determine the valuation, I use the Graham Number, Average Price-to-Earnings, Average Yield, Average Price-to-Sales, Dividend Discount (Gordon Growth model) and Discounted Cash Flow. For details on the methodology, click here.
The Graham Number for UNP with a book value per share of $24.24 and ttm EPS of $5.42 is $54.37. Based on last closing price, the stock is currently 114% overvalued.
UNP's 5-year average P/E is 16.4 and the 10-year average P/E is 17.47. Based on the analyst earnings estimate of $6.48, we get a fair value of $106.27 (based on 5-year average) and $113.21 (based on 10-year average).
UNP's average yield over the past five years was 1.79% and past ten years was 1.66%. Based on the current annual payout of $2.00, that gives us a fair value of $111.73 and $120.48 over the 5- and 10-year period, respectively.
The average 5-year P/S is 1.86 and average 10-year P/S is 1.39. Revenue estimates for next year stand at $28.18 per share, giving a fair value of $52.41 and $39.17 based on 5- and 10-year averages, respectively.
The Gordon Growth Model is a quick way to calculate the fair value of a company using the current dividend, the expected dividend growth rate, and our required rate of return or discount rate. Using an expected rate of return of 10%, and a dividend growth rate of 8% (a very modest estimate considering UNP's history of raising dividends), we get a fair value of $110.
The consensus from analysts is that earnings will rise at 12.9% per year over the next five years. If we take a more conservative number (two-thirds of the estimate) at 8.6%, and assume that UNP is growing its earnings by 5% thereafter, running the three-stage DCF analysis with a 10% discount rate (expected rate of return), we get a fair price of $132.83.
Conclusion
Union Pacific is the largest publicly traded railroad company and commands 31K miles of the rail network in the western US. Crude-by-rail has been the choice of transport while the pipeline infrastructure is still being built. Over the course of last few years, crude has become one of the largest commodities transported on railroads. The current downturn in crude prices may result in capex cuts from oil companies in North America - resulting in some short-term headwinds for the railroad industry. However, railroads still remain the pulse of the economy and are excellent long-term investments. Union Pacific Corp. is one of the best investments in the railroad industry although it appears to be slightly overvalued currently. If we give equal weight to all metrics discussed in the valuation section, we get a fair value of $93.39.
Full Disclosure: Long CNI. My full list of holdings is available here.
Disclosure: The author is long CNI.
The author wrote this article themselves, and it expresses their own opinions. The author is not receiving compensation for it (other than from Seeking Alpha). The author has no business relationship with any company whose stock is mentioned in this article.