The euro area continues to suffer, weighing on the euro currency, as manufacturing data and inflation growth decline. CurrencyShares Euro Trust (NYSEARCA:FXE) is down over 10% since May as economic activity in the region has contracted.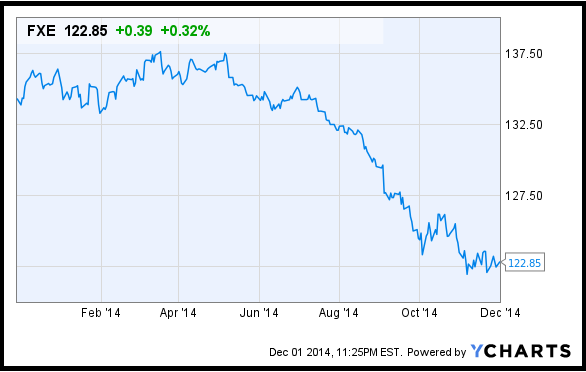 Manufacturing data in the region fell during November, leading analysts to question the health of economic activity and pace of inflation. On Monday, the Markit manufacturing PMI figure came in at 50.1, below last month's reading of 50.6, as well as missing estimates for 50.4. A reading above fifty signals expansion. Euro area manufacturing has trended broadly lower throughout 2014, bordering on contraction now, as is seen in the chart below. Policymakers are worried that the figure could further weigh on economic activity and future core-inflation readings.
"Also worryingly for policymakers at the European Central Bank, who are struggling to bolster growth and drive up dangerously low inflation, factory activity declined in the bloc's three biggest economies of Germany, France and Italy," according to a report by Reuters.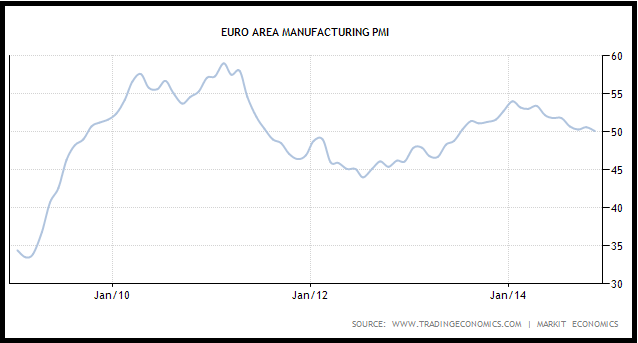 Data provided by Trading Economics
The inflation figure for the euro bloc has also declined in 2014, and could fall further as manufacturers lower prices to fuel growth. In November, the flash inflation rate came in at an annual 0.3% pace, below last month's reading of 0.4%, and in line with estimates for 0.3%. The annual inflation figure declined from 3% in 2012, to now 0%, bordering on deflation, as is seen in the chart below. Moreover, euro area factories are cutting prices, possibly weighing on inflation in the future.
"The fall [in manufacturing activity] comes despite factories cutting their prices for a third month, and at the steepest rate since mid-2013," according to a separate report by Reuters.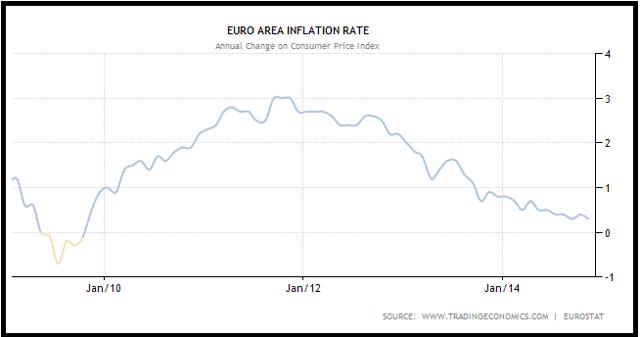 Data provided by Trading Economics
As manufacturing activity languishes, while the rate of inflation approaches contraction, the ECB may be forced to enact more stimulus policy at upcoming meetings. The likelihood of more stimulus at this week's meeting, however, is pegged at 50-50, or even odds, according to a recent poll by Reuters. As policymakers in the euro area attempt to correct course and incite growth in the region, the euro is likely to continue to lag its foreign peers.
Disclosure: The author has no positions in any stocks mentioned, and no plans to initiate any positions within the next 72 hours.
The author wrote this article themselves, and it expresses their own opinions. The author is not receiving compensation for it (other than from Seeking Alpha). The author has no business relationship with any company whose stock is mentioned in this article.