Pepco (NYSE:POM) is a utility company that provides regulated power to about two million people in areas near Washington DC, including Delaware, Maryland and New Jersey. This regulated power generation contributes the large majority of revenue for Pepco, about 90%, but POM also has a deregulated energy service and some financial instruments. On May 6, 2011, Pepco reported its quarterly results, which gained the company a fair amount of notice. Pepco handily beat its previous year's earnings at .28/share compared to .16 the previous year. Furthermore, it reiterated its guidance of $1.10 to $1.25 per share for the year.

This continued a nice uptrend for the stock, as investors have become increasingly interested in safer investments over riskier ones during the traditionally disappointing month of May. You will see its performance here, slightly edging out the S&P 500. During the last year, POM's stock has risen from around $16 to over $20, for a 22% gain.

Click to enlarge: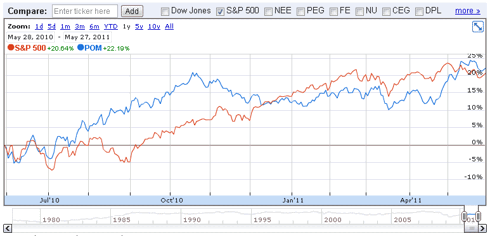 Investors also have begun to notice Pepco's very high yield, currently at 5.45%. That's a fat yield even for the utility sector! With this in mind, I thought I would take a closer look at Pepco to discover if this is a good place to park some safe money. Let's see what I found.

Valuation

Pepco doesn't sound particularly cheap. Using $1.20/share, from near the upper end of its guidance, you will see that Pepco is trading at 16.5 times 2011 earnings. Typical with most slow growth utilities, its earnings are expected to grow over the next few years at 6-8% a year. While Pepco's earnings are safer and more predictable than say, JPMorgan Chase (NYSE:JPM) or Intel (NASDAQ:INTC) or Exxon-Mobil (NYSE:XOM), these excellent corporations are much cheaper. Pepco, having a premium to such outstanding companies and with its extensive competitive advantages, is hard for me to justify.

It gets even harder to understand when you compare the valuation to other regulated utility peers. Note that I didn't pick these with any predetermined outcome in mind, I just selected 10 geographically similar utilities of varying sizes that sprang to mind.
| | | |
| --- | --- | --- |
| Company | 2011 Earnings Multiple | Yield |
| Pepco (POM) | 16.5 | 5.45% |
| Southern Company (NYSE:SO) | 15.7 | 4.74% |
| Duke Energy (NYSE:DUK) | 13.7 | 5.27% |
| Exelon (NYSE:EXC) | 10.3 | 5.04% |
| Con Ed (NYSE:ED) | 14.8 | 4.55% |
| Progress (PGN) | 15.2 | 5.24% |
| NextEra (NYSE:NEE) | 12.8 | 3.85% |
| Teco (NYSE:TE) | 13.9 | 4.55% |
| Dominion (NYSE:D) | 15 | 4.16% |
| First Energy (NYSE:FE) | 13.4 | 4.97% |
| American Electric Power (NYSE:AEP) | 12.2 | 4.80% |

As you can see, POM has a premium to even the best of the utilities, and a substantial premium to many of the others. Well, you say, that is easy to explain. It's the yield, stupid! That whopping 5.5% trumps them all.

So what about that yield?

Dividend

First off, the most obvious thing you will notice about that juicy yield is just how close it is to Pepco's entire 2011 earnings. If you take $1.20/share as the company's probable earnings, Pepco's $1.08 dividend is a whopping 90% payout ratio! That's cutting it very close.

For comparison purposes, let's look at the payout ratio of the same peers
| | | |
| --- | --- | --- |
| Company | 2011 Dividend to Earnings Payout Ratio | |
| Pepco | 90% | |
| Southern Company | 75% | |
| Duke Energy | 72% | |
| Exelon | 52% | |
| Con Ed | 68% | |
| Progress | 79% | |
| Next Era | 49% | |
| Teco | 63% | |
| Dominion | 63% | |
| First Energy | 67% | |
| American Electric Power | 59% | |
Yep, that 90% is much higher than the rest, with ranges 10-40% lower.

Not only do high payout ratios call into question the sustainability of a dividend, very high payouts will obviously limit dividend growth and can even hamper future earnings potential, as the company can become money-starved.

I know Pepco sold Conectiv with the plan of keeping its earnings more stable, and the company used the money to reduce debt. That would seem to make the high dividend more palatable. Still, one has to question the wisdom of such a high dividend payout.

Summary

As much as I hate to turn down a glorious yield of about 5.5%, I have to say no to Pepco right now.

First of all, Pepco's had too good of a run, frankly all utilities have lately. Utilities have benefited from a flight to safety, as people have grown concerned about others "selling in May, and walking away", and a first quarter U.S. GDP growth slowdown due to slashed government spending as well as rumblings out of China on tightening. Based on U.S. consumer spending and outlooks for second quarter GDP, I still see the recovery and expansion continuing. Therefore, I don't think having too much exposure to safe stocks right now makes sense, especially after the recent rise of the sector.

Secondly, you really have to ask yourself: Is Pepco's dividend safe at these payout levels? While not completely sure, if pressed I would say "barely". Even if it is safe, there will be little to no room for dividend growth, whereas some of the others on my list have much more dividend growth potential. Also, they will have more ability to expand without resorting to equity raises or large debt issuances.

And finally, Pepco's valuation is just too high, compared to peers and to several large cap powerhouses in Oil, Financials and Tech. I mean, Pepco of all things is trading at multiples higher than Apple's! That's with estimated growth rates of 6-8%/year compared to Apple's 15% and up! It's pure madness when you think about it that way.

Despite a good yield, there's too high a valuation placed here as well as questionable financial decisions for me to recommend buying Pepco at these levels.

Disclosure: I have no positions in any stocks mentioned, and no plans to initiate any positions within the next 72 hours.