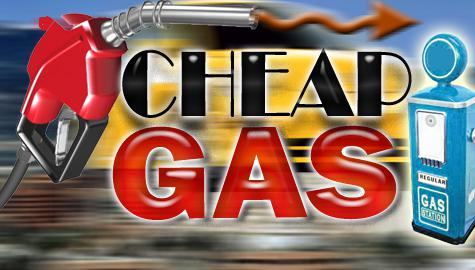 Source
You've heard retail and restaurants may benefit from cheap gas as consumers have a few extra bucks in their pockets and maybe feel a bit more confident, slowly changing their spending habits include more wants instead of just needs. Here are five more industries that should benefit from cheaper fuel.
1. Car Rental Companies
It may sound counterintuitive and make you think: What do car rental companies car what fuel prices are at? They aren't the ones footing the bill to fill up the gas tank and most consumers rent cars as either part of a business trip, part of a vacation, or as a temporary replacement while their primary vehicles are out of commission. In short, they tend to be a necessity of part of a bigger plan.
This is all true. What you might be missing, however, is while demand may not change much for a rental vehicle itself, there is a direct correlation to gas prices on the choice of vehicle. For example, according Neil Abrams of Abrams Consulting Group, when gas prices are above $4 per gallon consumers tend to shy away from the high-profit margin SUV rentals and opt for the bargain, low-profit-margin economy cars.
With gas prices at $2.50 per gallon and less at many places, opting for a gas-guzzling SUV doesn't seem as bad of an idea. Companies such as Hertz Global (NYSE:HTZ) and Avis Budget (NASDAQ:CAR) stand to see an immediate top, profit margins, and bottom line benefit from cheaper gas prices.
2. Airlines
The conventional "wisdom" is airlines aren't affected much by cheaper fuel because, although fuel is makes up the majority of its operating costs, those costs are passed onto to consumers. On top of that, airlines tend to engage in hedging contracts essentially betting against itself that fuel prices will go up so that no matter which direction fuel prices actually go the hedging contracts equal a wash and airlines have essentially fixed forward fuel costs.
All of that is true but only to a more subdued extent than you may think. For example, if you look at United Continental Holdings (NYSE:UAL)'s latest 10Q, it states,
"As of September 30, 2014, the Company had hedged approximately 39%, 24% and less than 1% of its projected fuel requirements (372 million gallons, 925 million gallons and 35 million gallons, respectively) for the remainder of 2014, 2015 and 2016, respectively."
This also means 61% of its fourth quarter fuel requirements were not hedged as of September 30. UAL is more "exposed" and ready to benefit than it is protected.
Then you have others such as American Airlines Group (NASDAQ:AAL) that will really benefit. According to its latest 10Q, "American has not entered into any fuel hedges since December 9, 2013. As of September 30, 2014, American does not have any fuel hedging contracts outstanding." Since fuel is the number one cost for any airline, AAL's earnings are set to explode in the near term with depressed fuel prices and no associated hedging costs.
3. Dollar Stores
Believe it or not, a large portion of costs for dollar stores is the massive distribution costs of which fuel is a large part. Unlike other retail outlets, dollar stores like Dollar Tree (NASDAQ:DLTR) are structured with a fixed price point and it makes it impossible to directly pass on higher fuel costs onto consumers. This also means when fuel prices drop, companies like DLTR and to a lesser extent Family Dollar (NYSE:FDO) and Dollar General (NYSE:DG) seem an immediate benefit to the bottom line.
Perhaps in theory the cheaper costs allow the dollar chains to offer slightly higher quality products for the $1 price point but in the meantime the savings should be extra money right into their bank accounts. For example, in DLTR's conference call on Nov. 20, CFO Kevin Wampler mentioned that if diesel prices stay down $1 per gallon average for a full year compared to the prior year it would add $0.10 per share in earnings to DLTR just from their own internal costs of transportation of the company's merchandise.
4. Trucking
This one should be obvious. Like airlines, fuel is the number one variable operating costs for the big trucking companies such as Old Dominion Freight Line (NASDAQ:ODFL), Swift Transportation Company (SWFT), and Con-way (NYSE:CNW). But unlike airlines, they rarely engage in much if any fuel hedging contracts. Over time volatility in fuel prices tends to be reflected in trucking rates but sharp moves one way or the other tends to help or hurt short term. Trucking should see fantastic results with the holiday quarter.
5. RVs
The RV industry was already seeing a booming revival before fuel prices took a dive. An influx of retirees, improved credit access, and an improved economy, a trend for more outdoor last-minute mini vacations, and the perception of airplane-less, hotel-less value all have been contributing to the best results in years for companies such as Thor Industries (NYSE:THO) and Winnebago (NYSE:WGO).
Now add much cheaper fuel to operate these super gas guzzlers and the value just magnifies. You may recall back in 2008 with oil prices well into the triple digits and even before the bulk of the real economic collapse, there was doubt that these SUV companies could even survive things got so bad. Now the pendulum may have swung the other way.
So which are my favorites? I'm already all over the obvious retail and restaurant stocks, but I plan to play car rentals and airlines for brief earnings trades. I plan to dig deeper into trucking companies and write about them either way and if fuel prices stay cheap for the next few months I'll consider RV stocks ahead of the seasonally superior spring season. I currently don't own any of the stocks mentioned but I plan to buy a position in DG ahead of its earnings report expected on Dec. 4.
Disclosure: The author has no positions in any stocks mentioned, and no plans to initiate any positions within the next 72 hours.
The author wrote this article themselves, and it expresses their own opinions. The author is not receiving compensation for it (other than from Seeking Alpha). The author has no business relationship with any company whose stock is mentioned in this article.