iPhones on RadioShack's website are missing the "buy" button.
Looking to buy an iPhone for Christmas? That may be a difficult task at RadioShack Corp. (NYSE: RSH).
Shoppers wanting to buy an iPhone from the electronics retailer's website found that that was not possible on Black Friday, nor on any other day of the week. RadioShack's website has pictures of iPhones, but no "buy" buttons. The site instead directs users to find a store.
But it may be tough finding iPhones in stores, too. Calls to RadioShack locations across the country found models were out of stock just hours before the company's Thanksgiving sales began.
Gary Mahan, representative for the Western division of RadioShack's Franchise Advisory Council, says his store's November sales were down 30% over last year. He said the RadioShack franchise order desk he called reported hearing similar stories about Black Friday at other RadioShack franchises.
RadioShack's same-store sales were down 20% in the most recently reported quarter.
Mahan believes that if he had received the iPhone 6 and 6 Plus, his one store on the Oregon coast could have made an extra $1,000 in profit over the Black Friday weekend, which would have been a happy holiday gift for him, he says. He couldn't speculate how that $1,000 in lost profit opportunity might extrapolate to other stores in RadioShack's chain of 5,387 corporate-owned and franchised locations.
Holiday sales are critical for RadioShack this year, which warned in its last quarterly report that it may soon have to file for Chapter 11 bankruptcy or even Chapter 7 liquidation. The report mentions bankruptcy 19 times.
While Mahan's franchise location gets iPhones via the carriers rather than RadioShack, corporate-owned stores were short on supply, too.
At the Times Square RadioShack on 7th Street in New York, a worker who answered the phone the Wednesday night before Thanksgiving said there were no iPhone 6 or 6 Plus models in stock for AT&T (NYSE:T), Sprint (NYSE:S) or Verizon (NYSE:VZ). (RadioShack doesn't sell T-Mobile phones). The only iPhone they had, the worker said, was a black 16GB unlocked iPhone for $800. A return call after the weekend found that that phone was still in stock on Monday, and so were two more: one for Sprint and one for Verizon.
In Chicago, the RadioShack on Michigan Ave. reported no iPhone 6 models for any of the three carriers on Wednesday night, while the iPhone 6 Plus was only available for AT&T. In Los Angeles, the RadioShack at Pico Union Plaza had no iPhone 6 Plus models, and only had the iPhone 6 for Sprint. A follow-up call on Monday found zero iPhones available at Pico Union Plaza. "I don't have any in stock right now," the worker said. The store on Michigan Ave. said on Monday that it still had its iPhone 6 Plus, as well as a previously unreported iPhone 6 for AT&T. In each case, only a 16GB unit was available.
Stores in the San Francisco area seemed somewhat better stocked, though most were out of iPhones for at least one carrier.
RadioShack, Apple (NASDAQ:AAPL) and Sprint didn't respond to requests for comment. Representatives for AT&T and Verizon declined to speak.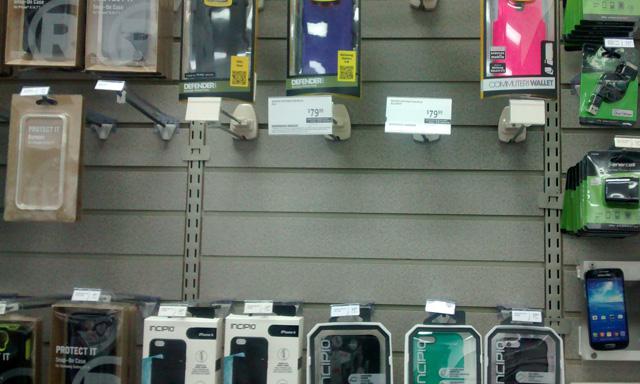 A hole in inventory at a Portland, Ore. RadioShack store the Tuesday before Thanksgiving, one of several found at this and other RadioShack stores in Oregon.
Visits to RadioShack stores in Oregon just before Thanksgiving found some bare shelves and empty pegs, suggesting issues with low inventory may not only be limited to iPhones.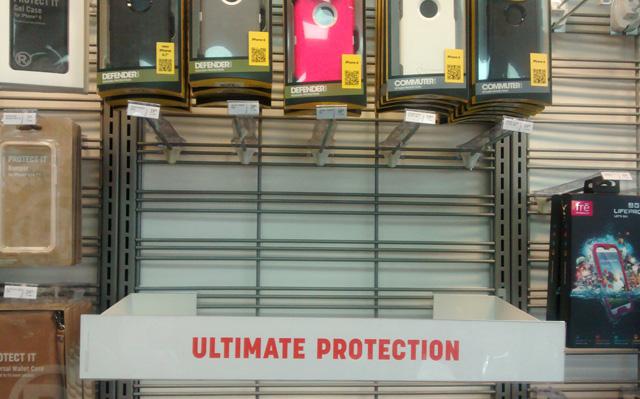 A hole in inventory at a Bend, Ore. RadioShack store the Wednesday before Thanksgiving, one of several found at this and other RadioShack stores in Oregon.
Mahan said Black Friday saw strong demand for RadioShack's heavily promoted items, like $70 Beats headphones, a $50 Nobis tablet and a $35 remote-controlled quadcopter, but all of those products were loss leaders, he said. And despite foot traffic and transactions being on par with last year, sales per transaction were significantly off.
RadioShack is on track to be removed from the New York Stock Exchange at the end of this month, according to the terms of a delisting notice the company received in July. To avoid that fate, the company would need to achieve an average closing price above $1 for the month of December and close above $1 on December 31.
Shares of RadioShack fell by 4.5% to close at $0.78 Monday. That was down 70% for the year and off 99% from the company's all-time closing high of $78.50 on December 6, 1999.
Despite the negative headlines, Mahan hopes RadioShack survives. Even if it doesn't, he says he'll keep his store open under a different name. In his coastal community of Tillamook, Ore., people need his store to get through the "complications of life," he says, whether that's with communications, electronics, television, or even making sure people get coastal tsunami warnings. "We're ground central for all that stuff," Mahan says. "I don't know how Tillamook can function without a RadioShack."
[Are you a RadioShack insider? We have an urgent question for you. Contact mitchreports@gmail.com.]
Disclosure: The author has no positions in any stocks mentioned, and no plans to initiate any positions within the next 72 hours.
The author wrote this article themselves, and it expresses their own opinions. The author is not receiving compensation for it (other than from Seeking Alpha). The author has no business relationship with any company whose stock is mentioned in this article.
Editor's Note: This article covers one or more stocks trading at less than $1 per share and/or with less than a $100 million market cap. Please be aware of the risks associated with these stocks.