Opinions are somewhat divided whether the Fed QE program has been effective in driving US economic growth. Many believe the impact was a modest one - perhaps somewhat instrumental in driving down long-term rates (such as US mortgage rates), and hence supporting the strong recovery in the US housing market. It certainly seemed to strongly support the stock market (as can be seen in the below graph):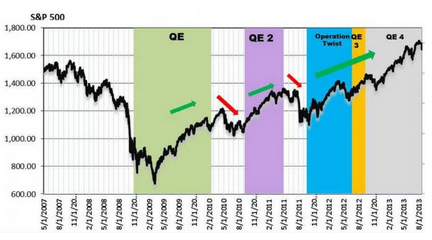 What happens now that QE has ended?
The end of QE was always going to be a "sailing in uncharted territory" scenario - the implications and ramifications of, no one could be sure of. One of the main concerns around QE has always been inflation risk - in other words, the risk that this Fed policy would lead to higher inflation in the longer term due to increased money supply.
Fortunately for the Fed and the world economy, so far it has been a reasonably smooth ride. The dire predictions (by some) that interest rates will be forced to go up and throw the US and global economy into a deep and prolonged recession, did not come true.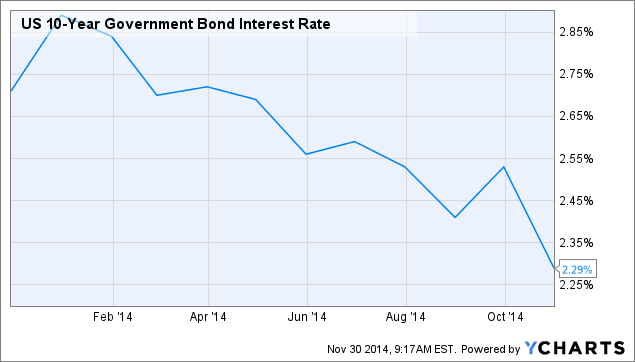 US 10-Year Government Bond Interest Rate data by YCharts
US Economy and Interest Rates
The US economy has certainly showed some strength as of recent periods. The Q3 real GDP growth has been 3.9% and the US unemployment rate has been on a downward trajectory, settling near 5.8% as of October.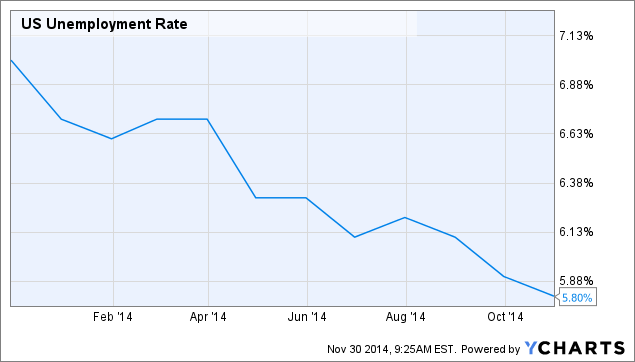 US Unemployment Rate data by YCharts
These are reasonably robust economic indicators - but also somewhat inconsistent with the current low interest rates environment. In other words, one would normally expect substantially higher interest rates and inflation expectations at this stage of the economic recovery - strangely though, this is not the case.
What is keeping US interest rates low?
While the US economy is performing reasonably well, unemployment gradually approaching full employment naturally should be exerting inflationary pressures - it is effectively the rest of the world that is exerting opposing (and currently) greater deflationary pressures. This is due partly to weak global growth but more importantly, it relates to extraordinary and unconventional actions undertaken by central banks of major economies - e.g. Japan's massive expansion of QE in late October 2014, China recently cutting interest rates coupled with a banking stimulus and expectations for eurozone QE in early 2015. Looking at this from a slightly different angle, the low interest rates paid on euro and yen bonds - effectively drive investors to US treasuries that offer some yield pickup and a strengthening dollar. The strong demand for US bonds of all duration is serving to keep US rates low (perhaps artificially so)
Impact of crude oil price collapse
The reduction in the price of crude oil in recent months (~38%) is effectively a huge fiscal stimulus for the global consumer. Consumers are now paying much less for gasoline and hence leaving them with additional disposable income to spend in the holidays period. Secondly, reduced oil (along with other commodities) costs exert further deflationary on the world economy.
This is a potentially a very powerful tailwind for the US consumer.
Is the US economy really in goldilocks mode?
I believe so. The economy is growing at just the right clip where it delivers sustainable employment gains and robust GDP growth, yet inflation pressures are very well contained - mostly due to external and global deflationary pressures. While US interest rates are forecasted to rise, sometime in 2015 - the consensus is that it will not rise as quickly or to the same extent as in previous tightening cycles. I believe this is mostly due to the broader global macroeconomic environment and different stages in the economic cycle other major economies (Japan, China and euro) are experiencing.
Conclusion
The Fed and US economy have been extremely lucky in timing the QE exit- not sure whether it is pure luck or part of the broader considerations undertaken by the Fed (I do hope it is the latter!). The deflationary pressures exerted by other major economies are effectively counter-balancing the natural inflationary pressures in the US economy that typically arise from approaching full employment and robust GDP growth. As such, the Fed has the luxury to take its time and ensure the US recovery is truly entrenched and robust enough, rather than being forced to raise interest rates prematurely. Furthermore, the US consumer has received an early Christmas present and is now also benefiting from tail winds from a much reduced prices at the gasoline pumps.
While one can never be too conclusive on such predictions, this December Santa rally might be visiting Wall Street once again.
Disclosure: The author has no positions in any stocks mentioned, and no plans to initiate any positions within the next 72 hours.
The author wrote this article themselves, and it expresses their own opinions. The author is not receiving compensation for it (other than from Seeking Alpha). The author has no business relationship with any company whose stock is mentioned in this article.