At the Noble Financial conference (webcast link), Odyssey Marine's (NASDAQ:OMEX) CEO laid out potential catalysts for the company (ie. the stock). Let's review Slide 12 from that presentation titled, "Potential Near-Term Catalytic Events":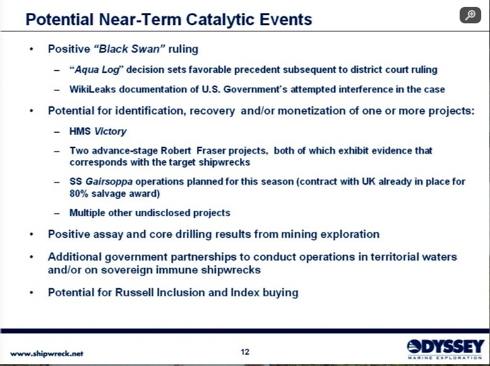 I'll hit on four of these below. First, let me remind you that publicly traded CEOs are in the business of under-promising, and over-delivering. To use the words "near-term" is about as aggressive as a CEO will get, which leads me to believe the chances Mark Gordon's level of confidence is very high. With that in mind, lets review the slide.
1. Positive "Black Swan" ruling
Due to various political and personal issues, this case has been overly dramatic. The issue is simple: Spain and Odyssey forge a financial settlement and move on. Think for a minute: What exactly is Spain going to do with the coins? They'll have to melt quite a few to pay their escalating legal fees. Are the coins going back to Spain from their location in the U.S.? No. What is the impact on the stock? Huge.
2. Potential for identification, recovery and/or monetization of one or more projects:
'One or more' is the key here, as all of these are large catalysts, but more than one will run this stock. 'Multiple other undisclosed projects' isn't exactly what you want to hear if you're carrying a short overnight. Odyssey has a proprietary database with hundreds of wrecks. They don't have time to get to them all, but their mapping/scanning operation picks them up. With a finite number of vessels, they will not be announcing the identification, recovery, or monetization of a project unless it's a big one. It isn't worth their time to pursue one that isn't. If they find the Merchant Royale (100,000 pounds of gold), as some have speculated based on location, this stock will open at $15.
3. Positive assay and core drilling results from mining exploration
Why is this important? Check out the only release on Dorado.
What does this mean? Dorado will be able to tap the capital markets via a public listing after completing the assay and drilling results. The only public comparable is Nautilus Minerals (OTCPK:NUSMF). Look what they were doing as a private company in 2005. I'll make it easy for you, here is an excerpt from the release:
Under the agreement with Nautilus, Placer has undertaken to spend US$4 million on core drilling and related activities and plans to test the Suzette and Craw fields from January to March 2006... Nautilus Minerals Inc. a private company, with its sights set on a public listing in early 2006...
The current market cap of Nautilus is $415 million. The great part for Dorado/Odyssey is that Nautilus has spent 17 years figuring out how to get this done politically and with partners. Dorado rides in with superior technology, utilizes Nautilus' footprints, and ultimately monetizes minerals before Nautilus. Good deal, right? It may never work, but being short in the event that it does seems pretty dangerous.
June 10: Russell lists the preliminary adds/deletes based on May closing levels.
June 24: Final adds/deletes
June 27: Index rebalance
5M+ shares will go in based on Thursday's close. This is a simply issue of supply and demand for the stock. The index fund purchases in addition to the funds that game this process, make this stock a rare commodity.
The question for shorts is: Do you understand how badly you can get hurt here? A stock with 30% downside risk has 500-800% upside. This is the ultimate event-driven small cap name, and could end with an awfully painful run in the stock. I understand two sides makes a market, but there appears to be the right side and the wrong side here. Good luck.
Disclosure: I am long OMEX.