* All data are as of the close of Friday, November 28, 2014. Emphasis is on company fundamentals and financial data rather than commentary.
Investors looking to capitalize on the once-in-a-decade opportunity in the energy market might want to pay special attention to this competition amongst North America's three largest shipping companies - Texas-based Kirby Corporation (NYSE: KEX), Bermuda-based Golar LNG Ltd. (NASDAQ: GLNG), and Bermuda-based Teekay Corporation (NYSE: TK).
While the Shipping industry covers all types of cargo shipping from dry goods to food stuffs to ores to energy products, the three largest Western Hemisphere companies focus mainly on energy - with Kirby specializing in petrochemicals, refined petroleum products, black oil products, agricultural chemicals, and dry-bulk cargoes, Golar specializing in liquefied natural gas, and Teekay specializing in crude oil and natural gas from offshore platforms to the shore.
Since the three are midstream energy companies, their stock performance has been superior to that of the upstream oil and gas producers, offering less downside risk while still preserving explosive upside potential, as noted in the series of graphs below.
Let's start with the economic recovery period overall, where the expansion of industry and manufacturing since March of 2009 has increased the demand for energy products and consequently the demand for their transport.
Since the recovery began in March of '09, where the broader market S&P 500 index [black] has gained 205%, and the United States Oil ETF (NYSE: USO) [blue] has fallen 10% thanks to the recent plunge in crude oil prices, Teekay [orange] has gained 300%, Kirby [beige] has gained 375%, while Golar [purple] has gained and energetic 1,450%.
On an annualized basis, where the S&P has averaged 36.18% and USO has averaged -1.76%, Teekay has averaged 52.94%, Kirby has averaged 66.18%, while Golar has averaged an outstanding 255.88% per year!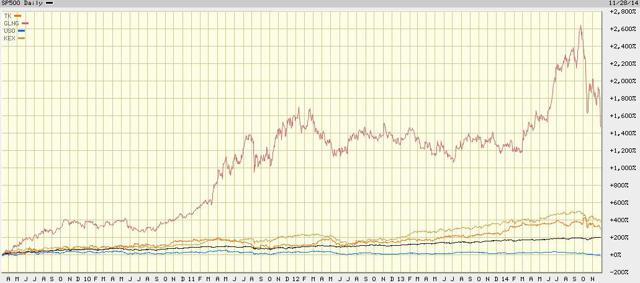 Source: BigCharts.com
OK. So that gives us the general, overall picture of how the three perform in an improving economy, which economists are telling us should continue to improve over the next several years as U.S. GDP gradually rises, increasing the consumption of energy products and, naturally, their transportation.
But take a look at how our three competitors perform relative to the price of oil, for in this lays a great opportunity that makes the transporters of energy more attractive than its producers.
Zooming-in to the first six months of 2014 as graphed below, while crude oil rose to this year's peak on June 25th for a gain of 15%, Kirby rose 19%, Teekay rose 30%, and Golar rose 67%. As a general rule, rising energy prices are most often driven by rising energy demand, which in turn drives transport demand, lifting our three energy transporters - and by a much larger degree than the lift to oil prices.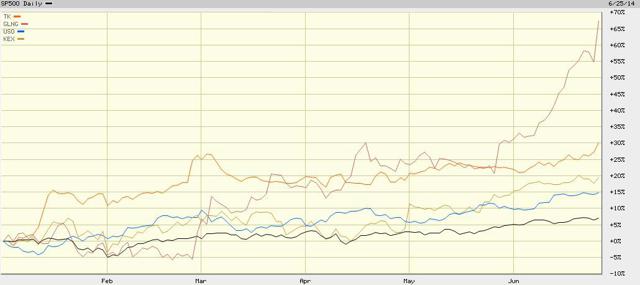 Source: BigCharts.com
But the converse is NOT true on the downside, as graphed below, which gives investors in energy transporters an advantage.
From oil's June 25th near-term peak until the end of last week, where USO has fallen 35%, all three of our energy transporters have fallen less, with Kirby losing 17%, Teekay losing 19%, and Golar losing 31%.
The lesson from all of this? Midstream energy transporters generally deliver greater gains than energy commodities when prices are on the incline, while spilling fewer losses than the commodities they deliver when prices are on the decline; outperforming in both directions.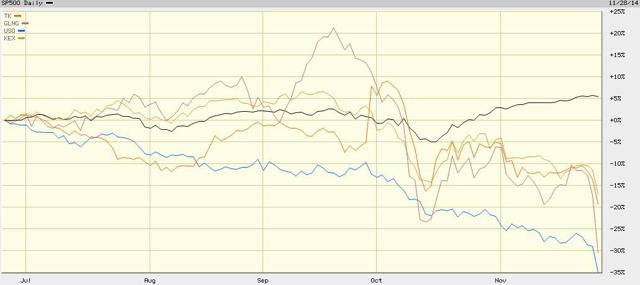 Source: BigCharts.com
Looking forward, the Shipping industry as a whole (which includes the transport of non-energy products as well) looks poised to continue surging ahead of the broader market near term as tabled below, where green indicates outperformance and yellow denotes underperformance.
Over the next quarter, the industry's earnings are expected to gush upward 496.15 times the broader market's average earnings growth rate, before settling down to a much more sustainable but still robust 1.45 times in 2015.
Over the longer term, however, the industry is seen lagging the broader market's average earnings growth rate by more than half.

Zooming-in a little closer, the three largest North American Shipping companies are expected to continue outperforming over the near term, as tabled below.
Where Kirby's earnings are seen slightly outperforming the broader market's from the current quarter through to 2015, Teekay's earnings are expected to overflow at a rate of 12.70 times the broader market's next quarter, up to 58.83 times this quarter, and up to 86.08 times in 2015.
Golar, on the other hand, is seen shrinking over the current and next quarters, not necessarily because this year's earnings will be so bad, but more because last year's were so good. Even so, the company is expected to make up for its immediate term shrinkage with explosive growth in 2015 of up to 196.26 times the S&P's average.
Over the longer term, all three are expected to growth their earnings more or less inline with the broader market's average growth rate, with Teekay delivering the greatest change.

Yet there is more than earnings growth to consider when sizing up a company as a potential investment. How do the three compare against one another in other metrics, and which makes the best investment?
Let's answer that by comparing their company fundamentals using the following format: a) financial comparisons, b) estimates and analyst recommendations, and c) rankings with accompanying data table. As we compare each metric, the best performing company will be shaded green while the worst performing will be shaded yellow, which will later be tallied for the final ranking.
A) Financial Comparisons
• Market Capitalization: While company size does not necessarily imply an advantage and is thus not ranked, it is important as a denominator against which other financial data will be compared for ranking.

• Growth: Since revenues and expenses can vary greatly from one season to another, growth is measured on a year-over-year quarterly basis, where Q1 of this year is compared to Q1 of the previous year, for example.
In the most recently reported quarter, Golar posted the greatest revenue growth year-over-year, while Teekay reported the slowest.
Since Golar's and Teekay's earnings growth are not available, the metric will not factor into the comparison.

• Profitability: A company's margins are important in determining how much profit the company generates from its sales. Operating margin indicates the percentage earned after operating costs, such as labor, materials, and overhead. Profit margin indicates the profit left over after operating costs plus all other costs, including debt, interest, taxes and depreciation.
Of our three contestants, Kirby operated with the widest profit margin while Teekay operated with the widest operating margin. At the narrow end of the scale, Teekay and Golar split the narrowest margins between them, which were negative, denoting loss.

• Management Effectiveness: Shareholders are keenly interested in management's ability to do more with what has been given to it. Management's effectiveness is measured by the returns generated from the assets under its control, and from the equity invested into the company by shareholders.
For their managerial performance, Kirby's management team delivered the greatest returns on assets and equity, while Golar's team delivered the lowest, with some loss of assets.

• Earnings Per Share: Of all the metrics measuring a company's income, earnings per share is probably the most meaningful to shareholders, as this represents the value that the company is adding to each share outstanding. Since the number of shares outstanding varies from company to company, I prefer to convert EPS into a percentage of the current stock price to better determine where an investment could gain the most value.
Of the three companies here compared, Kirby provides common stock holders with the greatest diluted earnings per share gain as a percentage of its current share price, while Teekay's DEPS over current stock price is lowest, and was also negative along with Golar's, denoting loss.

• Share Price Value: Even if a company outperforms its peers on all the above metrics, however, investors may still shy away from its stock if its price is already trading too high. This is where the stock price relative to forward earnings and company book value come under scrutiny, as well as the stock price relative to earnings relative to earnings growth, known as the PEG ratio. Lower ratios indicate the stock price is currently trading at a cheaper price than its peers, and might thus be a bargain.
Among our three combatants, Kirby's stock is the cheapest relative to forward earnings, while Golar's stock is cheapest relative to company book value and 5-year PEG. At the overpriced end of the spectrum, all three stocks are overvalued relative to a metric.

B) Estimates and Analyst Recommendations
Of course, no matter how skilled we perceive ourselves to be at gauging a stock's prospects as an investment, we'd be wise to at least consider what professional analysts and the companies themselves are projecting - including estimated future earnings per share and the growth rate of those earnings, stock price targets, and buy/sell recommendations.
• Earnings Estimates: To properly compare estimated future earnings per share across multiple companies, we would need to convert them into a percentage of their stocks' current prices.
Of our three specimens, Kirby offers the highest percentages of earnings over current stock price for all time periods, while Golar offers the lowest percentages overall.

• Earnings Growth: For long-term investors this metric is one of the most important to consider, as it denotes the percentage by which earnings are expected to grow or shrink as compared to earnings from corresponding periods a year prior.
For earnings growth, Teekay offers the greatest growth near term and over the next five years, while Golar offers it in 2015. At the low end of the scale, Golar offers the slowest growth near term, even earnings shrinkage, while Kirby offers the slowest growth in 2015 and beyond.

• Price Targets: Like earnings estimates above, a company's stock price targets must also be converted into a percentage of its current price to properly compare multiple companies.
For their high, mean and low price targets over the coming 12 months, analysts believe Kirby's stock offers the least upside potential and least downside risk, while Golar's stock reciprocates with the greatest upside and greatest downside.
It must be noted, however, that Kirby's stock is already trading below its low target. While this may mean an increased potential for a sharp move upward, it may warrant a reassessment of future expectations.

• Buy/Sell Recommendations: After all is said and done, perhaps the one gauge that sums it all up are analyst recommendations. These have been converted into the percentage of analysts recommending each level. However, I factor only the strong buy and buy recommendations into the ranking. Hold, underperform and sell recommendations are not ranked since they are determined after determining the winners of the strong buy and buy categories, and would only be negating those winners of their duly earned titles.
Of our three contenders, Teekay is best recommended with 3 strong buys and 4 buys representing a combined 77.77% of its 9 analysts, followed by Kirby with 5 strong buy and 7 buy recommendations representing 75% of its 16 analysts, and lastly by Golar with 6 strong buy and 8 buy ratings representing 73.69% of its 19 analysts - all garnering very high recommendations.

C) Rankings
Having crunched all the numbers and compared all the projections, the time has come to tally up the wins and losses and rank our three competitors against one another.
In the table below you will find all of the data considered above plus a few others not reviewed. Here is where using a company's market cap as a denominator comes into play, as much of the data in the table has been converted into a percentage of market cap for a fair comparison.
The first and last placed companies are shaded. We then add together each company's finishes to determine its overall ranking, with first place finishes counting as merits while last place finishes count as demerits.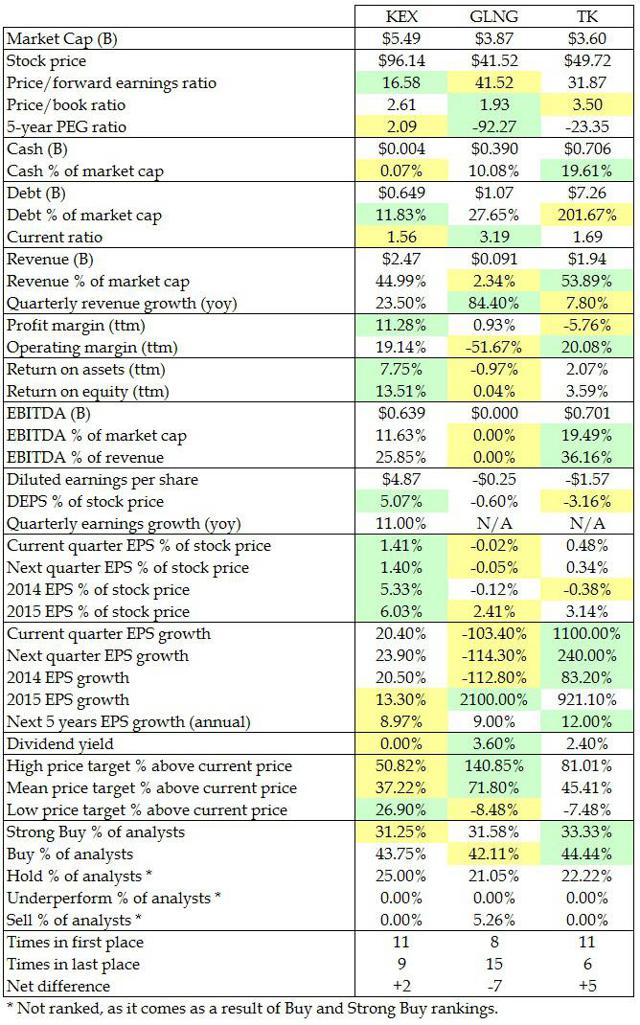 And the winner is… Teekay by a boatload, outperforming in 11 metrics and underperforming in 6 for a net score of +5, followed not far behind by Kirby, outperforming in 11 metrics and underperforming in 9 for a net score of +2, with Golar springing a leak in the far distance, outperforming in 8 metrics and underperforming in 15 for a net score of -7.
Where the Shipping industry as a whole is expected to outperform the S&P broader market astronomically next quarter and moderately in 2015, then underperform significantly beyond, North America's three largest companies in the space are expected to split perform in earnings growth near term, with Kirby market-performing, Golar underperforming, and Teekay vastly outperforming, while all are expected to outperform in 2015.
Yet after taking all company fundamentals into account, Teekay Corporation delivers financials of the greatest value given its highest cash and revenue over market cap, highest operating margin, highest EBITDA over market cap and revenue, highest future earnings growth overall, and most strong buy and buy analyst recommendations - handily winning the Shipping industry competition.
Recent Services articles you might also enjoy:
• Comparing America's 3 Largest Major Airlines
• Comparing The 2 Largest Consumer Services Companies
• Comparing America's 3 Largest Electronics Wholesale Companies