Investopedia describes forward dividend yield as:
An estimation of a year's dividend expressed as a percentage of current stock price. The year's projected dividend is measured by taking a stock's most recent actual dividend payment and annualizing it. Forward dividend yield is calculated by dividing a year's worth of future dividend payments by a stock's current share price. For example, if a company pays a Q1 dividend of 25 cents and you assume the company's dividend will be consistent, then the firm will be expected to pay $1.00 in dividends over the course of the year. If the stock price is $10, the forward dividend yield is 10%.
Below is a back test comparing annual projected dividend yields from $1,000 invested in the top ten dividend stocks in seven selected indices as of 3/22/2010. The indices below are ranked from lowest to highest projected average yields: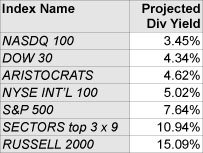 The following charts list the 65 stocks selected by yield to be the 70 components of those seven indices. Five stocks, AT&T (T), Verizon (VZ), Johnson & Johnson (JNJ), Century Link (CTL), and American Capital Agency (AGNC) show up in two indices. Both projected dividends from 3/22/10 and actual dividends paid to 3/21/11 are shown.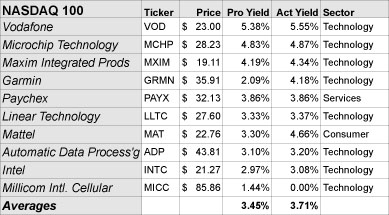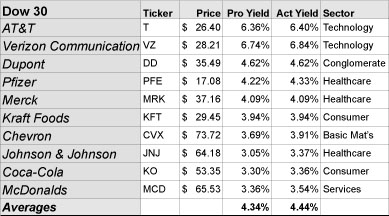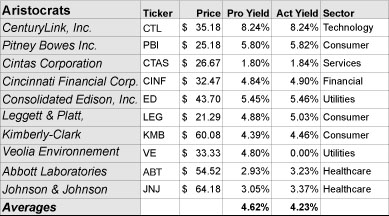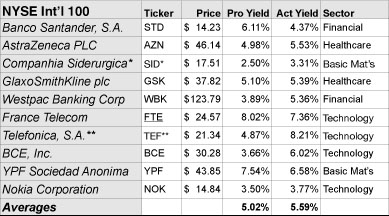 *2:1 stock split (adjusted); **3:1 stock split (adjusted)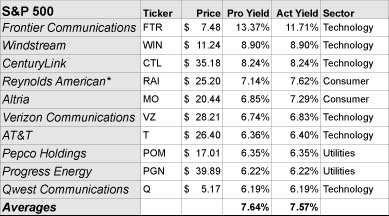 *2:1 stock split (adjusted)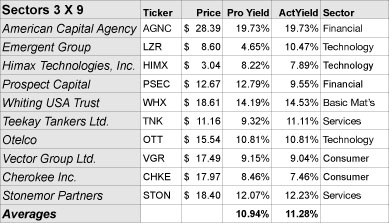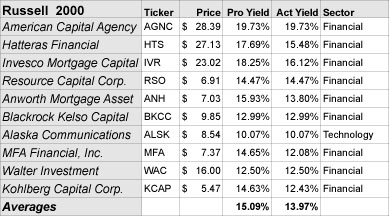 Comparing projections with actual dividend yields for the year reveals the margin of error of forward looking yield assumptions for each index: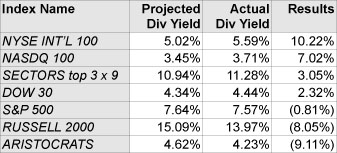 Four indices showed dividend yield increases by 2011 over those projected in March 2010. The three decreasing indices included, ironically, the Aristocrats (defined as stocks with at least 25 years of consistent dividend increases) which went down when Veolia Environnement (VE) failed to declare any dividend between March 22, 2010 and 2011.
Russell 2000 projections also disappointed when four financial firms cut dividends: Hatteras (HTS), Invesco (IVZ), Anworth (ANH), and MFA (MFA). S&P 500 results were lower when bellwether Frontier Communications (FTR) slashed its quarterly dividend from $.25 to $.188 in September.
The NASDQ index however managed an increase in yields despite Millicom International (MICC) failing to declare a dividend for the test period. NYSE International 100 leading results were secured by a 2:1 stock split in Compania Siderugica (SID) plus a 3:1 split in Telefonica, S.A. (TEF) shares.
Can Dividend Yields Predict Net Returns?
To answer the question, I have back tested a yield based investing strategy for these seven indices. I tracked them for a year (March to March again) to discover what net profit (or loss) was generated by a $1000 investment in the top ten high yielders in each index then selling the whole batch. The net returns are revealed in my next articles. Stay tuned.

Disclosure: I am long T, VZ, MRK, PFE, KFT, MCD, CVX, JNJ, HIMX, INTC.