June will be a busy month for the FDA as several new drugs are up for approval, and the advisory committees will be meeting to debate several drugs as well. Many of the drugs listed below have competitors in the same market. Investors should watch these companies throughout June. But they should also keep an eye on competitors that have a similar drug marketed, or are planning to market a similar drug in the future. It must be kept in mind that the dates below could cause negative catalysts along with the hopeful positive catalysts.
First Half of June
Sometime in the first half of June, Cell Therapeutics (CTICD) is scheduled to meet with the FDA to discuss the reasons as to why a Complete Response Letter (CRL) was issued for Pixantrone. Pixantrone is a drug that extends the lives of patients with non-Hogdkin's lymphoma. Not only does Cell Therapeutics want to meet with the FDA; the company is currently in the process of contesting the CRL. However, after Cell Therapeutics appealed the FDA's decision, the FDA requested Cell to bring to the meeting a review of radiographs by an independent source and the reason as to why the clinical trial was stopped short.
These are large hurdles for Cell to overcome since I do not think any reason will be fine with the FDA as to why the trials were stopped early. It must be noted the results from the clinical trials were positive in terms of long term addition to life; but because Cell ended the trials early, the FDA was not satisfied. Also, the biggest adverse condition is neutropenia; which can be life threatening. Cell stands by the belief that Pixantrone properly satisfies the requirements for approval.
From an investors side, the meeting with the FDA is very important. If Cell does provide the documents required by the FDA a new NDA can be submitted, and approved, very quickly due to an accelerated status. However, if Cell is told to conduct more trials to prove the endpoints, the share price should take a tumble. The middle ground of these two extremes is that Cell is currently working with an independent source to review the radiographs from the study. I recommend staying on the sidelines for Cell Therapeutics because there are several steps and several puzzle pieces that need to fall into place for a worthwhile catalytic event to take place.
June 14th
On June 14th Potiga (ezogabine or retigabine) faces the FDA. Potiga is an epilepsy drug that has the ability to open channels in the brain so that electrical currents are smooth; which reduces seizures. Potiga has been developed by GlaxoSmithKline (NYSE:GSK) and Valeant Pharmaceuticals (NYSE:VRX). Potiga is a fairly well developed drug, but Potiga has several problems that investors need to be aware of. The good news for Potiga is that it can help the 30% of patients that do not respond to current drugs; which means doctors may decide to prescribe the drug to many patients. However, due to the FDA advisory committee Potiga might only be used as an effective add-on treatment for seizures. Therefore Potiga will not be solely prescribed to patients. Along with this, other side effects include urinary retention, dizziness and fatigue. Dizziness and fatigue are not a big problem as many drugs carry those side effects, but the urinary retention is something that a doctor will have to balance when prescribing the drug. The most significant fact from an investor standpoint is the previous Complete Response Letter. Despite the unanimous 13-0 advisory committee vote, the FDA felt that Potiga may cause more problems than it can help.
As you can see Potiga is in limbo as to whether it will be approved or not. Luckily, the CRL stated no clinical issues were found with the drug. Therefore it is difficult to say whether it will pass or not this time around. The only thing Glaxo and Valeant can do at this point is set up a monitoring system to keep track of patients taking the drug to make sure the possibility of bladder infections does not happen. At this point I suggest staying away from either company. Since this is a potential negative catalyst. However, one could say after the first CRL that Glaxo and Valeant were told what was needed to be done to get the drug approved. Which means this time around it will get approved just as the advisory committee recommended.
June 15th
The following day, June 15th, the FDA decides on another drug that was rejected in May 2010. This drug is Bristol-Myers Squibb's (NYSE:BMY) Belatacept. Belatacept is a drug that can be used to prevent kidney graft rejection and maintain function during and after kidney replacement. Just as Potiga, Belatacept received a 13-5 advisory committee recommendation, but was later given a CRL. Also, just as Potiga, Bristol-Myers was not told more trials were necessary. According to Bristol-Myers the FDA stated:
The complete response letter requests the 36 month data from ongoing Phase 3 studies to further evaluate the long term effect of belatacept.
From an investors view, Belatacept seems like it will get approved this time around. However, it must be noted that many issues were discussed during the advisory committee. The underlying issue for the entire committee was long term efficacy in terms of acute rejection. One of the most significant statements from the meeting was when Richard Mann stated that Belatacept does not show improvement from other products on the market, but he still gave a thumbs up based on the fact that he feels there is a need for other options when it comes to renal transplants. In my mind that is not a good reason to approve a drug.
Another important note for investors to know is posttransplant lymphoproliferative disorder rates were higher than the FDA advisory committee would like to have seen. Despite this, the main concern was long term efficacy. Therefore the decision, investors need to make is whether they believe the long term effects have been proven. As you can see from data presented at the American Transplant Congress, the long term efficacy data that the advisory committee wanted to see has been cleared up. Nevertheless, investors need to be cautious towards Bristol-Myers because Belatacept, even if approved, may not reach that many patients due to it being less effective than the current drug; as you can see from the chart below.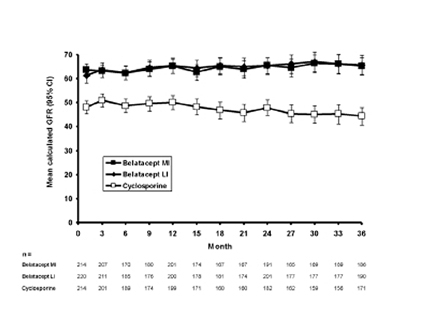 June 17th
On June 17th Pfizer (NYSE:PFE) and Acura Pharmaceuticals (NASDAQ:ACUR) face an FDA decision for Acurox. Acurox has had a very difficult time getting to market the past few years due to the FDA questioning whether or not the drug is really abuse resistant as the companies promise. The first hurdle was a CRL given to Acurox with niacin back in July 2009. This CRL was due to the FDA questioning whether or not the drug is really abuse resistant. Another hurdle for Acurox was a 19-1 vote for disapproval of the drug in April 2010. Following this vote, Acura and King Pharmaceuticals decided to submit a New Drug Application (NDA) for Acurox without niacin because the advisory committee and previous CRL stated niacin adds nothing to the drug in terms of drug resistance.
I do not recommend taking any new positions on either company based solely upon Acurox. The process leading up to this approval date has been very troublesome. Also, even if the drug does get approved, the market is full of chronic pain killers that consumers already take on a consistent basis. Therefore the only way Acurox will get a share of the market is if Acurox is truly abuse resistant. In this case, doctors will prescribe the drug more often than others due to the safety of the drug.
Also on June 17th, Regeneron's (NASDAQ:REGN) Eylea (VEGF Trap-Eye) will face an FDA advisory committee. Eylea is a drug that treats age related macular degeneration (AMD). The trials for Eylea are impressive as about 60% of patients receiving 2mg injections of Eylea gained at least 15 letters compared to 22% of the placebo group. Also, patients receiving Eylea gained an average of 18 letters while placebo patients only gained 3.3. When comparing Eylea, as you can see in the chart below, to a current drug on the market, Ranibizumab, Eylea is not inferior; however superiority can be questioned as both drugs are about the same. These facts along with the adverse effects will be the determinate as to what the FDA concludes. Generally the only complaints were eye pain due to hemorrhage and conjunctial hemorrhage.
Ranibizumab

0.5mg monthly

VEGF Trap-Eye

0.5mg monthly

VEGF Trap-Eye

2mg monthly

VEGF Trap-Eye

2mg every 2

months

Maintenance of vision* (% patients losing <15 letters) at week 52 versus baseline

VIEW 1

94.4%

95.9%**

95.1%**

95.1%**

VIEW 2

94.4%

96.3%**

95.6%**

95.6%**

Mean improvement in vision* (letters) at 52 weeks versus baseline (p-value versus ranibizumab 0.5mg monthly)***

VIEW 1

8.1

6.9 (NYSE:NS)

10.9 (p<0.01)

7.9 (NS)

VIEW 2

9.4

9.7 (NS)

7.6 (NS)

8.9 (NS)

*Visual acuity was measured as the total number of letters read correctly on the Early Treatment Diabetic Retinopathy Study (ETDRS) eye chart

**Statistically non-inferior based on a non-inferiority margin of 10%, using confidence interval approach (95.1% and 95% for VIEW 1 and VIEW 2, respectively)

*** Test for superiority

NS=not statistically significant
As Eylea faces off against the advisory committee it appears the drug will receive a thumbs up. I would recommend doing your homework on the company as it looks promising. However, wet AMD only accounts for about 10-20% of AMD cases. This means Eylea may not reach the patient pool a drug that treats dry AMD or degenerative macular edema (DME) would reach. Nevertheless, Eylea looks promising based upon the clinical results; at least it is not inferior to the current drug on the market. Therefore I am expecting an approval from the advisory committee. Whether the drug is given the thumbs up or thumbs down, the PDUFA date is set for August 20, 2011.
Another drug that will be decided upon on June 17th is Celgene's (NASDAQ:CELG) Istodax. The FDA will be letting Celgene know if they can use Istodax for peripheral T-cell lymphoma (PTCL) for patients that have been treated with at least one therapy before. The clinical trials released by Celgene show that Istodax reached the endpoint that the company was planning to reach, as 13% of patients showed signs of complete response. Along with this 13%, an additional 13% reached partial response. As you can see Istodax does a sufficient job in treating patients that have failed previous treatments. However, 96% of the patients studied faced some sort of side effect. The most common was thrombocytopenia.
Because of this I raise the question: Is this drug safe enough for the FDA to approve it? Obviously the key will be whether or not Istodax saves more lives than it hurts. It must be noted that Istodax is a little better than the current drug on the market, Folotyn. Folotyn showed only 11% complete response rate with about 18% partial response. Even though Fotolyn has more success for partial response, the FDA will be more concerned with the complete response rate and the adverse reactions. Fotolyn showed more severe adverse reactions than Istodax.
I recommend watching Celgene through June for two reasons. First, PTCL is a very rare form of cancer. Therefore the market for Istodax is not as big as other forms of cancer. This would lead to only a small catalyst, and maybe even a negative catalyst for Allos Therapeutics (NASDAQ:ALTH) if Istodax is approved. Secondly, I am not convinced the FDA will approve the drug. Based solely upon the results of Istodax I expect a CRL. However based upon the fact that Istodax is better than Folotyn I am expecting Istodax to receive approval as well. Since Istodax will be approved, I am expecting a very small rise in share price.
June 20th
On June 20th Salix Pharmaceuticals (NASDAQ:SLXP) meets with the FDA to discuss the reasons behind the rejection of Xifaxan. Xifaxan is currently on the market to treat overt hepatic encephalopathy (overt HE). Overt HE can very easily lead to death if not treated. However, even the current Xifaxan does not completely stop overt HE for patients with chronic liver disease. The Xifaxan that will be discussed on June 20th received a previous CRL. Xifaxan is developed to treat non-constipation irritable bowel syndrome (Non-C IBS). According to Salix, Xifaxan was rejected by the FDA "due to newly expressed need for retreatment information." This is a vague description as to why the drug was rejected, but I assume Salix will inform investors as to specifics after the June 20th meeting. The retreatment the FDA requests most likely has to do with the 10 week follow up that Salix had to do for Xifaxan.
As of now the share price should not go anywhere for a while. However, the company could possibly take another hit if the FDA requests more conclusive trials to show the long term effects of Xifaxan for non-C IBS. My take on the company is to wait and see. I do believe the drug will be a blockbuster once it gets approved, therefore a long position would be a good decision as of now since the share price is slowly creeping back up to where it was before the CRL. Another thing to keep in mind for investors is the potential of a takeover after the FDA meeting. Of course this would only happen if the FDA gives Salix good news that would allow Xifaxan to be approved in a timely matter. There has been a rumor that Valeant has Salix on its takeover list, but this rumor has yet to be backed by any proof.
June 22nd
On June 22nd the FDA will decide to approve Fibrocell Science's (NASDAQ:FCSC) LaViv. LaViv is a complicated drug that will be used to treat wrinkles more naturally than botox. LaViv works by extracting fibroblasts, then multiplying the cells in a lab, and eventually injecting your own cells back into the wrinkle. This works because fibroblasts are responsible for releasing collagen, elastin, and hyaluronic acid; which make the skin stronger and more elastic. At this point the drug seems like a no brainer to approve because everything seems very simple, however LaViv has faced a CRL in the past. In December 2009, the FDA sent a CRL to Fibrocell requesting:
Fibrocell Science provide data from a histopatholigical study on biopsied tissue samples from patients following injection of azficel-T [LaViv]. [The letter] also requested finalized Chemistry, Manufacturing and Controls (CMC) information regarding the manufacture of azficel-T as follow-up discussions that occured during the BLA review period, as well as revised policies and procedures regarding shipping practices, and proposed labeling.
It must be noted that the CRL was preceded by an advisory committee vote; 11-3 in favor of LaViv that it showed proper efficacy, but an 8-6 vote against the safety of LaViv. The problems that were presented in the CRL are easily manageable. In fact, Fibrocell has recently sent the FDA the histology study that was asked by the FDA. Even with this, it is difficult for investors to know whether or not Fibrocell complied with the other issues brought up in the CRL. Of course, I am assuming Fibrocell did comply with those issues, otherwise why would they waste the time in sending another NDA. As of now I would say wait for the decision, since the market for this drug is continuously growing as more people reach an age where wrinkles affect their self esteem. However, if the drug is approved LaViv will be the only drug on the market that uses cell multiplication technology for wrinkles. Therefore the drug could be a blockbuster, unfortunately the drug does not fall under a life saving category.
June 23rd
The following day on June 23rd, Remoxy, another abuse resistant pain killer faces a PDUFA. Remoxy is developed by Pain Therapeutics (NASDAQ:PTIE), King Therapeutics (owned by Pfizer) and Durect Corporation (NASDAQ:DRRX). Remoxy, just as Acurox, is an abuse resistant oxycodone. As mentioned above, this means the drug is supposedly tamper proof from crushing or liquefying for uses other than prescribed. Just as several of the drugs listed above, Remoxy was given a CRL in December 2008. This CRL asked Pain and King Therapeutics to provide non clinical data. Good news for investors is Pain and King took two full years to resubmit the NDA. This means the companies were diligently tweaking the drug, unlike Acurox which was changed very quickly to get an approval. Going into the PDUFA, Remoxy is looking very good as recently the drug as been shown to reach all endpoints in terms of addressing the abuse resistance that the FDA is looking for.
From an investors standpoint, it is difficult to make a decision as to which company to invest in when looking for the biggest catalytic event. As you might expect, Pfizer will be the big winner from the drug, if approved. In order to follow the deals each company has made, you must keep in mind that King Therapeutics is owned by Pfizer. Durect provides the long lasting capsule that Remoxy uses to make Remoxy insoluble and strong enough to resist crushing. If Remoxy is approved, Durect is supposed to receive up to 11.5% from the net sales of Remoxy. Also, Durect will receive compensation for research done towards Remoxy. Pain Therapeutics is to receive up to 20% of net sales from King Therapeutics; which is owned by Pfizer. Pain also received about $400 million in 2005 when the deal was signed. That leaves Pfizer with about 70% of the remaining net sales. Therefore Pfizer will be making a very large amount of money if Remoxy is approved and Acurox not approved; or if Acurox is approved with severe limitations that keep it from being prescribed to many patients.
I believe the drug will be approved, therefore investors have several options. First, investors can invest in a basket of all three, find an ETF with all three, pick two of the three, or even pick one and stick with it. I recommend keeping an eye on Remoxy and taking a position on these companies as Remoxy is looking very strong to be approved; while Acurox is looking very weak to be approved.
June 30th
On June 30th, Dendreon (NASDAQ:DNDN) will receive a decision as to whether its newest manufacturing facility in California can be used to produce Provenge. Adding another manufacturing facility will increase the amount of Provenge that can be prescribed to patients. In terms of manufacturing facilities, it is usually either a yes or a no as to whether it is approved or not. Based on Dendreon's history, I recommend Dendreon due to the fact that the company will receive the approval on the new facility. As the California facility and other facilities throughout the country get approved, I expect Dendreon to slowly grow for years to come. Therefore I recommend picking up a long position with a short position to take advantage of what could be a few percent uptick in the share price on approval.
Two less catalytic events occurring in June are: An advisory committee meeting to discuss Novartis Pharmaceuticals Corporation's (NYSE:NVS) arthritis drug Ilaris on June 21st. Also, on June 23rd Shire Human Genetic Therapies' (SHPGY) Firazyr for acute hereditary angioedema.
Disclosure: I am long BMY.