Quietly, in the shadows of the Lone Mountain Range in Esmerelda County, Nevada, Standard Metals Processing, Inc. (OTCPK:SMPR) has been positioning itself to become the premier, if not only, custom toll milling operator in the U.S. to address pent up demand for precious and strategic metals processing and professional metallurgical services from family, independent and junior miners.
Standard Metals Processing, Inc. will be the only comprehensive custom toll milling operation in Nevada designed to provide entrepreneurial to midsized-mines with four different and independent processing circuits under one roof in order to achieve the highest recovery yields available from the extraction of precious, strategic minerals from mined material.
As many who follow the mining space know, Nevada has long played a historic role in American gold mining. Gold mining in Nevada is a major industry, and the state is of the largest sources of gold in the world. Nevada currently mines 70% of all the gold in the United States, which equaled 5,640,000 troy ounces (175 short tons) in 2009. Total combined gold production from Nevada recorded from 1835 to 2009 totals 157,000,000 troy ounces (5,000 short tons), worth over US $185 billion at today's prices. Almost all the gold in Nevada comes from large open pit mining and cyanide heap leaching recovery. A number of major mining companies, such as Newmont Mining (NYSE:NEM), Goldcorp (NYSE:GG) and Barrick Gold Corporation (NYSE:ABX), operate gold mines in the state.
While Nevada has no shortage of minerals including gold, it now finds itself with another major problem and that is the lack of processing capacity. It is not only the lack of processing for Nevada's gold that is the problem, but a general lack of processing for a host of other minerals as well, not limited to certain rare earths. A recent article at Mineweb cited the following:
During a U.S. Senate hearing Tuesday (January 28, 2014) on S. 1600, the Critical Minerals Policy Act of 2013, Senate Energy and Natural Resources Committee Chairman Ron Wyden, D-Oregon, noted, "A crucial but too often neglected part of this [U.S. critical minerals] supply conversation is mineral processing."

"Although mining is an important part of the supply equation, and S. 1600 encourages federal agencies to expedite permitting for new critical minerals extraction, it is the lack of processing capacity-transforming the raw materials that we pull out of the ground into the high-purity compounds needed for manufacturing-it is that challenge that is my concern and the concern of many experts," he observed.
Standard Metals Processing, Inc. will address the lack the processing capacity through the opening of the Esmeralda County custom toll milling facility. The facility will allow underserviced midsize and junior miners to monetize their ore and concentrate in Nevada. Standard Metal Processing, Inc. will finance the processing of the ore and concentrate delivered to the facility. The financing is secured by the finished product, reducing the total capital outlay by the miner. The inability to access milling services is a result of the deconstruction of mills during the precious metals downturn between 1984 and 2006 along with the growth of EPA regulations on Federal land.
Through the above process Standard Metals Processing is able to provide financial flexibility to cash strapped miners, similar to Royal Gold (NASDAQ:RGLD), an investment company that acquires and manages precious metals royalties. Royal Gold provides an up-front payment for a miner to pay for operations or equipment in exchange for the right to purchase the actual gold that is extracted at the mine for a fixed price. This allows miners to fast-track their projects due to the additional funding obtained from Royal Gold. Standard Metals Processing, Inc. services allows miners to circumvent the capital investment in a processing facility, thereby reducing capital investment needs and letting the miners focus on their core mining operations. Standard Metals Processing, Inc. has established Standard Metals Acquisitions, Inc. a subsidiary that will acquire and supply concentrate and ore to Standard Metals Processing, Inc. Standard Metals Acquisitions, Inc. will, when the opportunity presents itself, provide operational funding to miners on terms similar to those offered by Royal Gold, thereby reducing the cost of ore and concentrate procured and enhancing the overall profitability of Standard Metals Processing, Inc.
On November 18, 2014, Standard Metals Processing took another step toward the approval of the custom toll mill facility as management announced that the Nevada Department of Environmental Protection ("NDEP") Bureau of Mines and Mining Reclamation conducted a site inspection of its Tonopah property in Esmeralda County, Nevada (the "Tonopah Property").
Management has filed a Water Pollution Control ("WPC") permit application with NDEP for the approval of the permits necessary for a small-scale mineral processing facility planned for the Tonopah Property. The site inspection was to ensure compliance with the NDEP's order to not initiate construction of the processing facility until its permits are received. The company has previously received its water diversionary permit, which allows for the drilling of a new main well. The plant which has been pre-fabricated is available to assemble upon the issuance of the water pollution control permit.
Trends - Current Gold Standard Movement
Based on the lack of milling capacity for midsized-mines and the continued acquisition of precious metals, Standard Metals Processing, Inc.'s management is preparing to unlock the supply of processing capacity through its Nevada facility. Much talk has been heard recently regarding a return to the Gold Standard as the world has entered into interesting if not chaotic times.
Many believe that a flight to quality is coming as the order of power in global economics is being challenged. Russia, Switzerland, India and China continue to acquire gold in light of this geo-political uncertainty.
In a recent interview, Business mogul Steve Forbes stated:
"not only is a return to the gold standard a realistic option, but "circumstances" in our economy will necessitate it."

"We were on the gold standard for 180 years in this country's history - did very well with it," Forbes told J.D. Hayworth, John Bachman and Miranda Khan on "America's Forum" on Newsmax TV on Monday.
And Forbes claims that "we have enough gold in our vaults now" to go back to the gold standard.
Forbes told Newsmax that had we stayed on the gold standard the Dow Jones Industrial Average "wouldn't be at 16,000 to 17,000," but "would be at 25,000 or 30,000."
In July of 2013, one of the keynote speakers at FreedomFest, an annual convention that looks to gather free minds for open discussions on politics and the economy, Kentucky Senator Rand Paul said "a commission should be established to study the recent debasement of the U.S. dollar and whether a link to a commodity would be a good idea."
Central Banks have been buyers of gold since 2010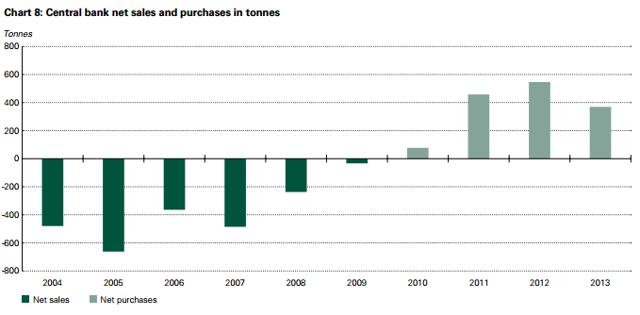 Source: World Gold Council
According to the World Gold Council, total supply fell by 7% in Q3 2014, continuing the broad themes surrounding gold supply during the first half of the year. Mine production stabilized (up 1% to 812 short ton) but recycling slowed considerably, reaching its lowest year to date levels since 2007 at 807 short ton.
Gold coins can now be purchased from vending machines in Dubai and six other countries under the product brand Gold to Go made by the TG Gold-Super-Markt corporation. The machines are designed to dispense items made of pure gold from automated banking vending machines. The first gold-plated vending machine, located in the lobby of the Emirates Palace hotel in Abu Dhabi, dispenses 320 items made of gold, including 10-gram gold bars and customized gold coins. There are currently twenty vending machines installed across three continents, with the first vending machine in the United States installed in Boca Raton, Florida in December 2010.
Recently, Marcus Grubb, Managing Director of Investment Strategy at the World Gold Council said:
"This quarter the market continued to find its feet after an exceptional 2013, with China catching its breath and buying in the build up to Diwali driving Indian jewelry purchases. The figures for India and China this quarter reinforce the need to understand the factors which underpinned an exceptional Q3 last year. In 2013, India was impacted by import curbs and increased import duties imposed by the previous government, whereas exceptional buying in China during the same period shaped buying patterns in 2014.

The long-term sources of demand - jewelry, investment, central banks and technology remain robust and diverse. People around the world buy gold for different reasons at different times, reinforcing the unique self balancing nature of the gold market. With recycling at a seven year low and mine supply looking increasingly likely to be constrained in the future the outlook for physical gold demand remains strong."
Standard Metals Processing - Being at the right place at the right time.
Standard Metals Processing is uniquely positioned to provide custom toll milling services currently unavailable to family, junior and private miners as a result of the attrition of domestic processors during the precious metals downturn between 1984 and 2006 combined with increased EPA regulations on Federal Land.
Company management recognized a void of milling capabilities available to miners and as a result, acquired a legacy milling property situated on 1,186 acres of private land in the Big Smokey Valley of Nevada in March, 2011.
The property which is rich in history and resources was originally used for custom toll milling at the turn of the 20th century under the name Tonopah West. It is located in Esmerelda County, Nevada, 210 miles north of Las Vegas, Nevada. The facility is at the center of US gold production as Nevada produces 70% of all US gold.
In the late 1970s, following a period of inactivity, TW-MNR engaged the Lurgi Corporation to engineer, design and construct a plant with capacity to process 1,800 tons per day plant to recover silver from the 1.7 - 2.2 million tons of historic tailings located on the property. Currently, 1.5 million tons still remain on site with additional deposits acquired through the purchase of the Manhattan (NV) Dumps (value is currently being assessed).
It is Standard Metals Processing's intention, pending permitting, to utilize 40 acres of its land holdings to build a small scale toll milling facility which will be operated independently of the 1981 mill and have an initial capacity of 50 tons per day increasing later to 250 tons per day.
Why is Standard Metals Processing Unique?
Comprehensive custom toll milling operation. Toll milling is a process whereby mined material is crushed and ground into fine particles to ease the extraction of any precious minerals contained therein, such as minerals in the gold, silver and platinum metal groups. Custom milling and refining can include many different processes that are designed specifically for each ore load and to maximize the extraction of precious metals from carbon or concentrates.
Location, location, location. SMPR is currently building the only comprehensive custom toll milling operation in Nevada. This 1,183 acre property is located on privately owned land by the Company and will contain a state of the art facility with four different and independent processing circuits capable of providing assay, extraction engineering and refining services to junior mining companies located in the Western United States, Canada, Mexico and Central America.
Lack of processing capacity creates sizable opportunity. SMPR is positioning itself to take advantage of a favorable supply-demand imbalance for metal and mineral processing services in the Nevada region. As precious metals prices have risen in the last decade, investment in the space has grown in both the opening of new mines and the re-opening of mines with proven reserves. Numerous junior mining players have entered the space, but the cost of building a new processing mill, with long environmental lead times for construction and significant regulatory requirements, make building their own processing mill a very prohibitive decision. As major miners have vertically integrated processing facilities and reserve their capacity for their own operations, a real shortage of independent toll milling capacity has arisen for the junior miners.
Toll milling and concentration overview. Ore is sent to SMPR's facility at the responsibility and cost of the customer. SMP will take a sample of the ore through a specific ore sampling procedure. SMPR's metallurgist will test the sample on site. To obtain a quantitative determination of the amount of a given substance in a particular sample, SMPR can perform wet methods and dry methods. Concentration is the separation of precious minerals from other materials by utilizing different properties of the minerals to be separated. The leaching process uses chemicals to extract the metals from the solid materials (concentrates) and bring them into a solution. Once the metals are in the solution, it is passed through carbon or resin columns where the precious metals are deposited onto the carbon/resin.
SMPR controls very unique assets. Purchased by SMPR in 2011, the Tonopah, Nevada facility is a very unique and valuable asset. The land encompasses 1,183 deeded acres, one of the largest private land holdings in Esmeralda County, Nevada, and the land includes buildings, mine tailings, a dormant milling facility, abandoned milling equipment and water permits. Approximately 334 acres of this land has an estimated 2.2 million tons of tailings, known as the Millers Tailings, from the historic gold rush of Goldfield and Tonopah, Nevada sitting on it.
High barriers to entry. SMPR is well situated to take advantage of the supply/demand imbalance for toll milling capacity in the Nevada region, and it also benefits from the high barriers to entry for future competitors. The Tonopah property is a very unique asset, and properties of this nature are not often available for purchase. Obtaining the permits necessary to construct a new facility is very costly and projects have significant lead times due to onerous regulatory requirements. Through its wholly-owned subsidiary, Tonopah Custom Processing, Inc., SMPR was required to file a Water Pollution Control Permit ("WPCP") Application with the Nevada Department of Environmental Protection ("NDEP") Bureau of Mines and Mining Reclamation for the approval of the permits necessary for a small-scale mineral processing facility planned for the Tonopah Property.
The above unique strengths allow Standard Metals Processing to provide essential processing services to midsize and junior miners seeking to monetize their concentrate and ore in Nevada. The company is able to offer a broad range of processing services given its four independent processing circuits. The Company will also be able to finance the processing of the ore and concentrate delivered to the facility, with the finished product securing the processing expense, thus limiting the capital outlay of the miner.
Standard Metals Processing, Inc. has established a subsidiary, Standard Metals Acquisitions, Inc., that will acquire concentrate and ore to be supplied to Standard Metals Processing, Inc. Standard Metals Acquisitions, Inc. will buy ore and concentrate from a miner at a discount when the miner needs to monetize the ore and concentrate before processing. Standard Metals Acquisitions, Inc. will also enter into royalty contracts with miners on terms similar to those offered by Royal Gold, whereby a miner would enter into an agreement to supply gold or another metal at a fixed price to Standard Metals Acquisitions, Inc. in return for an upfront payment or capital contribution. Standard Metals Acquisitions, Inc. was established to reduce the cost of ore and concentrate procured and enhance the overall profitability of Standard Metals Processing, Inc.
Risks:
Like all micro cap companies, Standard Metals Processing, Inc. is not without its fair share of risks that investors would be well served to note. The mining space over the last year has seen a decrease in overall production due to declining commodities prices, specifically gold where prices have fallen from roughly $2,000 an ounce to $1,180 an ounce, with a low of $1,150 an ounce. The company's plan calls for ore to be supplied predominantly by junior and micro minors, effected more so by the fall in gold price than the majors. While the company has already received and executed its first processing agreement, there can be no assurance others will follow, despite the compelling need in the marketplace.
The company is a developmental stage company yet to generate revenue. While management appears very qualified, there can be no assurance they will ultimately be successful in generating revenues and achieving cash flow positive. The company is also reliant on a government agency for the issuance of its water pollution control permit, while they have already made application and it should be issued, the company can't predict the timing of issuance.
The company's apparent strategy for funding it completion of its processing facility will be done through the exercising of warrants and the additional raising of capital. While the warrants are deeply in the money, there can be no assurance that investors will exercise them. Should the company choose to increase its production capacity, it may require additional capital investment which could lead to further dilution.
Despite these risks, Standard Metals Processing has begun to gain the attention of institutions such as Ashford Capital Management of Wilmington Delaware who has amassed a 9.7% position in the company as discussed in my last article "Why Has Ashford Capital Management Bought 9% Of Standard Metals Processing?" Ashford Capital Management is well known for being ahead of the crowd and their interest in Standard Metals very well may be a leading indicator of what is to come. Their 13G filed in February indicates they are putting their own money where their mouth is. In the case of Standard Metals Processing, smaller investors may be well served to follow the lead of these well regarded institutional buyers.
Disclosure: The author has no positions in any stocks mentioned, and no plans to initiate any positions within the next 72 hours.
The author wrote this article themselves, and it expresses their own opinions. The author is not receiving compensation for it (other than from Seeking Alpha). The author has no business relationship with any company whose stock is mentioned in this article.