Take-Two (NASDAQ:TTWO) has had an incredible run in the last twelve months, rocketing to $27 from $17. Heading into Q3, I think buying the stock still makes sense as I expect the company to deliver a massive Q3 revenue/EPS beat and raise (again) its FY15 guidance.
Indeed, I performed a detailed analysis of Take-Two's holiday titles and got to the conclusion that the company was likely to beat revenue expectations by 14% in the quarter. While this figure can appear aggressive at first sight, it's worth noting that Take-Two already beat revenue expectations by a wide margin in both Q1 (+12%) and Q2 (+22%).
My Thoughts on the Potential of Each Title
"GTA V": Take-Two shipped 32.5M units of the PS3 and Xbox 360 editions of "GTA V" in Q3 last year, meaning that more than 20% of PS3/Xbox 360 players bought the game (the installed base of PS3/Xbox 360 is estimated at more than 150M units).
I think it's fair to assume that at least 15% of PS4/Xbox One players will purchase the title, notably as the PS4/"GTA V" bundle seems to be selling incredibly well, reaching the top spot on Amazon's (NASDAQ:AMZN) video games bestseller list lately. Considering that the installed base of next generation consoles could reach 29 million by year end (17 million PS4s and 12 million Xbox Ones) according to Wedbush Securities, "GTA V" for next gen consoles could sell 4.5M units.
"NBA 2K15": in Q3 last year, Take-Two shipped 5m units of the leading basketball game. Considering that "NBA 2K15" has been a major hit since launch, coming in at #1 in NPD's September U.S. retail video game rankings, and that the video game market is currently growing at a double digit rate, I believe Take-Two will sell 6M copies of the game in Q3.
"Borderlands: The Pre-Sequel": two years ago, "Borderlands 2" shipped 5M units in the first weeks following its Q2 release (and 8.5M copies over its lifetime). This time around, the title ships in Q3 which is a stronger quarter (holiday season) but also a more competitive one. Hence, I have conservatively assumed that the new installment would only match the previous "Borderlands" sell-in.
"WWE 2K15": it looks like the game was not a big hit last year but its arrival on next gen consoles for the 2014 holiday season should give it a boost. I assume 1.3M units.
"Civilization": By 2008, the previous four installments in the series and numerous expansion packs had sold 8M units. It's faire to assume the PC game will sell at least 1M units in Q3 this year.
Catalog and digital sales: I consider that Take-Two's Q2 revenues were catalog revenues as the company did not release any new game during the quarter. So, taking $135m revenues as a basis and applying 20% quarter-on-quarter growth to reflect seasonality (holiday season), I get to $162m catalog revenues in Q3.
In the table below, I detail my full Q3 revenue model.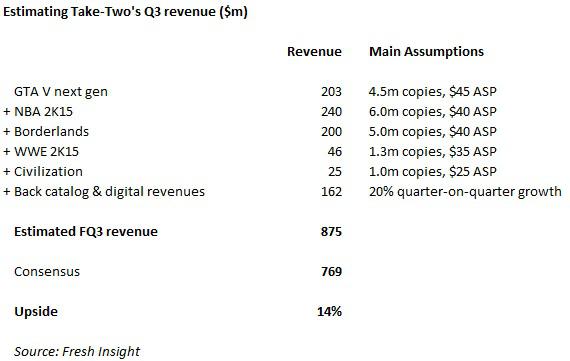 Bottom Line
Given the strong operating leverage in the industry, such a revenue upside would obviously spark a massive EPS beat in Q3 and a 20-30% FY15 EPS guidance raise in my view. Hence, the stock's FY15 P/E would decline to ~15x (vs. 20.5x), which is not demanding in view of the growth prospects in the video games industry.
The main risk to my investment thesis would be lower-than-expected catalog revenues in Q3 as visibility on the different drivers of this business is limited.
Disclosure: The author has no positions in any stocks mentioned, and no plans to initiate any positions within the next 72 hours.
The author wrote this article themselves, and it expresses their own opinions. The author is not receiving compensation for it (other than from Seeking Alpha). The author has no business relationship with any company whose stock is mentioned in this article.