We saw a rebound in oil prices yesterday, but very little follow through in the equity market for oil and energy related names. There were some who were quick to want to call a bottom, while others pointed out that $35-$40/barrel oil was possible based on the current market supply and demand trends. Those two diverging opinions indicate to us that calling a bottom here is dangerous.
Overnight, the Asian markets hit multi-year highs after rumors began to circulate that the Chinese central bank might cut bank reserve requirements. The Shanghai market finished higher by 3.10% on the rumors, and if the rumors are true, it could be another step in China's economic stimulus plans.
Chart of the Day:
With Chinese shares at 3 year highs, the stage is set to potentially make a move towards the 3,000 point level on the Shanghai Composite. Obviously, the market will need help to get there, but if the country's leaders are serious about helping the economy get back on track, then China could be one of the big winners in 2015.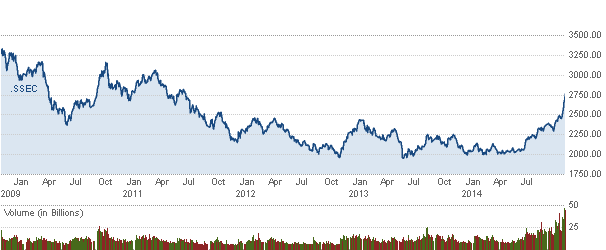 Source: CNBC
We have economic news today, and it is as follows:
Construction Spending (10:00 a.m. EST): Est.: 0.5%
Auto Sales (2:00 p.m. EST): Est.: N/A
Truck Sales (2:00 p.m. EST): Est.: N/A
The Asian markets are higher today:
All Ordinaries - up 1.41%
Shanghai Composite - up 3.10%
Nikkei 225 - up 0.42%
NZSE 50 - up 0.01%
Seoul Composite - up 0.03%
In Europe, the markets are higher this morning:
CAC 40 - up 0.50%
DAX - up 0.01%
FTSE 100 - up 1.17%
OSE - up 0.51%
Asian Interest In Hollywood Grows
In recent months, there has been a lot of attention focused on key Asian investors and their rumored interest in various Hollywood properties. In many of the cases, the rumors and reports focused on companies which either had a need to add entertainment options to their product offerings or were interested in bolt-on acquisitions to their current entertainment options.
Masayoshi Son, the CEO of Softbank, was rumored to be interested in buying Dreamworks Animation (NASDAQ:DWA) a few months ago in order to increase the entertainment offerings for the various mobile telecom companies owned by Softbank. Jack Ma of Alibaba (NYSE:BABA) is also rumored to be interested in entertainment properties, which is why he made a stop in California during his tour of America when Alibaba was going public. Mr. Ma is a big fan of movies, but the reports indicated that this would be a for-profit venture rather than a trophy purchase.
The latest rumors regarding Hollywood properties that could be purchased by Asian investors center around Lions Gate Entertainment (LGF) and the 37% stake held by Mark Rachesky. Dalian Wanda, the Chinese company which owns the AMC movie theater chain, is interested in acquiring a large stake in the movie studio in order to increase its international distribution capabilities and meet China's growing entertainment needs. While Dalian Wanda could seek to purchase the entire company, for now it appears that their interest lies in securing the 37% stake owned by Lionsgate's Chairman.
Semiconductor Deal Announced
Investors are cheering the announced $4 billion, all stock merger between Cypress Semiconductor (NASDAQ:CY) and Spansion (CODE) as both the acquirer and target company's stock are trading higher on the news. Analysts appear to view the deal as a positive too, as Cypress has received an upgrade based on cost savings from the combination of operations with Spansion.
Upon closing of the deal, Cypress CEO T.J. Rodgers will become CEO of the combined company and Spansion Chairman Ray Bingham will assume the role of non-executive Chairman.
Disclosure: The author has no positions in any stocks mentioned, and no plans to initiate any positions within the next 72 hours.
The author wrote this article themselves, and it expresses their own opinions. The author is not receiving compensation for it (other than from Seeking Alpha). The author has no business relationship with any company whose stock is mentioned in this article.