Reward~Risk balances are alarming in Leveraged Long ETFs
These are the speculative instruments that can net a short-term active wealth-building investor +20% to +30% in a few weeks - when conditions are hospitable. But now is not the right time to be in this game.
Big-money players are moving out aggressively, causing market-makers to pay up for price insurance on the stub ends of volume blocks of ETFs that the MMs must position with their own capital to "fill" client sell orders. Fear is in the air, evidenced by market prices for the temporary price protection being required - the price of market liquidity.
The following map shows what that traffic implies, in terms of both upside price change prospects (along the horizontal scale at bottom, in green) and in terms of what has actually been experienced previously as worst-case price drawdowns following prior forecasts with upside to downside balances like those of today, 12/1/2014, on the red vertical scale. ETF symbols are in the numbered blue field to the right.
Figure 1.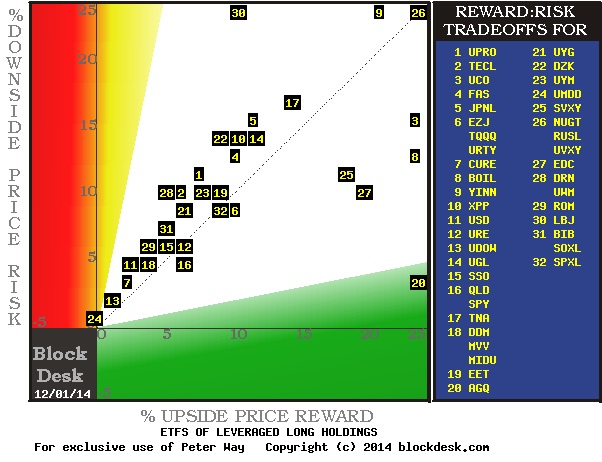 (used with permission)
The only favorably implied leveraged ETF is ProShares Ultra Silver (NYSEARCA:AGQ) a 2x leveraged long security tracking silver prices. Its history of forecasts is not encouraging, largely because of the unpredictable speculative influences on precious metals prices.
Virtually all other ETFs of this type have more downside prospect than upside, or considerable downside exposure. The implication is that equities markets broadly may be in for some correction in price. Besides leveraged price action positions offered by ProShares UltraPro Dow 30 ETF (NYSEARCA:UDOW) in the Dow Jones 30, ProShares UltraPro S&P 500 ETF (NYSEARCA:UPRO) in the S&P 500, ProShares UltraPro QQQ ETF (NASDAQ:TQQQ) in the Nasdaq 100, and ProShares UltraPro Russell 2000 ETF (NYSEARCA:URTY) in the Russell 2000 small-cap index, a wide variety of other industry, commodity, and national interests are represented, and nearly all are negative in comparison with past positions.
Caution urged in seeking ways to profit from this situation
There are leveraged ETFs structured to provide accentuated price moves from a short posture, the inverse of the above set. Unfortunately, the way that markets function in the derivative instruments that are used by these ETFs, they are strongly biased against holders of the ETFs. What predictable price benefits come from their short structure are quickly dissipated in the underlying markets, making the ETFs dangerous and deceptive. They are to be discussed at length in an upcoming article on Seeking Alpha.
Instead, there are some sectors where ETFs offer guidance for investors without the sensitivity of price leverage. A group of these is shown in comparison below:
Figure 2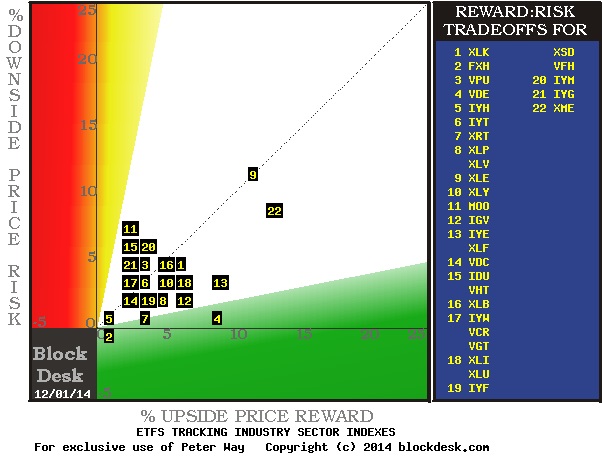 The suggestion here is that the Vanguard Energy ETF (NYSEARCA:VDE) is the most attractive currently of this set. Its recent history of forecasts is provided in figure 3.
Figure 3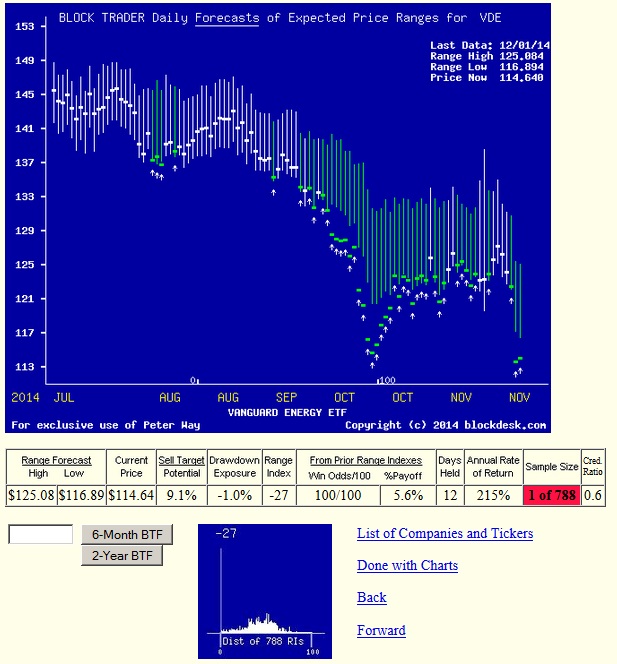 The vertical lines in this picture are not historical actual prices of past dates, but instead are the forecasts at those points in time implied by the hedging of market makers anticipating the future risks they are undertaking in servicing clients.
Each vertical price range is interrupted by a heavy dot that usually splits the forecast range into upside and downside price change prospects. This six-month period is heavily influenced by crude oil price declines, which may be reaching a turning point. That is suggested by current prices being below the entire forecast range. But that has happened before.
Investors with a longer investment time horizon may find present opportunities to be advantageous.
Conclusion
The prevalence of negative implications in the leveraged-long ETF group is a strong warning that cash may be a good friend to have close by in the coming weeks.
Disclosure: The author has no positions in any stocks mentioned, and no plans to initiate any positions within the next 72 hours.
The author wrote this article themselves, and it expresses their own opinions. The author is not receiving compensation for it (other than from Seeking Alpha). The author has no business relationship with any company whose stock is mentioned in this article.