Apple Stock Soars On iPhone 6 Demand
Apple, Inc., (NASDAQ:AAPL) stock has risen almost 50% since the beginning of 2014 and is on its way to a sixth straight year of annual growth. Recently two milestones have been reached with a $100 share price in August and the more recent record breaking market capitalization of $700 billion, a figure higher than Switzerland's GDP. This milestone also marked a doubling of the company's market cap since Tim Cook took over as CEO in August of 2011.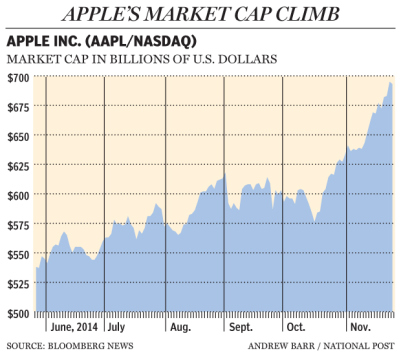 Figure 1: Apple Stock Market Cap
iPhone 6, So Late Yet Still Great
Consumer confidence in Apple has risen since they released larger screen iPhones in September, followed by a strong earnings report in October. Apple reported $42.1 billion in revenue for the three months leading up to September 27th, beating market expectations of $40 billion, and the reported growth of 12% is their highest in two years. Spurred on by huge demand for the iPhone 6, along with analyst's expectation that the smartphone will have the best holiday season of any of the iPhone devices released until now, Apple's stock climbed 20% to reach a high peak of 119$ per share. Apple always performs well during the last quarter, but this year looks to be exceptionally profitable for the company.
Apple planned to produce between 60 to 65 million devices, but is now producing as many as possible to keep up with demand. Ming-Chi Kuo, an analyst at KGI securities with an excellent track record on Apple products, predicts that Apple will sell 71.5 million iPhones during the holiday quarter, which would mean a 40% jump in sales year-over-year. Samsung Electronics (OTC:SSNLF), one of Apple's main competitors in the high-end smart phone market, has struggled, and might be transitioning to cheaper technologies, further driving demand for the iPhone 6 up.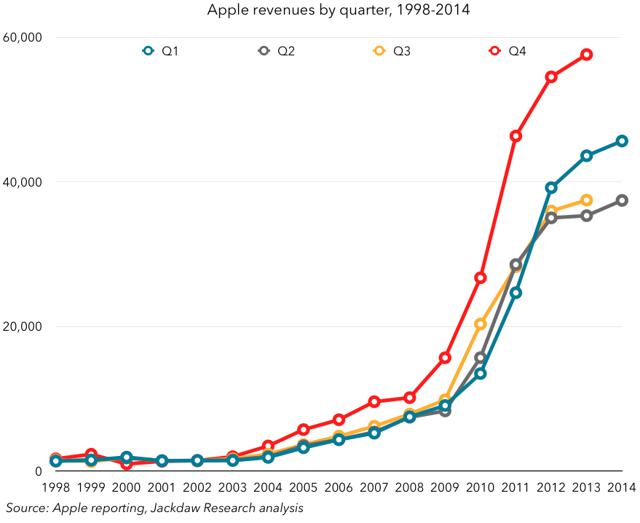 Figure 2: Apple Revenues by quarter 1998-2014
Why Analysts are very Bullish
The demand for iPhone 6 caused analysts to raise price targets for Apple, with analysts at UBS, RBC Capital Markets, BTIG Research, and Susquehanna adjusting figures in November to somewhere in the range of $120 per share to $135 per share. Some rumors spoke of $1 trillion as the next ceiling. Cook has overhauled the product range over the past year. Apple will be releasing the Apple Watch early next year, which analysts expect 10% of iPhone users to purchase. This would translate to the sale of 30 million units, providing roughly $10 to $12 billion in added revenue. Early response to Apple Pay, the company's mobile wallet service, has been promising as well. Apple will also be using their purchase of Beats Electronics to enter into the subscription music services early next year, addressing decreasing iTunes download sales because of competitors such as Spotify. In September, Cook mentioned in an article that they are working on projects that haven't even been rumored yet. There has been a long predicted attempt to revolutionize the television business, as well as new speculation that Apple could be investigating virtual reality. Even if Apple's new product offerings don't provide huge amounts of revenue growth, the psychological impact is huge, as these are exciting times at Apple.
The psychological impact could be so great, that it clouds analysts as well. While I Know First's state of the art market prediction algorithm is never affected by psychological factors, analysts often try to satisfy market expectations. The most recent estimations at MarketWatch and Yahoo Finance are extremely bullish on Apple.

Figure 3: MarketWatch is very Bullish on AAPL

Figure 4: Yahoo Finance analysts still signal a strong Bullish forecast.
Algorithmic Analysis
I Know First is a financial services firm that utilizes an advanced self-learning algorithm to analyze, model and predict the stock market. The algorithm predicts the flow of money in almost 2000 markets across a range of time frames (e.g., 3-day, 1-month, 1-year). The algorithm's predictability becomes stronger in the 1-month, 3-month, and 1-year horizons, so it is particularly useful as a long investment tool, albeit that it can also be used for intraday trading.
I Know First forecast from August 18th had a strong bullish signal for Apple. Apple had a signal strength of 8.31 and a predictability indicator of -0.12. In accordance with the algorithm, Apple stock price increased 18.36% over the next three months. This is done through an advanced self-learning algorithm which analyzes models and predicts the stock market. The algorithm produces a forecast with a signal and a predictability indicator. The signal is the number in the middle of the box. The predictability is the number at the bottom of the box. At the top, a specific asset is identified. This format is consistent across all predictions.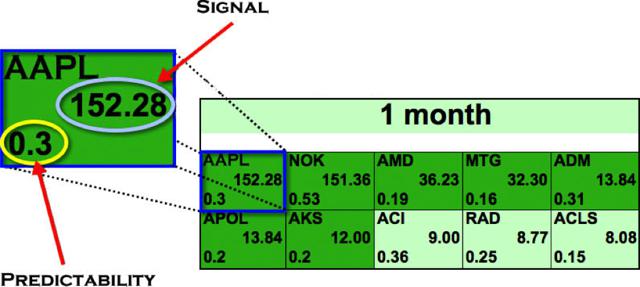 The signal represents the predicted movement direction or trend, and is not a percentage or specific target price. The signal strength indicates how much the current price deviates from what the system considers an equilibrium or "fair" price. The signal can have a positive (predicted increase) or negative (predicted decline) sign. The heat map is arranged according to the signal strength with strongest up signals at the top, while down signals are at the bottom. The table colors are indicative of the signal. Green corresponds to the positive signal and red indicates a negative signal. A deeper color means a stronger signal and a lighter color equals a weaker signal.
The predictability indicator measures the importance of the signal. The predictability is the historical correlation between the prediction and the actual market movement for that particular asset, which is recalculated daily. Theoretically the predictability ranges from minus one to plus one. The higher this number is the more predictable the particular asset is. If you compare predictability for different time ranges, you'll find that the longer time ranges have higher predictability. This means that longer-range signals are more important and tend to be more accurate.
Why apple dropped 3.3%.
After bullish signals for the last few months, which yielded over a 15% return, Apple's signal turned bearish on Sunday, the 30th of November for the 7 and 14 day time horizons, which looked as follows.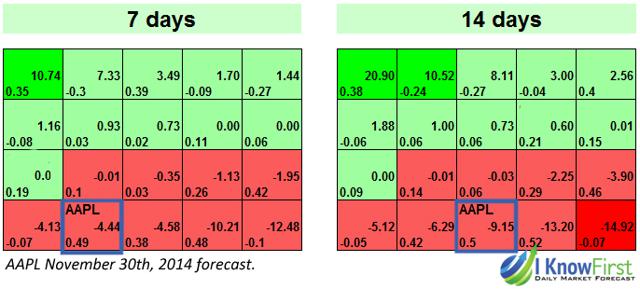 Figure 5: November 30th 2014, 7 and 14 days Apple stock forecast.
Since then Apple stock has fallen 3.3%, and the cause of the decline is not yet clear. Just before 9:51 a.m. EST, selling accelerated with 6.7 million shares being traded in less than two minutes. The stock fell as much as 6.4% before slightly recovering by midafternoon. At the lowest point, Apple lost more than $40 billion in market value. The high activity, which was also seen in other stocks such as Alibaba (NYSE:BABA), Twitter (NYSE:TWTR), the S&P 500 tracking ETF (NYSEARCA:SPY), and about 300 different stocks at the same time, showed signs of institutions implementing selling programs. When this kind of trading occurs, it usually points to high frequency trading (HFT), where companies use computer algorithms to trade stocks at an extremely rapid pace. These rely on hardware able to beat competitors with relatively simple algorithmic complexity in comparison to I Know First algorithm which creates long term forecasts, and does not rely on millisecond activity in the market.
What actually caused the drop remains unclear; it appears one holder of the stock sold several million shares in a matter of minutes. Experienced traders would usually have made this kind of sale over a longer period of time and not in one chunk. This has led some to speculate that someone might have typed in two minutes instead of two hours, making a fat-fingered trade. Falling oil prices also could have played a role. Funds that lost money in their oil and energy shares could affect other markets, as they need to get out of their liquid securities in other markets. Traders who followed the I Know First forecast were able to avoid that loss; however, the algorithms forecast from today has drastically changed again and is strong bullish in the short term and bearish in the long term.
I Know First Algorithmic Forecast for Apple

Figure 6: I Know First December 2nd, 2014 Apple Forecast.
This leads to only one conclusion. The algorithm's estimated average fair trade price for Apple stock has been crossed, meaning that in the medium term (1 month) prices will adjust back downwards; however, it also recognizes market psychology, and thus is able to create a wave model, projecting a rise yet to come before the final dip. Apple stock might be running into a volatile period and investors should closely follow Apple forecasts and news throughout the holiday season.
I Know First Research is the analytic branch of I Know First, a financial startup company that specializes in quantitatively predicting the stock market. This article was written by Daniel Hai and Aaron Tallan, two of our interns. We did not receive compensation for this article, and we have no business relationship with any company whose stock is mentioned in this article.
Disclosure: The author has no positions in any stocks mentioned, and no plans to initiate any positions within the next 72 hours.
The author wrote this article themselves, and it expresses their own opinions. The author is not receiving compensation for it (other than from Seeking Alpha). The author has no business relationship with any company whose stock is mentioned in this article.