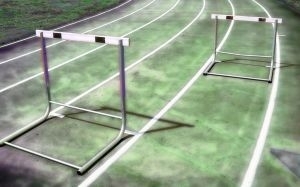 The burning question seems to be, "Why is Apple (
NASDAQ:AAPL
) selling at such a low valuation?" Just try to find another company with Apple's creative, development, business and financial success that has sold at 12 times its forecast earnings. This high 8.3% earnings yield is typically awarded to growth sluggards or income stocks.
Is the problem that Apple's earnings are simply too high? That's highly doubtful, for three reasons.
Secretive Apple offers no guidance.
If it did, management would have to explain the reasons, and it protects all such information from being publicized. Of course, the unknown in investing produces uncertainty – and that means analyst and investor wariness. As a result…
Apple has consistently exceeded analyst estimates.
Analysts have a natural conservatism (yes, that is so – they don't want to appear over-optimistic and tarnish their reputations). Therefore, forecasts are kept conservative. Plus, there is another factor analysts really cannot include…
Apple's exceptional growth comes from product creation and major product enhancements.
Even if analysts knew what was coming (like the rumored iPhone 5), they would be at a loss as to how to include the financial effect. Without Apple's providing details (like dates, prices, marketing plans and costs), determining the earnings effect is pure guesswork, especially for periods beyond this quarter.
Therefore, it seems likely that Apple's next twelve months of earnings will be higher than analysts estimate.
So, forget the earnings and focus on the "hurdles".
In 1998, I selected Glen Bickerstaff (portfolio manager at TCW Group) to run a growth stock portfolio. His approach was designed for investing in (and holding onto) high growth companies. Here's what
I wrote
in December 2009:
Glen found that most analysts had trouble forecasting sustainable rapid growth. Rather, their models had a natural slowing in the growth rate. Glen felt that, while that might be appropriate for a single product, a company could maintain its growth through as yet unknown product development and corporate strategies (an example today would be Apple). Thus, he sought out "bargains" where he believed management and market opportunity could produce "unexpected" rapid growth. His portfolio was loaded with companies like AOL that continually surprised analysts with their ability to keep up their growth rates.
His focus was on the hurdles his companies were leaping, confident that management's business acumen would produce the earnings.
Apple's hurdles: Revolution, evolution and institution
First
, Apple's shareholders want to see revolutionary products and services – ones that introduce new markets with significant potential. The creation of iPod, iTunes, iPhone, Apps and iPad has everyone wanting more. These are big checkmarks that we'll know about when they occur. Apple's success at both choosing desirable ideas and implementing them gives us the confidence that lightening can strike again.
Second
, we want to see evolutionary enhancements to the products and services. These developments are necessary for Apple to lead the competition, maintain its pricing and to expand the market. Apple has been successful at accomplishing that goal.
Third
, we want to see Apple's products and services become "institutionalized." For example, "iPod" as the popular name for the "MP3 portable music player." Xerox and other companies have proved the profitability of this strategy.
Apple's hurdle calendar
Because of Apple's secretiveness, getting a handle on the hurdles Apple will leap is difficult. What we do know is that a new operating system, Lion, is coming this summer (more about this below).
For guessing at new products and enhancements, there are two popular sites that gather information bits and rumors: AppleInsider.com and MacRumors.com.
Evolutionary enhancements are addressed by MacRumors' Buyers Guide. It attempts to anticipate the timing of product enhancements.
Lion – more than an operating system upgrade
Last October, Apple offered a peek at Lion, the next OS-X operating system for Apple computers (their website has
a Lion discussion
). More than an upgrade, Lion is designed to bring to desktop and laptop computers the iPad experience (iPads and iPhones run on a separate operating system: iOS). Apple refers this strategy as "back to the Mac."
The importance of Lion is that it creates a smooth spectrum of products: iMac (desktop computer) to MacBook (laptop computer) to iPad (tablet computer). I suppose we could even add iPhone (handheld, mobile computer) to that list.
Apple has said that Lion will go on sale this summer. However, we may get some added information much sooner from...
WWDC (Apple's Worldwide Developer Conference) is a week away
From June 6 through June 10, product developers from other companies (think software, games and apps) will learn the details of Apple's coming operating systems - both OS-X and iOS (Apple's website has conference description). I understand that this conference sold out earlier than usual because of its importance.
So, in a week we should start hearing more about Lion's features. That news can generate excitement among techies, consumers and investors.
Is Wall Street really shorting Apple?
Apple doesn't seem to offer a short seller's desires: high price, questionable fundamentals and murky future. So, why are there those comments about Wall Street having large short positions in the stock? There seem to be two sources of this belief: Reported short interest and investment manager comments.
Regarding the short interest, it's difficult to draw a conclusion. Certainly, some of the shorts represent investors' expectations of a stock price decline. However, they can also represent one piece of an option strategy, a leg of a diversification/hedge strategy or simply a tax strategy (shorting "against the box" rather than selling, in order to avoid taxable gains).
We need to be skeptical about investment manager comments. Wall Streeters
never
tell us what they are up to until their positions are taken. Therefore, before accepting a manager's comments, we need to determine if the manager has already acted. With mutual fund managers, we have their reports, so we do get a peek into their holdings and transactions. With hedge fund managers, we get little or no peek – so, best to ignore them. (Hedge fund managers have too much riding on making outsized gains to allow us to benefit at their expense. Alternatively, they would love to have us sell our stock cheap when they are buying or buy it dear when they are selling.)
An example of a manager whose comments we can take at face value is Robert Turner, chairman of Turner Investment Partners. His growth funds have 5% or more invested in Apple. A
Fortune
interview, "Apple at $500 and other predictions from a market bull," appeared Friday (May 27), in which Turner said:
I think Apple's the best risk-reward of any company now really. It's almost the one you can have the highest comfort level with saying the stock shouldn't go down very much, particularly with all this cash that they have. Then it's just amazing: they're able to grow their top line at some 20% year-over-year and grow the bottom-line at some 30%.
Clearly, Turner is not shorting Apple.
What about Steve Jobs becoming unable to guide Apple?
Even among Apple bulls, this question seems to be a concern. I believe that even without Steve Jobs, Apple will succeed. Jobs has created a sound company with top people and a strong culture. As a comparison, I previously wrote about Disney's sudden loss of Walt Disney: "
What Apple Investors Can Learn From Walt Disney
."
What's good for Apple is good for America
That paraphrased comment about General Motors (
GM
) is supported by a recent report from consulting firm McKinsey & Company. Discussing technology's important role in U.S. economic growth ("
Translating innovation into U.S. growth: An advanced-industries perspective
"), they say:
German research labs may have created the MP3, but it was the scale-up capabilities of American technology firms that took this innovation and unlocked its value, from Apple's iPod to file sharing to digital-media vendors like the iTunes store, and beyond. This ability to take basic innovation, deliver it at scale, and refine it with second- and third-order innovations plays a critical role in driving growth and jobs. To do all this, a country must be at the center of cutting-edge technologies, market demand, talent, and entrepreneurial spirit.
The importance here is that Apple's activities are in line with U.S. economic goals and policies. That view is valuable to Apple and its ability to continue its growth strategies.
A final point: Apple's iPad pricing is extraordinary
Apple's pricing strategy seems to have taken a major, competitive step forward. Certainly, they have sought good pricing for their stores offering ongoing revenues (music, movies, books and apps). However, iPad's pricing broke their previous marketing approach of "you get what you pay for" – i.e., Apple's better products are worth their higher prices. With iPad, none of the competitors has been able to match
either
the product's features
or
the price.
That combination is remarkable. It means Apple owns the tablet market. (It's also why someone commented on my previous article that, "There's no tablet market. It's an iPad market.")
So … an investment in Apple seems to have a bright future in spite of the stock's low valuation and variety of concerns being tossed about. Upcoming events and developments could confirm Apple's continuing progress and success at jumping new hurdles – just the thing to disprove today's naysayers, thereby putting the stock back on its growth path.
Disclosure:
I am long
AAPL
.