Early last week I returned to the uranium space with three articles titled 'Where to Invest in the Nuclear Renaissance'.
Companies associated with uranium are not for the faint of heart, as they tend to make large moves to the up and downside. Thursday was the first hint of a move in this space. Uranium One's (OTC:SXRZF) Vice President Fletcher Newton recently stated that uranium prices could average between $55 and $65 per pound this year, with an increase to $70 to $75 per pound next year. On May 26th, the industry received more good news. China Daily reported that China GD Power Development Co. and China Guangdong Nuclear Power Group would work together to build three nuclear power plants. This helped to dispel rumors that China would slow or decrease the number of nuclear power plants it planned to build.
Click on images to enlarge


Uranium Resources (URRE) is trading for $1.94 per share. It traded as high as $3.98 over the past 52 weeks. It opened for trading on Thursday at $1.59 and closed the day up to $1.81. It opened Friday at $1.82 and closed at $1.94 per share. The two day move in Uranium Resources is substantial, with significant volume on Thursday and Friday. It seems to validate the March 16th bottom of $1.53. On Friday, Uranium Resources broke through its 50 day moving average of $1.89. Over the past week, it is up 22.8% but up only 6.6% over the past month. Uranium Resources is still down 44.4% over the past 6 months.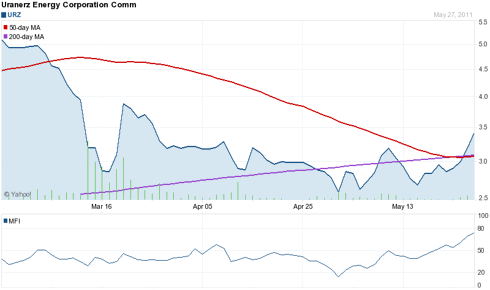 Uranerz (NYSEMKT:URZ) has outperformed this group. On May 10th, it broke through its 20 and 200 day moving averages. This rally was short lived as the stock pulled back shortly after as the rest of the uranium miners did not participate. Uranerz started the week at $2.87 per share. It finished at $3.21 on Thursday, after breaking through the 50 and 200 day averages. This increased to $3.41 at the end of the day Friday. Uranerz was up 15.2% on the week and 22.7% for the month (best of this group). It is down 13% over the past 6 months. Its 52 week high is $5.93. I would watch Uranerz closely as it seemed to lose some steam towards the end of Friday's trade. In March of 2011, it announced share purchase warrants were exercised. Uranerz now has $47 million in cash and no debt. This should be well positioned to begin construction of its Nichols Ranch project.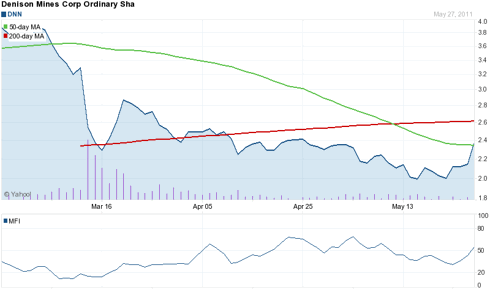 Denison (NYSEMKT:DNN) had a good Friday, appreciating 9.77%. Denison seemed to put a floor in at $2.01 on May 23rd. On Thursday May 26th, it saw a low of $2.05 and finished the day at $2.15. Friday it opened at $2.18 and finished the day at $2.36. Denison is up 16.3% for the week, but only .8% for the month. It is down 25.8% over the past 6 months. Denison has lagged this group. The only reason I see for this is its high cost per pound of uranium production, which is significantly higher than its competition. Keep in mind Denison is a play on its Wheeler River location, and also has a significant vanadium business. The grade of the Wheeler River deposit should more than offset its costs. Dahlman Rose recently upgraded Denison to hold from reduce and set a price target of $3 from $2.50. Denison's 52 week high is $4.52.

Uranium Energy Corp. (NYSEMKT:UEC) has not seen the move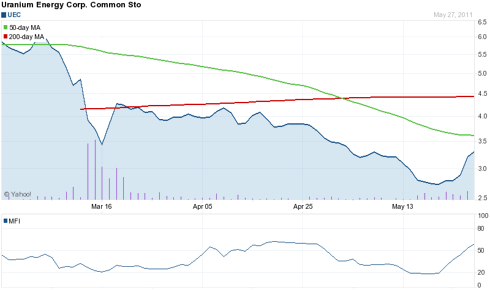 s of the other names in this group. The reason seems to be its recent acquisitions of a large project in Paraguay and a stock for stock merger with Concentric Energy Corp. UEC opened up the week at $2.77. On Thursday, UEC rose from $2.90 to $3.22. Fridays trading saw it gain to $3.30. I didn't like the way UEC traded on Friday. It gave back most of Friday's early gains, but ended the day up on a volume spike. UEC was up 20% on the week, and is down 49.7% over the past 6 months. Its 52 week high is $7.48. It seems investors are a little wary of UEC's aggressive moves to acquired additional resource. In my opinion this could be in the long term, but I would rather the company focus on the here and now.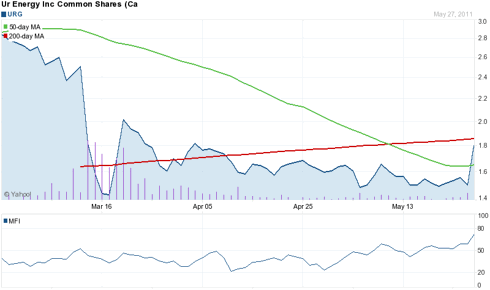 Ur-Energy Inc. (NYSEMKT:URG) killed the shorts on Friday. It traded relatively flat all week from $1.50 to $1.54. It opened Friday at $1.53 and didn't look back. Ur-Energy finished up 19.2% for the day and 18.4% for the week. It is down 17.1% over the past 6 months. It broke through its 50 day moving average of $1.65 on Friday, and was moving towards the 200 day moving average of $1.85. This move was done in conjunction with high volume. Ur-Energy's 52 week high is $3.37.

Crosshair Exploration & Mining Corp. (CXZ)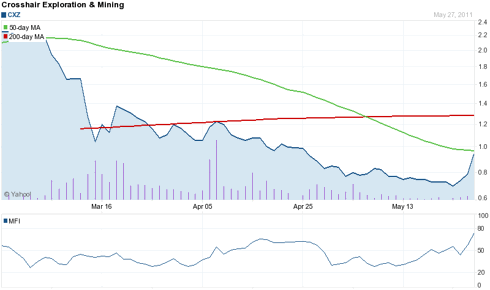 is a more volatile company than the others on this list. Because of this, it was hit especially hard in the March downturn. It is very possible it will outperform when the uranium miners recover. On March 30th and April 7th, an attempt was made at breaking through the 200 day moving average. After this double top, the stock pulled back significantly. Crosshair started this past week at $.71. On Wednesday May 25th, the trading day ended with Crosshair at $.75. After the next two trading days it was at $.94. Crosshair was up 19% on Friday and finished three cents short of the 50 day moving average. Crosshair was up 28.8% for the week and 10.6% for the month. It is down 40.7% over the past 6 months, and has a 52 week high of $2.81.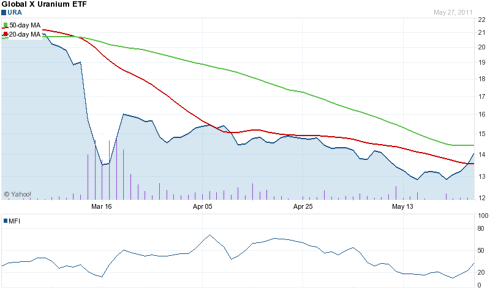 All of the names listed saw large moves upward towards the end of last week, and did so with sizeable amounts of money moving into the stock. To validate a move in the uranium producers, I generally refer to the Global X Uranium ETF (NYSEARCA:URA). It has more exposure than:
Powershares Global Nuclear Energy (NYSEARCA:PKN)
Market Vectors Uranium and Nuclear (NYSEARCA:NLR)
Ishares S&P Global Nuclear Energy Index (NASDAQ:NUCL)
These ETFs focus on other aspects of nuclear energy such as Utilities and Industrials that make the parts for reactors. They also provide less downside, as many of the companies invested are more stable like General Electric (NYSE:GE). The URA gives a more direct investment into the miners that will benefit from an increased price in uranium. To validate a move in the miners I will refer to this ETF, to make sure it correlates with the moves in the miners. On Friday, it had a nice move up of 3.39%. Other companies that had large moves on Friday were:
Strathmore Minerals (OTC:STHJF)- up 16.08%
Powertech Uranium (OTC:PWURF)- up 22.14%
Mega Uranium (OTCPK:MGAFF)- up 12.32%
Energy Fuels (ERFRR.PK)- up 9.12%
After the last couple of trading days, I am starting to warm up to the uranium names again. I would tread lightly here, to make sure this trade is valid. I began buying names a week and a half ago, and plan to continue adding. Some of the moves last Friday were from the dollar being down, which created a move in most of the commodity names. It did seem that uranium led the way, with the market showing a belief that uranium producers had been discounted too much in the wake of the Fukushima Daiichi nuclear disaster in Japan.


Disclosure: I am long URRE, URZ.