In the recent past, I have focused on the oil and gas sector as the steep correction in oil prices has opened up several challenges as well as value buying opportunities. In this article, I will be discussing the prospects for Laredo Petroleum (NYSE:LPI).
Laredo Petroleum has been among the worst hit oil and gas stocks in the current downturn for the industry. From its 2014 highs of $30.98, the stock has corrected by 68% in a matter of five months. It will therefore be interesting to investigate if the stock has bottomed out or if there is more pain to come.
About Laredo Petroleum
Laredo Petroleum is an independent energy company with a business strategy focused on the exploration, development and acquisition of oil and natural gas properties primarily in the Permian region of the United States.
As of December 2013, the company had 202,084 net acres in the Permian Basin with proved reserves of 203.6 million barrels of oil equivalent. After the divestment of assets in the Anadarko Basin in 2013, Laredo Petroleum became a pure play Permian Basin operator.
For the first nine months of 2014, Laredo Petroleum recorded revenue of $557 million compared to revenue of $512 million for the nine months ended September 2013. During the same period, the company recorded an EBITDA of $448 million as compared to an EBITDA of $361 million for 2013. Therefore, the company has maintained growth even in difficult times and at a time when the stock has slumped by 68%.
Increase in Guidance For 4Q14
On December 1, 2014, Laredo Petroleum announced the company's 4Q14 production guidance. The company increased its 4Q14 production guidance to 3.4mmboe to 3.6mmboe from the previously announced 3.2mmboe to 3.5mmboe.
In times of lower of prices, Laredo Petroleum has hedges in place for the fourth quarter of 2014 at a weighted average floor price of $89.45 per barrel. The company has hedges for approximately 75% of the oil production in the fourth quarter of 2014. Further, at a weighted average floor price of $3.66 per MMbtu, Laredo Petroleum has hedges for 45% of the anticipated natural gas production in the fourth quarter of 2014.
The point I want to make is that Laredo Petroleum's results for the fourth quarter will be largely in line with the first nine months of 2014 as a result of the hedges the company has in place. Therefore, the stock seems to be discounting the negatives that are bound to come in 2015 due to lower oil prices.
However, considering an annualized 2014 EBITDA of $596 million, Laredo Petroleum is currently trading at an EV/EBITDA of 4.9 and I believe that the correction in the stock is overdone. In my opinion, the stock is likely to move higher from current levels in 2015.
Financial Position And Hedges Keep Outlook Positive
I wanted to investigate the leverage profile for Laredo Petroleum as debt can be a company's undoing in difficult times even if the company has excellent assets. Laredo Petroleum has high financial flexibility and a comfortable leverage position and I don't see any debt related risk for the company in the foreseeable future.
As of September 2014, Laredo Petroleum had a total debt of $1,576 million. Considering an annualized 2014 EBITDA of $596 million, Laredo Petroleum is trading at a debt to EBITDA (leverage) of 2.6. This is comfortable considering the fact that $552 million of the company's debt is maturing in 2019 and $950 million is maturing in 2022.
Further, considering an annualized EBITDA of $596 million and an annualized cash interest outflow of $113 million, Laredo Petroleum is trading at an EBITDA interest coverage ratio of 5.3. Therefore, debt servicing is likely to remain comfortable.
With the current decline in oil prices, the company's EBITDA is likely to take a hit in 2015. However, even if a worst case scenario of 50% decline in EBITDA is assumed, Laredo Petroleum will still have an EBITDA interest coverage ratio of 2.6. However, this is just a stress estimate and I don't expect a 50% decline in EBITDA in 2015.
In terms of potential decline in EBITDA, it is important to mention that Laredo Petroleum has oil and natural gas hedges for 2015 as shown in the chart below. The hedges will ensure that Laredo Petroleum does not witness a sharp decline in EBITDA compared to 2014.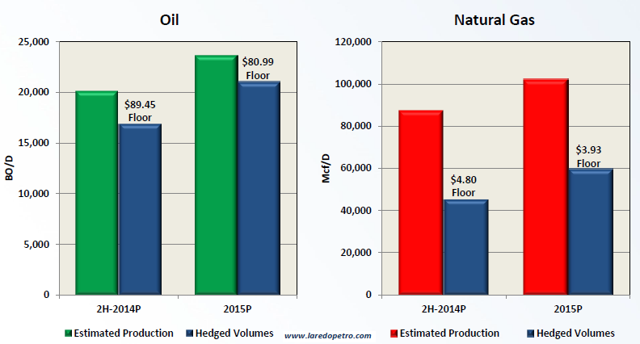 Further, it is positive that a high percentage of oil production volumes are hedged as oil typically generates a higher EBITDA margin than natural gas.
I must add here that Laredo Petroleum has an undrawn revolving credit facility of $825 million as of September 2014. The undrawn credit facility along with cash position of $55 million as of September 2014 provide liquidity cushion of nearly $900 million.
Strong Development Inventory
Laredo Petroleum has witnessed strong growth in the Permian Basin reserve in the last few years. From 101mmboe in 2011, the company's reserves have grown at a CAGR of 42% to levels of 204mmboe as of December 2013.
Further, during this period, the company's finding and development cost also has declined and this is another significant positive. From an average of $20 per barrel in 2011 and 2012, the company's F&D cost has declined to nearly $11 per barrel in 2013.
Therefore, Laredo Petroleum has been taking positive strides in the Permian Basin and there is no doubt in the richness of the Permian Basin asset. With sole focus on the asset, Laredo Petroleum looks good for a strong comeback when oil prices recover.
The company has identified nearly 3,700 horizontal locations for drilling and this implies a drilling inventory of 50 years considering the current pace of drilling. The identified locations have nearly 1.8 billion barrels of oil equivalent resource potential.
Therefore, the company has long-term growth drivers in place and the company also has enough financial flexibility to continue with robust development activity in 2015 even if oil prices remain around $70 per barrel levels.
Conclusion
Laredo Petroleum has been hammered in 2014 and considering the factors discussed in the article, the stock is certainly at oversold levels. The company's financial health is sound and the company's hedges ensure that the realized price remains robust even in 2015.
I believe that investors can gradually accumulate the stock and I believe that Laredo Petroleum has the potential to bounce back strongly once oil prices also start moving higher.
Disclosure: The author has no positions in any stocks mentioned, and no plans to initiate any positions within the next 72 hours.
The author wrote this article themselves, and it expresses their own opinions. The author is not receiving compensation for it (other than from Seeking Alpha). The author has no business relationship with any company whose stock is mentioned in this article.